Do you have a lot of belongings?

Do you struggle discarding items?

Is 'clutter' getting in the way of accessing areas of your home?
Age Matters is offering a hoarding support program for older people who are experiencing hoarding behaviours. Living with hoarding or in a squalid environment can be complex issue that impacts the ability to live safely at home. Excess acquiring can lead to injury, illness, increased isolation and homelessness.
The 'Buried in a Lifetime of Treasure' program will provide practical assistance to older people who are affected by excess acquiring while upskilling people working in the sector to identify, understand and support.  Alongside the practical initiatives, the pilot program will be evaluated on an ongoing cycle to contribute to our understanding of best practices for optimal outcomes.
Participants
If you or someone you know is feeling overwhelmed by their belongings, lives in the Illawarra and is over the age of 55 we may be able to help.
Free for participants
12 week program matched to individual needs and circumstances
Supportive environment
Participants will discuss and complete activities from the 'Buried in Treasure' book.
Next intake starts 21 April 2022 @ Shoalhaven Neighbourhood Services Nowra
Download a brochure or a poster.
Volunteers
If you're passionate about making a difference in people's lives and are sympathetic to the relationship between belongings and key life events, we'd love to hear from you. We're looking for support group 'buddies', peer leaders and prospective industry professionals looking for hands-on experience.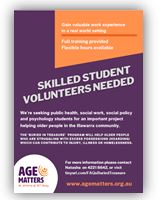 Service providers
Age Matters can help with advice for support professionals seeking practical solutions to bridge the gap between theory and practice in hoarding support. We can provide basic training sessions or in-service to your team, virtually or in-person across the Illawarra.