A fair go
As the daughter of corner store owners and boarding house operators in Sydney's inner west, Heather Tarrant certainly met some interesting characters. She shared her story with The Good Life.
"My background has taught me a lot about human frailty – and strength. These days I try not to take anything too seriously. And I still try to follow Dad's example to give everyone a 'fair go'."
IRT The Clyde resident Heather Tarrant, 77, grew up in Sydney's inner west in the 1950s and 1960s. Here she reflects on that time and some of her most memorable moments.
"My Dad, Harry, believed in a fair go. The great example Dad gave me was that he treated everyone with kindness and respect.
"My father came out from England in the 1920s and went opal and gold mining. When the war started, he came to Sydney to join up, and then met my Mum, Nola.
"When I was seven Dad left the army and my parents bought a corner shop in Missenden Road, Camperdown – opposite The University of Sydney – in 1951. The boarding colleges were close to us, and the students used to come into our shop to buy sweets, drinks and cigarettes.
"Further up Missenden Road were Royal Prince Alfred and King George V hospitals, and the Sunday visitors used to walk past our shop on their way from the tram stops on Parramatta Road. Often they would come in to buy a box of Old Gold or Winning Post chocolates.
"Also in the area were some factories, Breville radio and McNivens Ice Cream, and so we had the factory workers in the shop at weekday lunchtimes.
"Movietone News [which produced newsreels] was three doors away. Jack Davey, the quiz show host, came there each Tuesday to record newsreel commentaries. One day he came into the shop at lunchtime, and I happened to be home on school holidays. Dad said to Jack Davey, 'My little girl is a great fan of yours. She would love to meet you.' I appeared behind the counter and the shop was filled with the lunchtime crowd. Jack Davey struck a pose and said in a loud voice, 'Hi ho Heather!'. Dad turned to me and said, 'Heather do you know who this is?'. I was a bit overwhelmed at being the centre of attention, but managed a reply. 'Yes, I think it's Uncle Eric'. Jack Davey was, for once, speechless. My Dad laughed for years about that.
"I made friends with a lonely Chinese dental student who lived at the university's Sancta Sophia College. And I played board games with a decent old lady, Mrs Stroud, who lived down our side street.
"Next door to Mrs Stroud lived Miss Uren (the politician Tom Uren AC's sister). And the Grose Farm Hotel on the corner opposite our shop was owned by former NSW Opposition Leader Kerry Chikarovski AM's grandparents. I remember the excitement when the publican's daughter snaffled a St John's College boy.
"The Queen came down Missenden Road in 1954 – great excitement. All these distant relatives turned up to crowd onto our little balcony and watch the procession.
"I did ballet, tap and acrobatics for years, and was in the pantomime Cinderella at age 13. It was an old Elizabethan Theatre in Newtown. Actor Wendy Blacklock AM was Cinderella and comedian Reg Quartly AM played 'the dame'.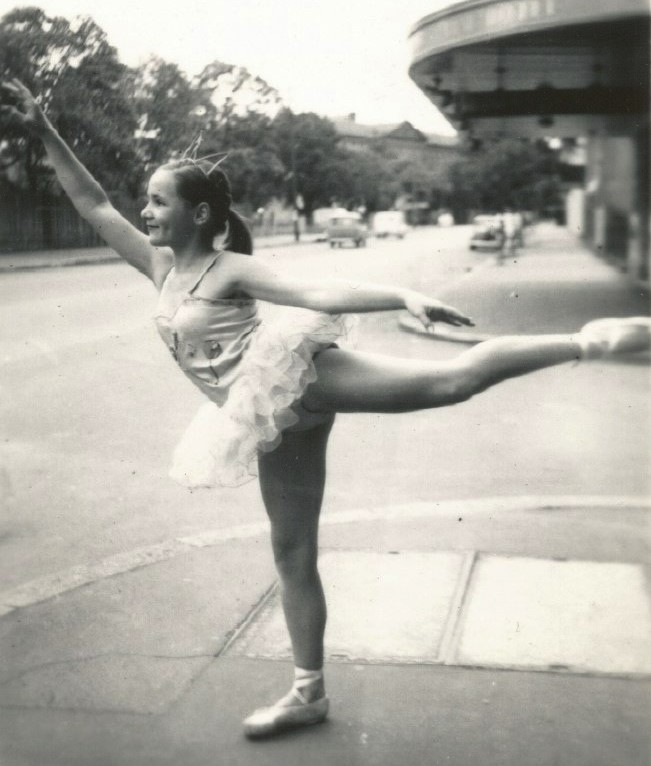 "What do I remember from the shop? Sherbet powder with a licorice straw. Clinkers and Cobbers, Freckles and Freddo frogs and my favourite – boiled lollies. You could make them last for hours. Passiona, GI and ginger beer. People used to bring their billy can to be filled with milk. Sugar, tea, and biscuits all had to be weighed out into a brown paper bag. A bottle of Coke cost five pence.
"I feel privileged to have been exposed to such a wide range of people at an early age. Dad treated everyone with respect and dignity. My parents employed a local woman, Alice. Alice's husband was a butcher who had lost his job due to the drink. He pawned Alice's sewing machine for drinking money. She really needed that job in our shop, and was loyal and hard working. Her story has a happy ending. After he husband died of liver failure, Alice won the lottery. She was able to move from Camperdown and make a better life for her children.
On Saturdays we closed the shop at 1 o'clock. Saturday afternoons were very special and not to be wasted. Mum and Dad and I would catch the tram into town and go to a matinee at the Tivoli or Capitol. Then we'd go to Wolfe's fish restaurant in Liverpool Street for tea. My favourite dish was lobster mornay.
"We sold the shop in 1958, then leased a boarding house in Centennial Park. Twenty-two men, Mum and Dad and me. Dad ran a tight ship. He was fair, but strict, especially with drunks. Our ad in the Herald read 'Share room for rent – quiet sober gent'. Lots of people lived in boarding houses in the 50s and we never had an empty bed for long. In the 60s people started wanting the privacy of their own bedsit, and the boarding house era was on the decline.
"A man moved in once who was straight out of gaol. He was upfront about it, so Dad gave him a chance. Tommy turned out to be one of the best boarders we ever had, and he lived with us for years.
"We had an Irish contingency at one stage. About eight young fellows, who all played soccer for Bondi. We had a dart board on our back verandah, and they taught me to play darts.
"Amazingly, my parents didn't restrict me from going out with any of the boys, if I wanted to. I went out once or twice with a very good-looking English boy. But I soon realised that looks weren't everything. So I dropped him pretty quickly. He went and complained to Mum, who told him not to worry – there are plenty more fish in the sea! Mum and I had a good laugh about that!
"My background has taught me a lot about human frailty – and strength. These days I try not to take anything too seriously. And I still try to follow Dad's example to give everyone a 'fair go'."