A life of harmony
"She has exceptional musical talent and is able to teach our choir of over 60 retired men to sing a repertoire of great variety and complexity."
David Coates OAM
"She brings a wonderful energy to the choir and, quite simply, it would not be as successful without her guiding hand."
Christopher McRobert
"The name Doreen Bryars is synonymous with first class choral presentations."
Barry Swan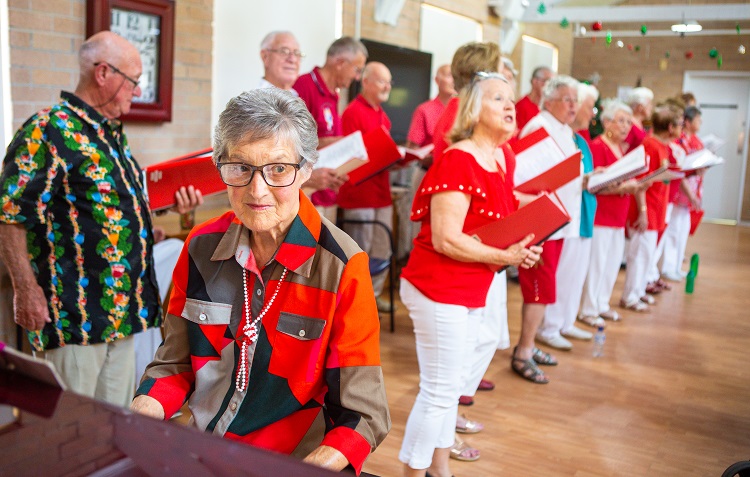 "The best part is brightening people's lives; being able to entertain people, from little ones to older ones. What more could a person want?"
Doreen Bryars OAM can't remember a time when she wasn't able to play music.
As a toddler in Sheffield, England, she recalls tinkling the ivories on the family's piano.
"I guess you could say I was born with it. My parents used to take me to the cinema but I wasn't interested in what was on the screen – just the music. I couldn't wait to get home to try playing it on the piano," the 81-year-old IRT Links Seaside resident explains.
Doreen has pursued her love of music for almost eight decades now and during that time has been the driving force behind a male choir and a mixed singing group she formed. She also spent years as a music director for a theatre group and played the piano for an untold number of dancers.
The OAM after Doreen's name is a recent addition; bestowed upon her in June 2020 for her decades of service to the performing arts, particularly as a music director.
When Doreen found out she'd been awarded an Order of Australia Medal, her first reaction was "why me?". "I thought I don't deserve this because so many people do such wonderful, fantastic things and I couldn't see that what I had done was any more special to deserve an OAM. It's wonderful to get an OAM for doing something you love."
Doreen joined Wollongong's musical theatre group the Arcadians in 1976 because she wanted to sing.
"It came to a time when I was the eldest woman on stage so I realised if I was going to keep working with the Arcadians I needed to let them know I could play the piano!" she laughs.
Someone suggested she try her hand at becoming music director for a production of L'il Abner and even though she had her doubts she gave it a go and ended up directing many shows.
"The Arcadians community accepted me even though I never had any musical qualifications, any letters after my name. They trusted me enough to say you can do it, to play the piano and to direct. That was special."
In 1991 she spread her wings, forming the Minstrels, a mixed singing group, with fellow Arcadian Bob Schofield.
A few others asked to join, with the sole purpose of entertaining residents in retirement villages and aged care centres.
Over almost three decades the Minstrels, who are now 30-strong, have performed hundreds of concerts – three a week in their heyday.
"Residents love it. Often we go in and they're sitting quietly. Then they hear the music and go 'wow'.
Their feet start tapping and they have beams on their faces. It gives us so much pleasure," she says.
The other great musical love of Doreen's life is the Lamplighters, the male choir she formed in 1999, mainly from older Arcadians members who were no longer doing shows but wanted to keep singing. There were 12 in all, singing multiple styles of music in four-part harmony.
Now 60-strong, the choir rehearses every Monday morning and performs monthly.
Doreen describes the choir as a musical men's shed.
"It gives the men a real sense of community and connection in their retirement. There is so much camaraderie and friendship and I'm just accepted as one of them," she says.
"It is a great leveller because so many of the guys are from different walks of life. We've got a former union boss, a magistrate, a surgeon. The choir puts them all on the one level.
"To see them from when they first join getting better and better, and for the ones who are shy to come out of themselves, it's exciting."
So, what's kept Doreen going all these years?
"The best part is brightening people's lives; being able to entertain people, from little ones to older ones. What more could a person want?"