IRT customer receives Order of Australia Medal
Staying at Home
Giving Back
Connectedness
Independence
Positive Ageing
Retirement
04 March 2019
Share:
Barry Glover received an OAM for his service to veterans and their families
He is an IRT Home Care customer
Barry really wanted a career in trains
He served in Vietnam during his time in the army
IRT Home Care customer Barry Glover received an OAM for his service to veterans and their families.
"I wanted to make sure people got what they were entitled to . . ."
Barry Glover's service to veterans and their families saw him receive a Medal of the Order of Australia in the 2018 Queen's Birthday honours.
Barry, who is a home care customer in East Corrimal, says it's nice to be recognised for the work he has done.
After a short stint in Vietnam in 1971, Barry joined the Kogarah RSL Sub-Branch in 1976. "I was on the sub-branch committees, plus the RSL district and state councils for 14 years," he says. "I wanted to make sure people got what they were entitled to, like their medical treatment."
Barry has spent some 42 years as a member of Kogarah RSL Sub-Branch and is the sub-branch president. He was Illawarra Diggers chairman for 13 years, with his tenure coming to an end in September, and has been on the board for some 30-odd years.
He's enjoyed his time at the helm of the sub-branch and Illawarra Diggers and looking after the returned servicemen and women. "And more so their families, as they suffer more than what the soldiers suffer themselves," he says.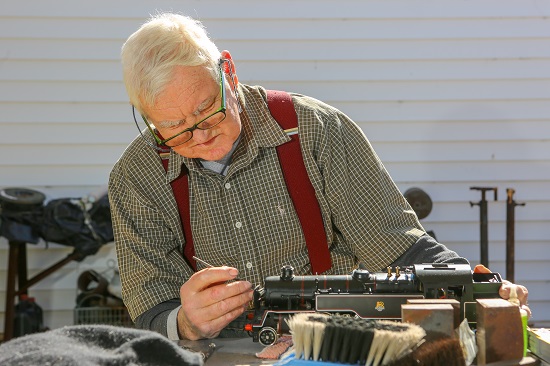 But it was steam trains, not the army, which were Barry's first passion and he was the inaugural president of the Australian Association of Live Steamers. "There are about 90 clubs in Australia," he says. "I was also a founding member of the Illawarra Live Steamers, some 50 years ago."
Steam trains piqued his interest as a youngster and he really wanted a career in trains but being colourblind changed that. "I am slightly colourblind and so it was never going to be a career," he says.
And then he was called up for national service in 1956. "I went for three months and stayed [with the army] for 28 years," he says.
He was pressured to apply for the Officer Cadet School at Portsea, but Barry decided to give it a miss. He had met his future wife Lorraine and was reluctant to venture too far.
Barry was part of the Citizen Military Forces, which became the Australian Army Reserve.
During his army career he was posted to Fort Drummond in Wollongong and then the 114 Coast Battery in Vaucluse, Sydney when the batteries were merged.
In the 1960s he retrained as an anti-aircraft gunner and was second in command of the regiment. Another change in 1974 saw the regiment retrain as a field regiment. Barry was appointed to command the regiment for the change-over training, before being transferred to second in command of another regiment.
Of his time in Vietnam, Barry says he's never been a hero. "I'm a nine-mile sniper," he says. "I was not up there in the dirt and the dust or the mud and the slush."
When he was deployed to Vietnam he was the Battery Commander in the air defence. "I was Captain at the time, due to be promoted to Major," he says.
He explained that while in Vietnam there was no need for air defence because they had no planes to shoot down. "They declined my offer [to retrain] because by the time I did they felt it would be all over and basically that's what happened."
He was retired from the army at the age of 47.
In civilian life, Barry was a partner in a small engineering business in Unanderra – Scobie and Glover Engineering Pty Ltd. "We did a lot of mine and hydraulic work," he says.
He married his late wife Lorraine in December 1959 and they had two daughters. Today he has two grandsons, and four great-grandchildren (two girls and two boys).
Lorraine passed away 20 years ago from cancer and today, Barry has a similar battle on his hands – stomach cancer. But Barry is fighting a good fight.
Barry also has some family connections to IRT – with his grandson's wife Rebecca Glover working with the Innovation Team and another relative Jen Crofts working with IRT Academy.
Share: