Choir keeps Jeff on song
Leading a busy lifestyle keeps Jeff Jones active and engaged
Jeff has embraced singing and musical theatre in his retirement
He only agreed to try his hand after a couple of wines with friends
Jeff is adamant his new hobbies are crucial to his health and wellbeing
Retired solicitor Jeff Jones had never sung in a choir or tried musical theatre until he retired and moved to IRT The Clyde. Now he's busier than ever with his new hobbies
"If I wasn't involved with people I'd feel short-changed. Life wouldn't be as interesting or as much fun."
It's better to wear out than rust out.
That's the saying that motivates retired solicitor Jeff Jones as he leads a busy live that keeps him active and engaged in his community at Batemans Bay.
Since moving to IRT The Clyde in 2013, Jeff has become involved in his church choir, the local U3A choir and community theatre. He also serves as Chair of The Clyde Residents' Committee and runs a weekly gentle exercise class for residents.
"You get much more enjoyment out of life by being involved. The interaction you get by being involved in activities is very satisfying," he explains.
Jeff's busy singing schedule involves practice on Mondays and Thursdays, singing at Mass on Sundays and periodic performances at five local nursing homes. Then there's special events, such as Christmas Carols and U3A's recent concert with the Sydney Male Choir.
The 74-year-old bass says singing was a big part of his upbringing, through family singalongs and school and church choirs, but he's embraced it in retirement and is loving it.
"My wife Barbara and I went along to the U3A [University of the Third Age] registration day and we weren't sure what we wanted to do but I saw the U3A singers and thought 'that's a no brainer'," he says.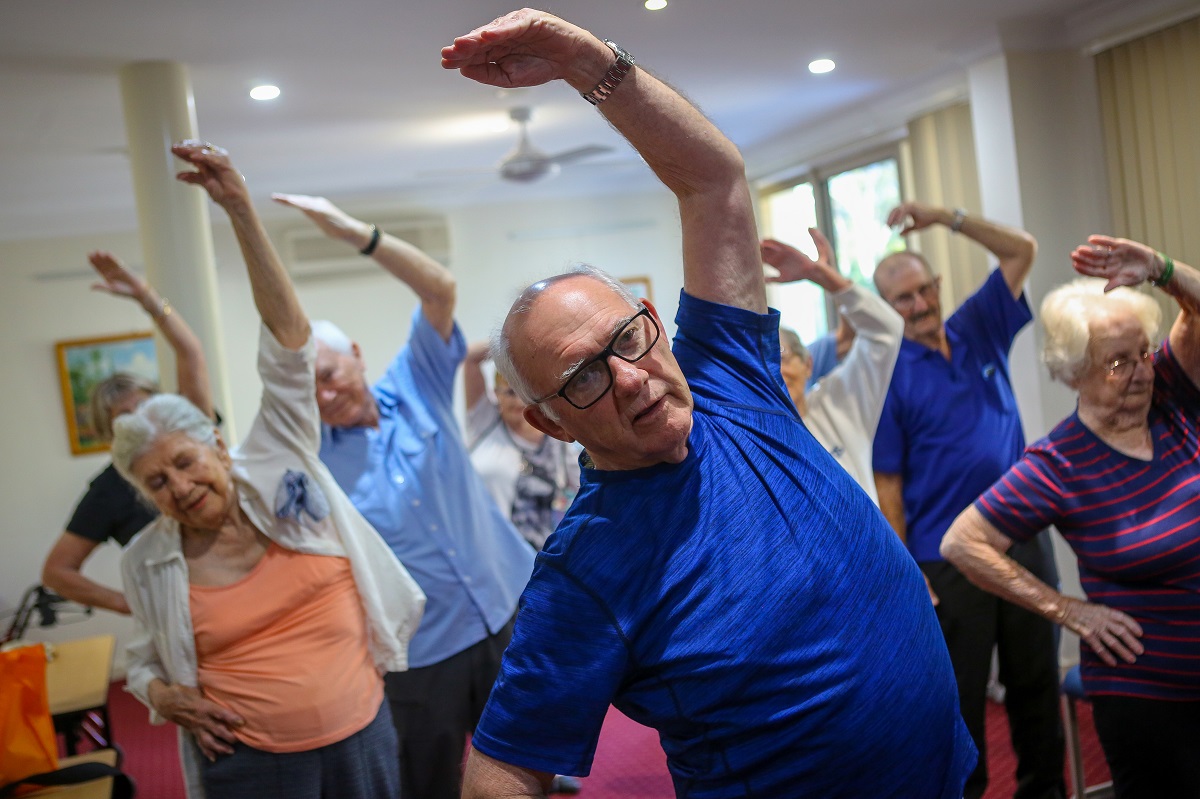 With his can-do attitude, he recently answered a call to join a new choir, formed solely to perform Handel's Messiah.
"The Messiah is the standout choral number and it had always been my hope and wish to sing in a choir performing it. We performed to a packed house at St Bernard's Church before Christmas and it was wonderful."
His foray into theatre came about when The Bay Theatre's secretary and treasurer, who live at The Clyde, encouraged him to join the community group.
"It was over a residents' dinner and, of course, after a couple of wines you'll say yes to anything!" Jeff laughs.
When committee roles were being allocated, he volunteered that he could handle a mattock and spade and so he became the gardener.
Although he had no previous theatre experience – "except in the theatre of the courts, I guess" – the Director took a chance and cast him in some ensemble roles.
He recalls his two roles in Wind and the Willows, as a crusty old rabbit and a magistrate's clerk.
"I had to change make-up and costume five times. I would literally bolt off stage, scrub off my make-up, apply it fresh and get out of one costume and into another. Then I'd bolt back onto stage. It was exhausting but loads of fun," he says.
Jeff is adamant his singing and theatre are beneficial for his health, as is the community involvement. He says it relieves stress and boosts contentment.
"I talk with other choir members and they get the same feeling; we're all on a high, we get a real buzz out of it," he explains.
"And when you do something for others you get such a kick out of it."
He loves singing in the nursing homes, particularly to the residents living with dementia.
"When the music starts you can see the recognition and connection dawning in their eyes. They really become engaged and start to talk. That gives you such a good feeling.
 "If I wasn't involved with people I'd feel short-changed. Life wouldn't be as interesting or as much fun."