Minister Visits IRT Crown Gardens
Senator The Hon Richard Colbeck MP, Minister for Aged Care and Senior Australians visited IRT Crown Gardens Aged Care Centre last week to hear first hand about the impact of the recent NSW South Coast bushfire emergency on aged care residents and employees.
Care Manager for IRT Moruya and IRT Crown Gardens, Leanne Turner and IRT Crown Gardens Registered Nurse (RN), Lidia Markose gave the Minister a first hand account of their experiences caring for residents.
Lidia was in charge at IRT Crown Gardens on New Year's Eve, when the bushfires came to Batemans Bay. She told the Minister how the team put their stay and defend plan in place, moving residents to the area of the Care Centre protected by fire doors and working to keep them calm. Lidia explained this was particularly difficult for residents with dementia.
"They didn't understand what was going on and why they couldn't go back to their rooms," she said.
Lidia told the Minister how the team put wet towels in the windows and at one stage had to put out a spot fire on the Care Centre grounds near the carpark.
Road closures meant Leanne was unable to get to IRT Crown Gardens at times – which she said was the hardest part for her.
"When the communications went down and I could no longer contact Lidia, that was when I lost it," she said.
Leanne commended the RNs for their leadership under pressure.
"They really stepped up – even the more junior RNs who had never experienced bushfires before did an amazing job of keeping residents safe and calm, especially when the site was under ember attack.
"One RN brought pillows and doonas, and she and her husband and stayed at the Centre, understanding it was the safest place to be," Leanne said.
Leanne also told the Minister about her experiences at IRT Moruya, which took in 22 residents evacuated from IRT Dalmeny between 3 and 6 January, and also a number of retirement village residents and evacuees from the community.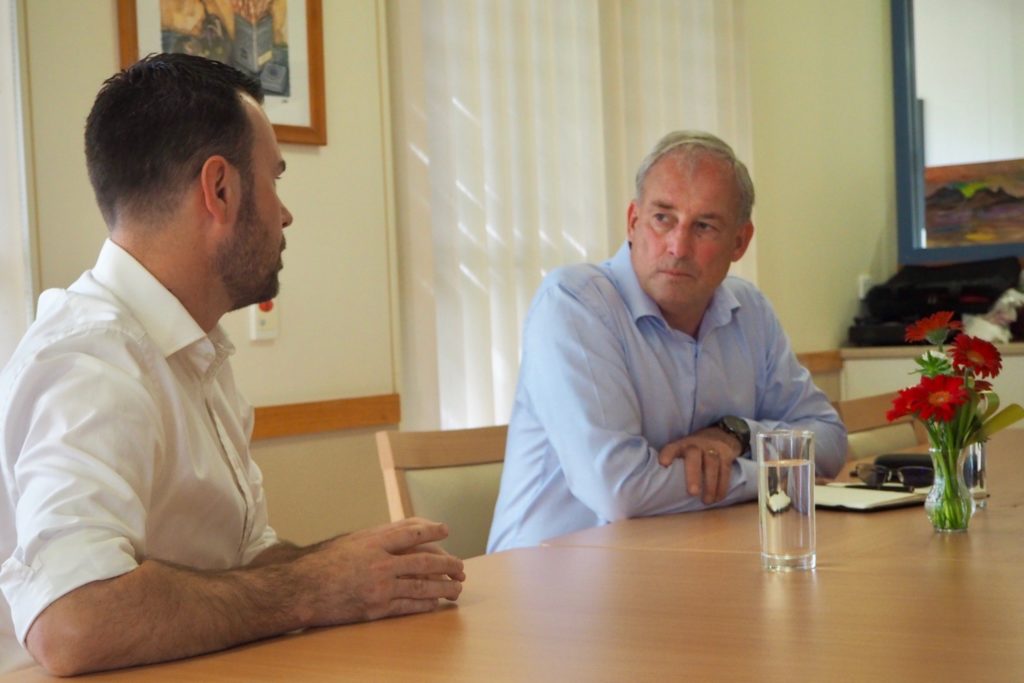 "We fed and cared for double the number of people than normal, with reduced staffing levels," she said. "It was very crowded, but we got by with humour, and with support from the local community."
Leanne paid tribute to family members, local businesses and other community members who pitched in to assist our sites.
"We're so lucky to have such a strong community here on the South Coast,' she said.
Leanne and Lidia explained to the Minister the challenges they faced when power and communications went down.
Other matters discussed during the Minister's visit included the procedure for evacuation of aged care residents and the role of the RFS, emergency services and different government departments. IRT Group Executive General Manager – Strategy Sam McFarlane also discussed IRT's overall experience with the bushfires, pointing out the organisation's strengths and lessons learned.
The Minister went on a tour of IRT Crown Gardens as part of his visit, and was particularly taken with the personalised decals that have recently been installed on residents' doors as part of the Journey of Care program – assisting with wayfinding and creating a greater sense of 'home' for residents.