Staying connected at this time of social distancing
We asked our residents how they've stayed connected during social distancing.
Here's what they said . . .
ARTHUR COWLEY – IRT SEAVIEW
"There's an online app I've been using where you can send cards for various occasions. Over Easter I sent 20 electronic cards to family in Canada and England, and to next-door neighbours. It's quite a handy thing and the people can respond and say thank you too. I've gotten cards with classical music sent back to me from people overseas."
DOREEN BRYARS OAM – IRT LINKS SEASIDE
"The choir I run is trying to get together in small groups on Zoom to practise. I'm going to work with them because we've got a big concert at the end of the year coming up and I'm going to make sure they all know what they're doing. It's important because if you have a voice and you've been singing, they say 'if you don't use it, you'll lose it'. I'm going to try and encourage people, and we've still got a few songs to learn and to tidy up so if this concert goes ahead, then we'll be ready."
WARREN DEPPER – IRT THE RIDGE
"Using FaceTime is very important to see the grandchildren and the great-grandchildren who can't get to see us. We have communicated with them that way and that's been absolutely wonderful. I don't know what we would have done without that."
EMERITUS PROFESSOR HARTMUT KAEBERNICK AM – IRT KANGARA WATERS
"I've been using WhatsApp, Skype and Zoom. We've communicated a lot with friends overseas in Germany over WhatsApp and Skype. We're also using Zoom with another group of four couples from here, Sydney and Melbourne. And here in the village, we wave across the street to our neighbours on the other side."
ROZETA AHALYEA – IRT PARKLANDS
"I have a friend that I go out with every day and we'll walk my dog every morning and afternoon. I'm glad to see everyone walking around the village and still smiling, which is great."
VAL METHERELL – IRT PARKLANDS
"I video call my niece and  nephew in England. I also have friends that I speak quite constantly to on the phone and I have friends in the village that I go for walks with. I usually use WhatsApp because we can chat for as long as we like and we can video call. I think it's actually been easier [to stay connected] because we've all been concerned about one another so we've been probably speaking even more than we have previously."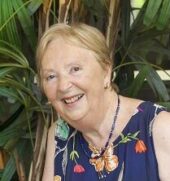 Have a question that you would like our residents and customers to answer?
Email the editor at editor@irt.org.au