Award-winning Jasmine Grove at IRT Kanahooka a first in collaborative retirement housing for women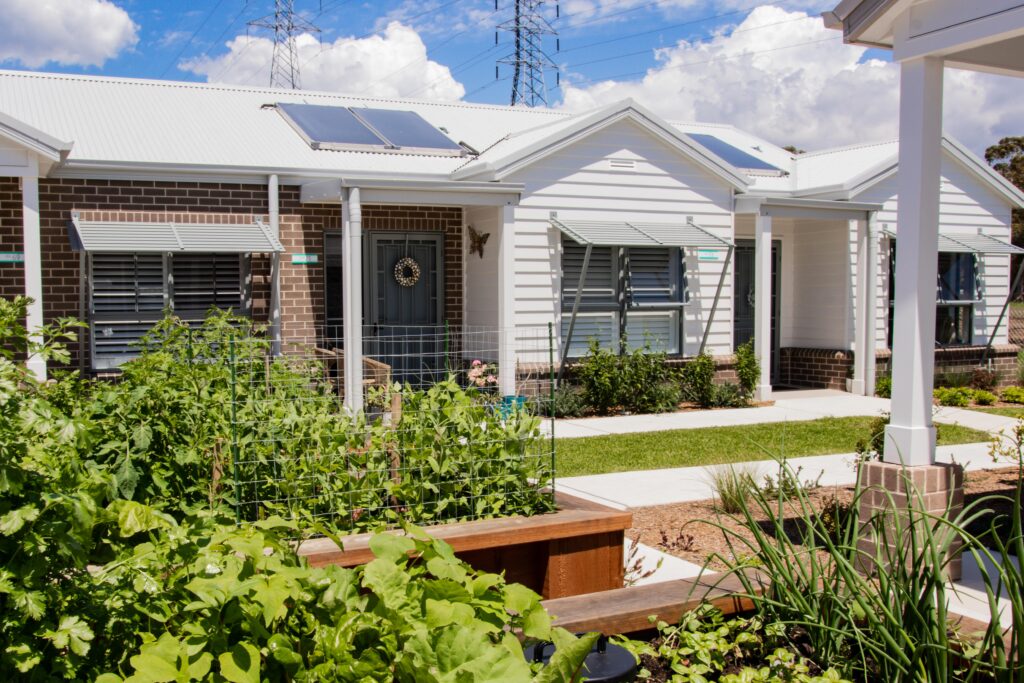 IRT today celebrates the official opening of Jasmine Grove at IRT Kanahooka, a collaborative retirement housing neighbourhood for women over 55.
Set within the new Henry Brooks Estate at IRT Kanahooka retirement village, Jasmine Grove is an innovative retirement housing model that provides a more financially attainable accommodation option for single women while promoting social connection and a supportive community.
Today, the new residents gathered with the executive team and board of IRT, industry partners, neighbours from Henry Brooks Estate, and representatives of federal and local government to commemorate the special occasion.
With the project partially funded by the Australian Government through the Building Better Regions Fund, IRT was pleased to welcome Senator the Hon Concetta Fierravanti-Wells representing the Minister for Infrastructure to participate in formally opening the neighbourhood.
IRT CEO Patrick Reid says the collaborative retirement housing neighbourhood for women is a very special achievement and a great example of an innovative housing option that meets identified needs among a specific cohort.
"Our experience in building Jasmine Grove has shown us that the concept of collaborative housing is becoming an increasingly attractive option for a growing number of women approaching retirement," Mr Reid said.
"More and more women are seeing the value of living amongst a supportive community of their peers and we've fielded hundreds of inquiries about Jasmine Grove since we announced the development last year.
"Our aim with Jasmine Grove has been to offer a new type of retirement living option for women that is not only more financially attainable, but sustainable and connected. We're really excited for the eight women who now call Jasmine Grove home and hope they will be very happy here."
Jasmine Grove is already an award-winning development, most recently winning a national innovAGEING award for Improving Consumer Choice and an international award at the 9th Eldercare Innovation Awards 2021 for Project of Year – Ageing in Place. The project team responsible for developing Jasmine Grove are also finalists for the John Holland – Team Innovation Award by the National Association of Women in Construction.
Jasmine Grove is purposefully designed to encourage participation, sharing and a sense of community while offering residents their own private and secure homes. Eight private one-bedroom fully self-contained villas are set around a community building featuring a large share kitchen, family sized dining and lounge area where the residents can come together to prepare and share a meal together or simply relax and chat. The outdoor area includes a BBQ setting, additional storage and shared vegetable garden and green space.
The villas are pet-friendly and include a full kitchen, dining area, lounge room, laundry, bathroom, outdoor storage and parking space. Residents can also take full advantage of the amenities of the retirement village Henry Brooks Estate which surrounds Jasmine Grove including the clubhouse, pizza oven, giant outdoor chessboard and extensive landscaped walkways. Residents are also eligible to receive 50 hours of integrated IRT Home Care services within the first 12 months of residency.
Read more about Jasmine Grove at IRT Kanahooka on IRT's website: irt.org.au/jasminegrove
Media enquiries: Hannah Ellson 0429 361 627 | engage@irt.org.au               
General enquiries: 134 478
About IRT Group:
IRT Group is one of Australia's largest community-owned, not-for-profit providers of retirement living, residential aged care and home care. With more than 50 years' experience and locations throughout NSW, the ACT and South East Queensland, we employ almost 2800 people and play a significant role in promoting seniors as dynamic, influential and valuable members of society.