Construction Starts on New IRT Retirement Village in Kanahooka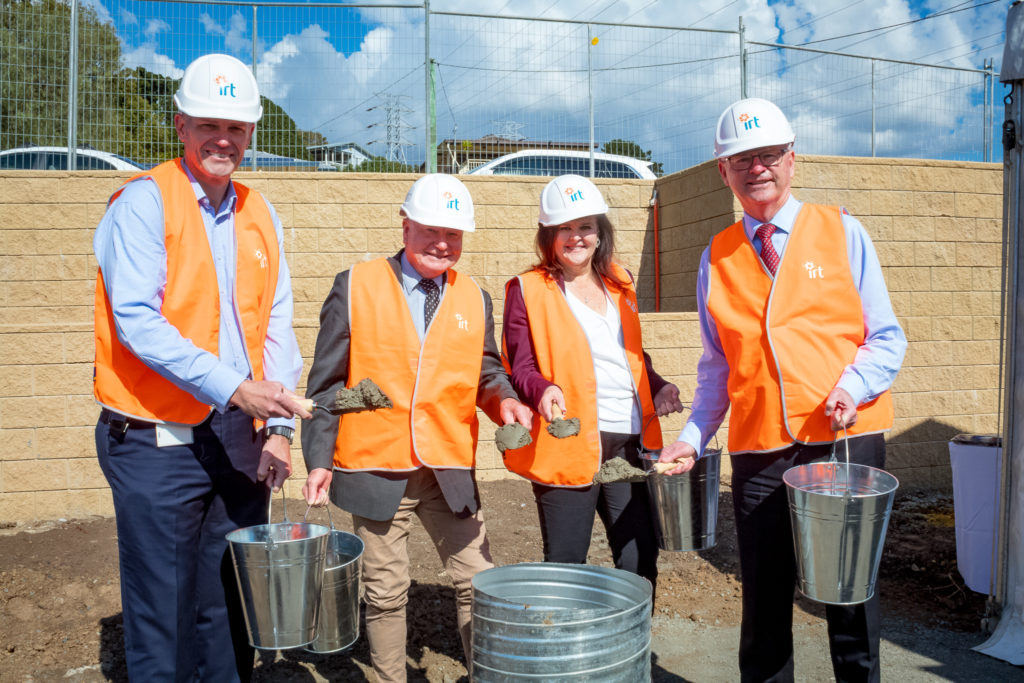 IRT Group will celebrate the start of construction of Henry Brooks Estate at IRT Kanahooka on Wednesday 28 August.
Henry Brooks Estate is being developed on land adjacent to IRT's existing William Beach Gardens and Kemira communities on Kanahooka Road.
Wollongong City Lord Mayor Councillor Gordon Bradbery AM and Member for Shellharbour Ms Anna Watson MP will join IRT Group Chair Mike Halloran and CEO Patrick Reid in pouring a foundation for the first stage of the development.
IRT residents, employees, contractors and neighbours will gather at the construction site to mark the occasion.
IRT Group CEO Patrick Reid said the celebration marks the official start of construction of stage one of the development.
"A lot of work has gone into completing the bulk earthworks and civil works on the site already and we're excited to start construction of our first 22 villas," Mr Reid said.
In total the estate will feature approximately 90 two and three bedroom villas, and eight one bedroom villas for older single women partially funded by an Australian Government Building Better Regions Fund grant of $634,500. For the first time, every villa sale will come with 50 hours of home care services free of charge.
Mr Reid says Henry Brooks Estate will be a purpose-built connected community, where residents can age in place while enjoying an active and independent retirement.
"It's our mission to create communities where older Australians can achieve their optimum quality of life. To this end every aspect of Henry Brooks Estate has been carefully considered, from the design of the grounds and interiors, to the services and amenities. The needs of our residents have been at the heart of every decision for this development," Mr Reid said.
"To ensure the village meets residents' needs now and into the future, the village will have ample rest points with seating and weather protection areas and wide pathways to accommodate people travelling throughout the village by foot or with walking aides," he said. "All signage will be placed at eye-height in easy to read large font and colours using icons and symbols to assist residents with way-finding.
"Dementia-friendly design principles will also be incorporated throughout the village grounds and villas to help residents achieve their optimum quality of life while ageing in place."
Examples of dementia-friendly design will include contrasting colours for the roads and pavements and different tree species to help residents identify sections of the village. In the villas there will be wide entrances, clear door openings, large light switches, charging stations for motor scooters and ramp access.
With its proximity to Lake Illawarra, the development will have a coastal feel. The community will feature open spaces, landscaped pocket gardens and facilities including a community centre known as the Clubhouse for residents to get together and enjoy social activities.
The Clubhouse will include a large gathering area for up to 80 guests, meeting rooms, a fully operational kitchen, and an outdoor terrace area with a wood-fire pizza oven. Other features of the community will include a giant chessboard and scenic nature walkways.
"We know that staying socially engaged is vital to our emotional and physical wellbeing as we age, so we want to ensure that there's ample space for our residents to meet up and enjoy activities together," Mr Reid said.
The name of the new retirement village pays homage to one of the early owners of the land, Henry Brooks. Henry received a grant of 600 acres of land in Kanahooka in 1825 from his father Richard Brooks, who was one of the Illawarra's first five land grantees.
Construction is anticipated to be completed in 2022. The two and three bedroom villas will be available for sale from January 2020.
Media enquiries: Hannah Ellson 0429 361 627
General enquiries: 134 478
About IRT Group:
IRT Group is one of Australia's largest community-owned seniors' lifestyle and care providers. With almost 50 years' experience and locations throughout NSW, the ACT and South East Queensland, we employ almost 2400 people and play a significant role in promoting seniors as dynamic, influential and valuable members of society.