Greenacres Father's Day surprise for IRT residents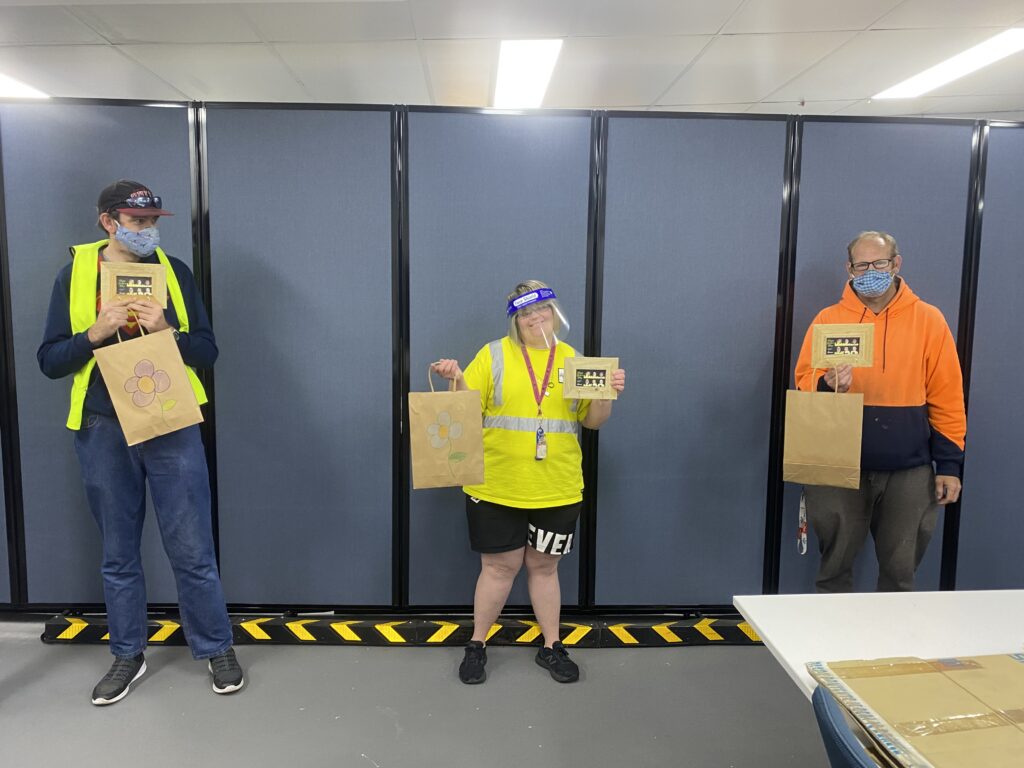 Residents living in IRT Retirement Villages across the Illawarra, Sydney, Shoalhaven, Eurobodalla and the ACT will find it easier to keep track of their keys thanks to a special Father's Day present made by Greenacres supported employees.
Before the COVID-19 restrictions, Greenacres' employees who were part of the Community Connect program were volunteering with IRT Facilities Management employees to learn gardening and land care skills including garden design and planting.
With restrictions in place, and being on site at IRT no longer possible, the Greenacres and IRT team decided to work together and use their skills to create 700 hanging frames with key hooks as a Father's Day surprise for IRT residents.
The IRT employees transformed fence palings into frames and sent the raw frames to the Greenacres team to apply a double varnish and attach key hooks and hanging materials. Over 700 gift bags were also decorated with hand drawn flowers, rainbows and hearts by Greenacres supported employees.
Staff at Bunnings Bellambi kindly supported the project, generously supplying $5000 worth of materials.
IRT Group CEO Patrick Reid offers his heartfelt thanks to Greenacres for their generous and thoughtful gift to IRT Retirement Village residents.
"It's been a while now since the Greenacres gardeners have been able come to IRT sites and work their magic on our gardens and they should know that they are dearly missed by us and the residents," Mr Reid said.
"The Greenacres gardeners have such warm personalities and our residents find a lot of joy in watching them work and having a chat while they do. We hope to welcome back our Greenacres friends as soon as it is safe to do so."
Greenacres CEO, Chris Christodoulou said while at one stage it looked like the project wouldn't go ahead due to the current COVID-19 lockdown restrictions everyone worked together to get the job done.
"As an essential service, Greenacres Industries has remained open during the current lock down but understandably many of our supported employees are choosing to stay at home," Chris said.
"To get this special project finished in time for Father's Day, the supported employees who are here worked extra hard and even staff from other areas of the organisation picked up a paint brush and pitched in."
"I think overall there was a lot of enthusiasm for the project as we are aware that many IRT residents will not be able to see family due to the lockdown restrictions and we hope this unexpected surprise will bring some joy on Father's Day."
Media enquiries: Hannah Ellson 0429 361 627 | engage@irt.org.au
General enquiries: 134 478
About IRT Group:
IRT Group is one of Australia's largest community-owned, not-for-profit providers of retirement living, residential aged care and home care. With 50 years' experience and locations throughout NSW, the ACT and South East Queensland, we employ almost 2800 people and play a significant role in promoting seniors as dynamic, influential and valuable members of society.
About Greenacres:
Greenacres is one of the largest disability service providers in the Illawarra. For over 65 years, Greenacres have been committed to supporting people with disability to achieve their dreams by providing training, employment opportunities, respite and life and leisure programs to over 600 people with a disability.