IRT aged care residents boogie to the beat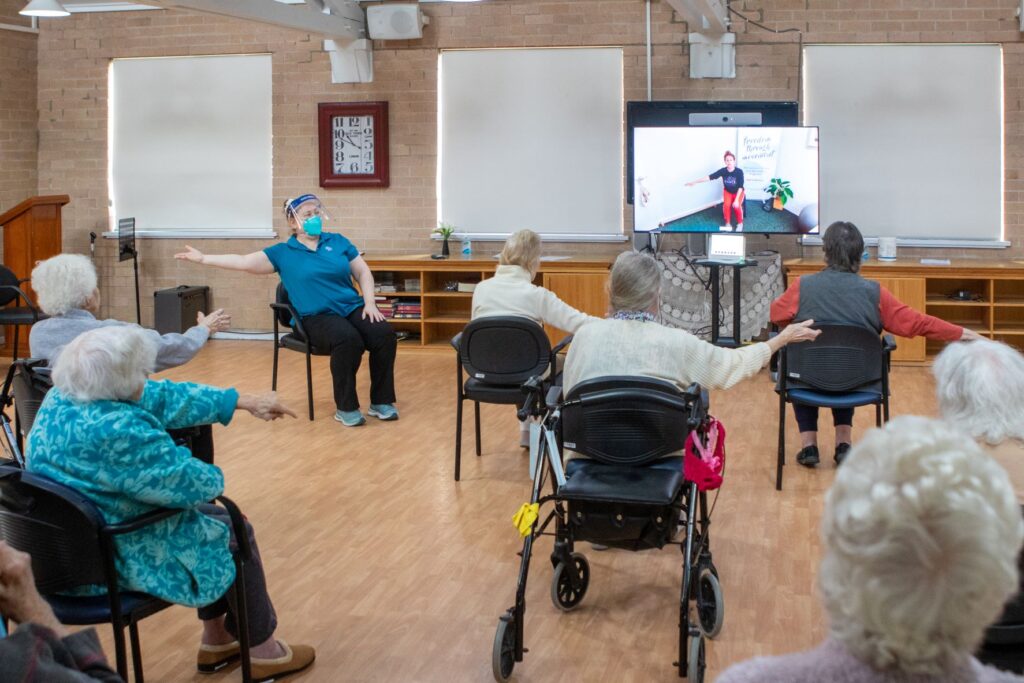 It's all singing and dancing for IRT aged care residents who regularly attend the new DanceWise class at William Beach Gardens at IRT Kanahooka.
Run by non-for-profit organisation Dance Health Alliance, DanceWise is a seated dance program that offers a dance class for those who are limited in their movement. The innovative program focuses on therapeutic and movement classes that increase mobility, functional independent and psychosocial involvement for people living with age-related limitations, dementia, Parkinson's disease, multiple sclerosis and arthritic conditions.
DanceWise sessions with Dance Health Alliance have been run across all IRT aged care centres in 2022. With IRT lifestyle staff receiving training in June to become certified DanceWise program facilitators, the program has become a regular part of the lifestyle activity calendar for all IRT aged care centres.
William Beach Gardens team member Klaudija Danic said participants had provided some really positive feedback regarding the DanceWise classes, and more and more residents had been coming along to attend the sessions.
"I've noticed all our participants have really progressed in picking up and following the moves each week, and our residents have seen an improvement in their mobility and balance," says Klaudija.
"The classes really do loosen you up – I come in so stiff, and by the end of the class even I feel so much more relaxed!"
Resident Anne Marie Harding said she loves coming along to the DanceWise classes.
"I wouldn't come along if I didn't enjoy the class! It makes you feel good. And the music's lovely," says Anne Marie.
"There's nothing better than having a dance. You can't help but move your feet. It's good for your mind and soul."
The dance classes also bring back fond memories for the residents who used to hit up the dance floor in their youth.
"I used to go out dancing all the time when I was younger," says resident Beverly Lyall.
"We'd go down to the dancing hall and do the Twist every Friday night. The boys were always waiting at the door for us!"
Media enquiries: Hannah Ellson 0429 361 627 | engage@irt.org.au
General enquiries: 134 478
About IRT Group:
IRT Group is one of Australia's largest community-owned, not-for-profit providers of retirement living, residential aged care and home care. With more than 50 years' experience and locations throughout NSW, the ACT and South East Queensland, we employ almost 2200 people and play a significant role in promoting seniors as dynamic, influential and valuable members of society