IRT Sarah Claydon residents off to a flying start at Narrawallee Men's Shed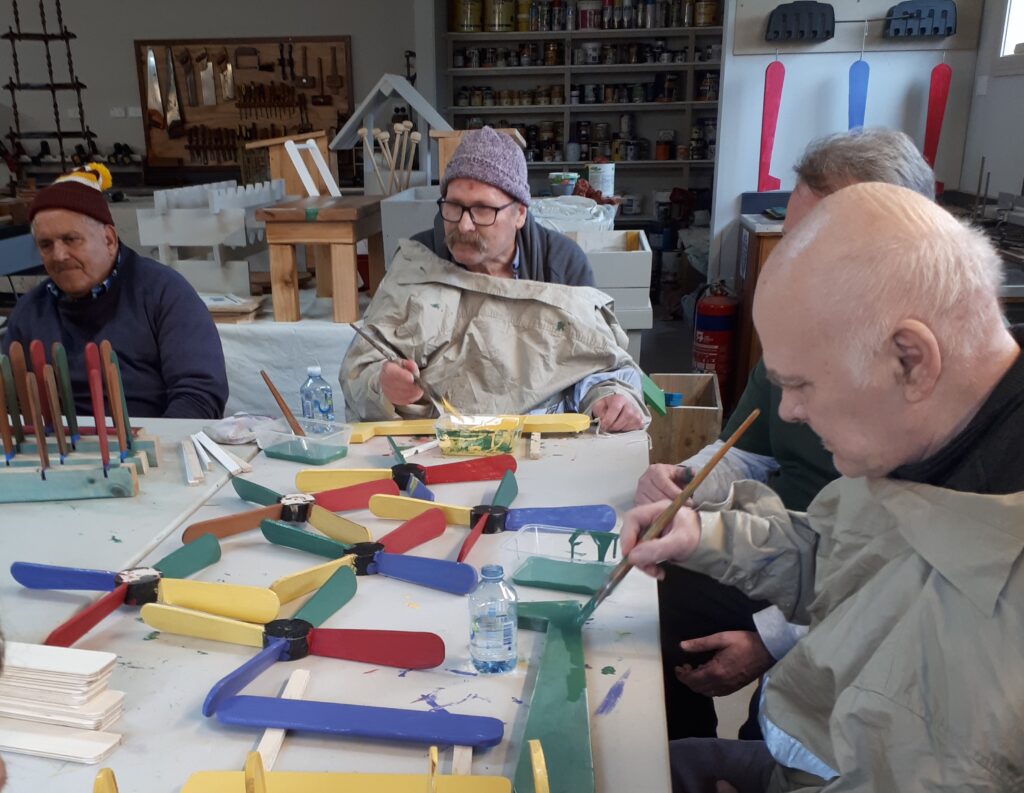 This spring, IRT Sarah Claydon residents were welcomed into the Narrawallee Men's Shed. Each Friday morning for the past month a group of five to eight men join three Men's Shed volunteers in building their first piece of woodwork – ornamental propeller planes.
"They really enjoy it and they especially enjoy seeing the progress they make each week," says IRT aged care employee Yvette Tetley.
The men from Sarah Claydon have varying skill levels in woodwork and are supported to contribute to the project.
"We make an effort to ensure everyone who joins us is included and involved in a way that they enjoy," says Yvette.
Some residents with vision impairments have been assisted to paint the planes' propellers in bright colours as someone holds and guides their hand. Another resident, Sylvio, isn't overly interested in woodwork but enjoys the company. So one of the Men's Shed volunteers has organised to garden with him during the visit. Other residents like to get on with the task at hand and build the planes all on their own.
The men's group from IRT Sarah Claydon visit the Men's Shed for about an hour and half and also enjoy a spot of morning tea and a good chat.
The timbers and paints used in the project have been donated by the public and a local builder is also known to drop off materials he no longer needs on occasion.
When finished the eight wooden ornamental planes will be available for purchase via the Narrawallee Men's Shed. IRT intends to purchase some of the planes for display in the gardens at IRT Sarah Claydon.
Media enquiries: Hannah Ellson 0429 361 627 | engage@irt.org.au
General enquiries: 134 478
About IRT Group:
IRT Group is one of Australia's largest community-owned, not-for-profit providers of retirement living, residential aged care and home care. With more than 50 years' experience and locations throughout NSW, the ACT and South East Queensland, we employ almost 2200 people and play a significant role in promoting seniors as dynamic, influential and valuable members of society.