The motorsport flag marshal of IRT Peakhurst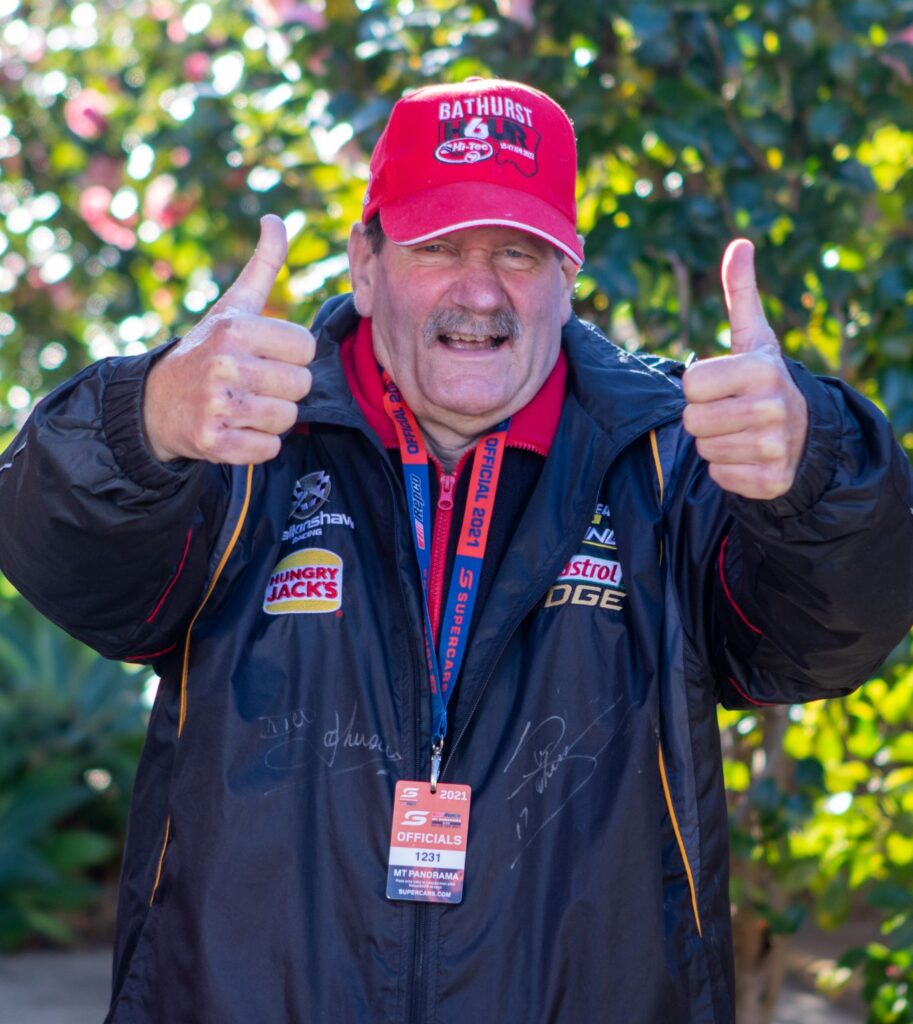 With the Bathurst 1000 just around the corner, IRT Peakhurst resident Ian Stuart is preparing for his role in the race as a volunteer flag marshal. Ian's love of car racing and volunteering has brought him trackside to some of the biggest motorsport events in Australia.
Ian, 67, is an accredited flag marshal with the Australian Racing Car Drivers and car racing, in particular the V8 supercars, is a passion close to his heart.
"There's always something different happening," Ian explains of the motorsport.
"My best mate John is also involved and it's something we enjoy doing together."
Ian became a flag marshal when another friend of them both, Alan, who was a flag marshal of Amaroo Park, a former raceway at Annangrove in Sydney, invited John to join him.
"Alan said to John he had no one to go with to Bathurst and John said he'd go and then spoke to me about it – and we've been doing it ever since."
Ian earned his credentials at Mount Panorama Motor Racing Circuit in Bathurst, learning on the job. He explains there are six different flags used by a flag marshal, which are different colours, including red and yellow stripes, which Ian explains is waved if there is petrol or oil on the track.
"If there's a bad prang they have to bring out the safety car and when they can start racing again you bring out the green flag," Ian explains.
Flag marshals also have a two-way radio, plus a back-up radio, to do their job.
Ian volunteers his time at Sydney Motorsport Park (formerly Eastern Creek International Raceway) and Mount Panorama. As well as being a flag marshal, he's also helped out with the ticket collection at Sydney Motorsport Park.
"It's a long day when flag marshalling," Ian says.
"Sometimes you start at 7am and finish at 5pm. When you are a flag marshal you are not far away from the cars when they go past."
Ian explains his work is voluntary but he has lunch provided and is often recognised for his efforts with a certificate or merchandise.
"I get to meet nice people," explains Ian when asked about what he likes most about being a flag marshal. "We are rev heads."
The volunteer work has its perks – you get a great spot on the track, are close to the action and you get to meet a few icons of the sport too.
"I've met Neil Crompton (former driver and now commentator), Mark Skaife (former driver and now commentator), racing car driver Garth Tander, Jess Yates (presenter), and father and son Dick and Steve Johnson."
In his IRT Peakhurst home Ian has some motorsport memorabilia including an old racing jacket signed by Dick and Steve Johnson.
Ian likes the Red Bull racing team, which races Holdens, and his favourite driver is Shane Van Gisbergen, a Kiwi supercar driver.
"He's very good," Ian says.
"Once he was starting back in 22nd position and he came up and won the race."
Ian's favourite race is the Bathurst 1000.
"There are some good competitors in there too," he says and looks forward to getting back to Mount Panorama in October.
Media enquiries: Hannah Ellson 0429 361 627 | engage@irt.org.au
General enquiries: 134 478
About IRT Group:
IRT Group is one of Australia's largest community-owned, not-for-profit providers of retirement living, residential aged care and home care. With more than 50 years' experience and locations throughout NSW, the ACT and South East Queensland, we employ almost 2200 people and play a significant role in promoting seniors as dynamic, influential and valuable members of society.