Invisible and ignored: sleeping rough as an older person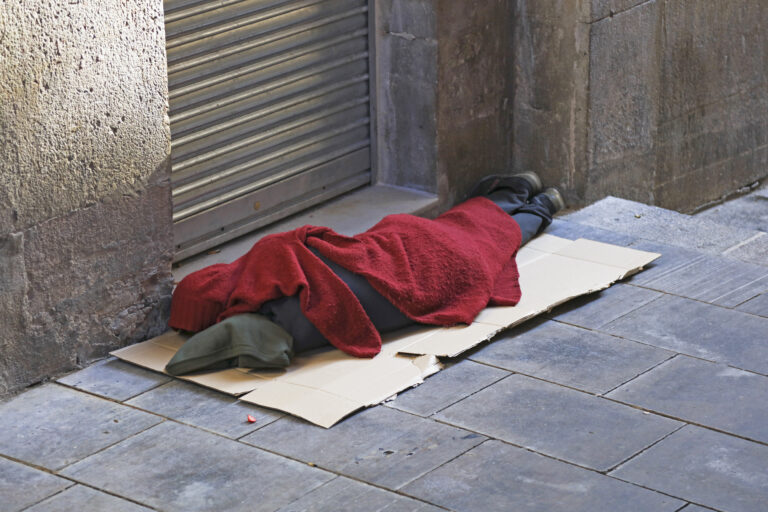 If you struggled to get out of your warm bed this morning, spare a thought for the 116,000 Australians who didn't have a bed to sleep in last night. No safe place to return to at the end of a cold winter's day. Nowhere with a door to lock and keep out the fear of facing another night sleeping rough.
The homelessness rate in Australia is rapidly climbing. The last Census showed the number of people counted as homeless in NSW alone had increased by 27%. But this number could be much higher, as the Census doesn't accurately capture people who are homeless and may be sleeping rough.
Many of us walk past people experiencing homelessness every day. We've all noticed those sleeping in doorways, alongside buildings or on park benches. These rough sleepers are just the tip of the iceberg.
Homelessness affects many more people than those we see sleeping rough on the street. There are many different types of homelessness, and the majority of people experiencing it are hidden from view. They are living invisibly, almost completely ignored by society.
They could be a respected colleague or friend, living out of their car. A former neighbour, who's in and out of crisis accommodation. They could even be a family member, who is couch surfing between friends' or strangers' homes.
It is a sobering thought that each and every one of us could be a life event away from losing everything. A lost job. A relationship breakdown. A serious illness. It can happen to any of us and all it takes is a bad run of luck.
Homelessness is at a crisis point in Australia, and it's going to take more than any one organisation or government body to solve the many complex challenges that lead to and sustain its vicious cycle.
In Wollongong specifically, the city's first homeless Street Count in 2019 found there were over 60 people sleeping rough on any given night in the CBD and surrounding areas. Over 600 other people were counted in temporary shelters and hostels.
The 2020 Street Count was held during the COVID-19 pandemic and we are hesitant to rely on the very low numbers of rough sleepers as being a true indication of this ongoing problem. The scary truth is that these rough sleepers are even more hidden, and now more vulnerable than they were before.
One of the fastest growing groups of people facing homelessness are those aged 65 years and over, with 20,000 older people across Australia already homeless. Disturbingly, 64% of this group will die within five years of becoming homeless.
However, these statistics predate the COVID-19 pandemic, meaning we are yet to fully understand the impact this global pandemic will have on vulnerable, older rough sleepers.
Older women in particular have emerged as a demographic at heightened risk of homelessness in recent years. For a lot of older women, extended periods out of paid work has resulted in significantly less acquired savings and inadequate superannuation to support them through retirement. This, together with the loss of a partner, a serious illness or other major life event, can put their housing security at considerable risk.
These women have spent their whole lives contributing to society. They've worked hard, paid their bills, raised their kids and cared for ageing parents. We live in a developed nation, but we are leaving these people behind. People who have helped make this country what it is today.
So what can we do about it?
The NSW Government made a commitment in February 2019 to halve the rate of street homelessness across the state by 2025. This was an admirable goal but one that overlooked the true scale of homelessness in this country.
For example, in 2019, for every one person that was sleeping rough on the street, there were another ten facing homelessness in hostels and shelters. This doesn't even account for the number of people couch surfing or in inadequate housing.
To put it simply, our social housing system isn't established to handle this ever-growing demand.  During Homelessness Week (2-8 August) Homelessness Australia called for more social housing to be built. This was a solution that will both create jobs and end homelessness, a relevant and practical solution for this ever-changing world.
Recently the NSW Government announced the Together Home project, a $36 million investment which placed hundreds of people who are rough sleeping into the private rental market. This is a partnership between NSW Government, Community Housing Providers, Specialist Homelessness Services and health services. The government must be commended for such a serious investment into such a significant issue.
Unfortunately Age Matters is not part of the Together Home project, nor are any other voices advocating for the specific needs of homeless older people. With over 20 years of experience providing specialist homelessness services for vulnerable older people, we have a voice that knows from experience, and which is connected to the most vulnerable in this growing issue.
If you'd like to learn more about our work and how you can contribute to the fight against homelessness in your own backyard please subscribe to our newsletter below or email us.