IRT Group marks 50 years of helping people age with dignity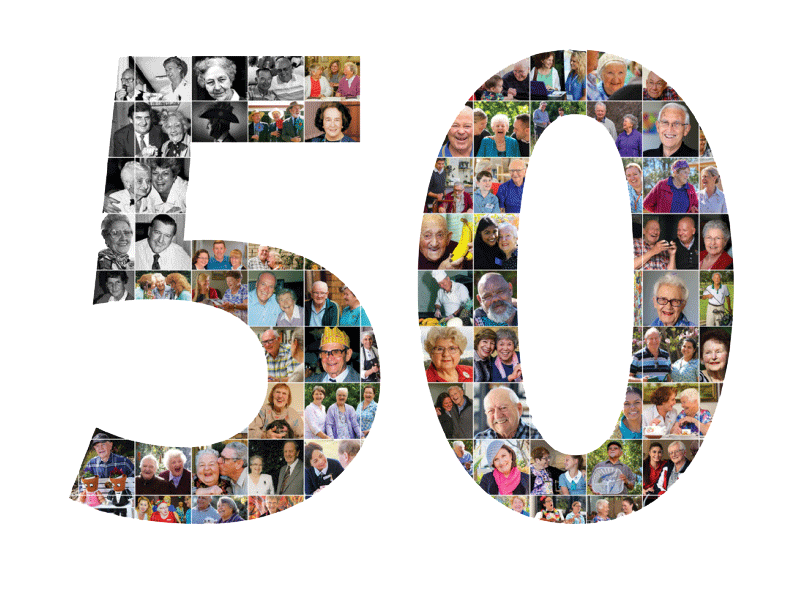 Illawarra-based retirement living and aged-care provider IRT Group turns 50 this Thursday 14 November 2019.
To mark the 50th anniversary, celebrations are being held this week across the organisation's 31 retirement villages, 21 aged care centres and six home care hubs located throughout NSW, South East Queensland and the ACT.
Formed in Wollongong on 14 November 1969, IRT was borne from a vision held by Corrimal medical practitioner and Bulli Hospital Honorary Medical Superintendent Dr Max Diment MBE and Illawarra Masters and Wardens Association President Noel Howard OAM who wanted to provide Illawarra seniors with better options in housing and care. With a thousand dollars gifted by a local business and a parcel of land donated by Wollongong City Council, Dr Diment and Mr Howard together with a group of likeminded community leaders founded IRT.
Mr Howard went on to become IRT's first Executive Director and longest serving CEO until his retirement in 1997.
Today, IRT has grown to become one of Australia's largest community-owned not-for-profit retirement living, residential aged care and home care providers with almost 2800 employees and 850 volunteers supporting more than 9100 older people annually.
IRT Group CEO Patrick Reid says IRT's 50th anniversary is a significant achievement and that it's a privilege to lead an organisation with such a rich legacy of helping people to age well with dignity.
"It's rare that an Australian organisation celebrates its 50th anniversary confident it is still doing what it set out to do when it was founded. We are as determined today as Dr Diment and his friends were 50 years ago to provide the best possible care for older Australians delivered with compassion and respect," Mr Reid said.
"A lot has changed since 1969. But caring for older Australians has always been and will always be the heart and soul of our work."
A Chairman's Dinner on Thursday evening will also mark the occasion and pay tribute to the commitment of 15 employees who have reached 10 year, 15 year, 25 year and lifetime service milestones helping improve the lives of older people with IRT. Of note IRT General Member Michael Paul will be recognised for 50 years of service. Mr Paul became a foundation member of the General Committee in 1969, was elected to the first IRT Board of Directors and served on the board for 41 years until he resigned in 2010.
"We wouldn't be here today without the steadfast dedication and compassion of all the people at IRT who work extraordinarily hard each and every day to deliver the best possible care," Mr Reid said.
Key achievements in IRT's 50th year include:
The continued roll out of Journey of Care, IRT's model of care that creates three neighbourhoods to cater to the different needs of residents. This involved embedding dementia-friendly design features in dementia environments and training 670 employees in dementia and palliative skill sets that align with the model of care.
Completed the roll out of Namaste, a sensory-based program supporting residents with severe and end-stage dementia, to 16 aged care centres. Three of IRT's Sydney-based aged care centres won the team category of the NSW/ACT Leading Age Services Australia's Excellence in Age Services Awards for their Namaste program.
Five registered nurses completed a 12-month Fellowship with Dementia Training Australia, their projects will help IRT better meet the unique needs of people living with dementia.
Conducted the first Wollongong Homeless Street Count with Wollongong Homeless Hub and Wollongong City Council, finding more than 60 people sleeping rough in the CBD.
Provided culturally appropriate home care to 20 Indigenous people in the Batemans Bay area through Age Matters's pilot project Booraja Home Care.
IRT remains steadfast in its commitment to providing quality care and services that help older Australians reach their optimum quality of life long into the future.
Media enquiries: Hannah Ellson 0429 361 627
General enquiries: 134 478
About IRT Group:
IRT Group is one of Australia's largest community-owned, not-for-profit providers of retirement living, residential aged care and home care. With 50 years' experience and locations throughout NSW, the ACT and South East Queensland, we employ almost 2800 people and play a significant role in promoting seniors as dynamic, influential and valuable members of society.