How can self-funded home care help me?
Staying at Home
Health
Independence
Residential
27 June 2019
Share:
Navigating the complex home care system can be tricky and, at times, confusing.
Applying for a government funded Home Care Package, identifying a trusted provider and understanding contracts and fees can leave you and your family feeling overwhelmed.
Even if you have been approved for a Home Care Package, waiting times have increased significantly, leaving many people wondering how they access the support they need.
Privately funded home care with aged care experts like IRT can help you or your loved ones receive support when they need it the most.
Paying for home care privately allows you to start your home care journey while you're on the waiting list for a government funded Home Care Package.
When choosing a self-funded Home Care Package you should expect the same service from your provider as customers with government funding. These services include specialised customer service teams, a personal Customer Relationship Manager and a team of qualified and supportive staff who get to know you and treat you like family.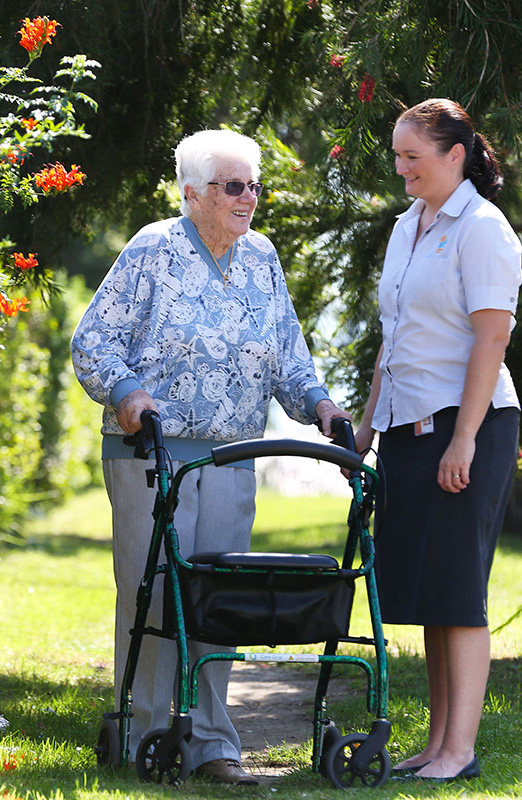 You should also be able to create packages that suit all your needs with a range of affordable services, such as:
Cleaning and household tasks
Nursing services
Health and wellbeing support
Concierge services
Home safety and security
Getting out and about
Social connection
Personal care
So who could benefit from enjoying quality of life, as well as quality health and personal care, with self-funded home care services?
1. If you're waiting for a Home Care Package...
In recent months the waiting list for a government-subsidised Home Care Package has grown significantly. That means older people needing home care are having to wait much longer.
The Australian Government's My Aged Care website warns that even once a person has been assessed and approved for a Package, they can expect to wait months, maybe even more than a year, before they receive it.
Privately funding home care is ideal for those on the Home Care Package waiting list, because it allows them to get care and support immediately, without being locked into an ongoing commitment.
Whether it's gardening, household cleaning or help with personal care such as grooming, bathing or showering, home care services delivered by aged care experts like IRT will help you live your best life at home.
Then, once the package becomes available, the self-funded services can be stopped or transferred to a government funded package with the same provider.
2. If you're caring for a loved one...
Family members play a critical role in caring for their ageing parents, and often they're doing it while still raising their children.
Although there's no official data from the Australian Bureau of Statistics, experts conservatively estimate at least 1.5 million people are caring for children and ageing parents at the same time.
It can be a worrying time, as they try to juggle their various responsibilities.
Privately funding home care provides a convenient and stress-free option for these family members to access appropriate care and support for their ageing parents.
If they're heading on holidays or simply need some respite from their responsibilities for a short period, family members can rely on experienced home care service teams to fill the gap, confident their loved ones will be well looked after.
3. If you're recently retired…
Recent Roy Morgan research shows the average age of retirement has climbed from 58.2 years to 61.9 years in three years.
Despite this, the number who retire each year also continues to climb and currently 415,000 people leave the workforce annually.
Self-funded home care services are perfect for new retirees keen to make the most of their newfound freedom by getting a bit of help around the home.
In the early stages of retirement, reliable providers like IRT can help with the gardening and household chores, adapting to the changing needs of older Australians. Packages of home care services can easily change according to holiday schedules, health issues and family support.
IRT has been delivering home care services for over 25 years and have the experience to deliver personalised care and support that best meets your needs.
If you're interested in getting self-funded home care with IRT, find out more about the available services in your local area, or submit an enquiry form to speak to our experienced Customer Service team.
Once you've submitted your enquiry, one of our service coordinators will be in touch to talk about how we can best help you continue to live independently. At IRT, we don't believe that one size fits all and will help you build a bundle that suits your needs. We take the time to understand you and your lifestyle, and personalise your home care services to suit.
This call will be followed up with a visit from your personal Customer Relationship Manager to figure out which package will best suit your lifestyle. Our dedicated and experienced staff are there to make sure you're happy with our services and have a great experience, every time.
If you have any questions at any time through this process, you can call your Customer Relationship Manager or our customer service team on 134 478 for answers and advice you can trust.
Receiving home care services from IRT means you can continue to live independently, knowing you are supported by aged care experts.
Share: