Belconnen aged care resident shares ANZAC memories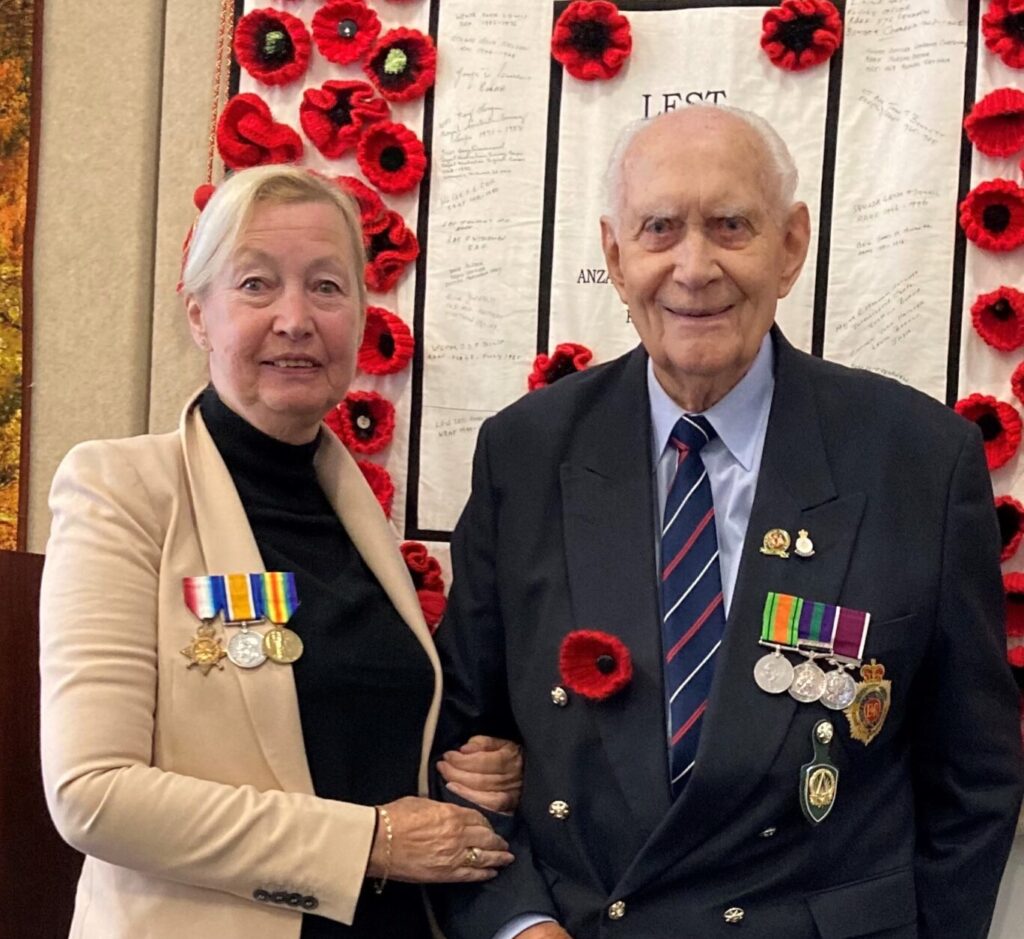 Philip Bruce of IRT Kangara Waters in Belconnen remembers sitting with his father when he was a young boy, holding his father's World War One medals and hearing about the day his father landed at Gallipoli on 25 April 1915 with the British Army.
"My father said he looked up at the cliffs and wondered how he would ever be able to climb up there," Philip said.
"He remembered starting to climb and then he was shot off the cliff and fell to the ground below."
Philip says his father lay on the beach for hours and in all the confusion was thought to be dead.
However he turned out to be one of the few lucky ones and survived. He was returned home alive but with a bullet lodged in his neck. Doctors who examined him determined it was too dangerous to try and remove it so he went on to live out his life with that bullet in his neck. When he died many years later he still carried that bullet.
"My father used to say that the bullet in his neck was his souvenir of Gallipoli," Philip said with a wry smile.
Philip is also a veteran, having served in the British Army after World War Two and has a miraculous survival story of his own.
Philip says he was lucky and wasn't posted to frontline combat, instead he was posted to Cyprus. However, one day when on duty the vehicle he was traveling in was blown straight off the road by a bomb that exploded beneath a bridge he was crossing.
"I was covered in blood and out cold. Everyone thought I was dead. It turned out it wasn't my blood at all but that of the poor Sergeant Major who had been sitting next me," Philip said.
"Because they were so sure I was dead, I was taken to the mortuary down the road. Even my wife had been told I was dead.
"But it wasn't long after I arrived at the mortuary that I woke up. I opened my eyes and saw the orderly standing there and asked if he could bring me a glass of water. The orderly just about jumped right out of his skin with fright!"
After completing 26 years' service Philip migrated with his family to Australia. Philip has proudly marched in many ANZAC Day Marches with his daughters wearing both his own and his father's war medals.
Media enquiries: Hannah Ellson 0429 361 627 | engage@irt.org.au
General enquiries: 134 478
About IRT Group:
IRT Group is one of Australia's largest community-owned, not-for-profit providers of retirement living, residential aged care and home care. With more than 50 years' experience and locations throughout NSW, the ACT and South East Queensland, we employ almost 2800 people and play a significant role in promoting seniors as dynamic, influential and valuable members of society.