Career cartoonist delights residents at IRT Sarah Claydon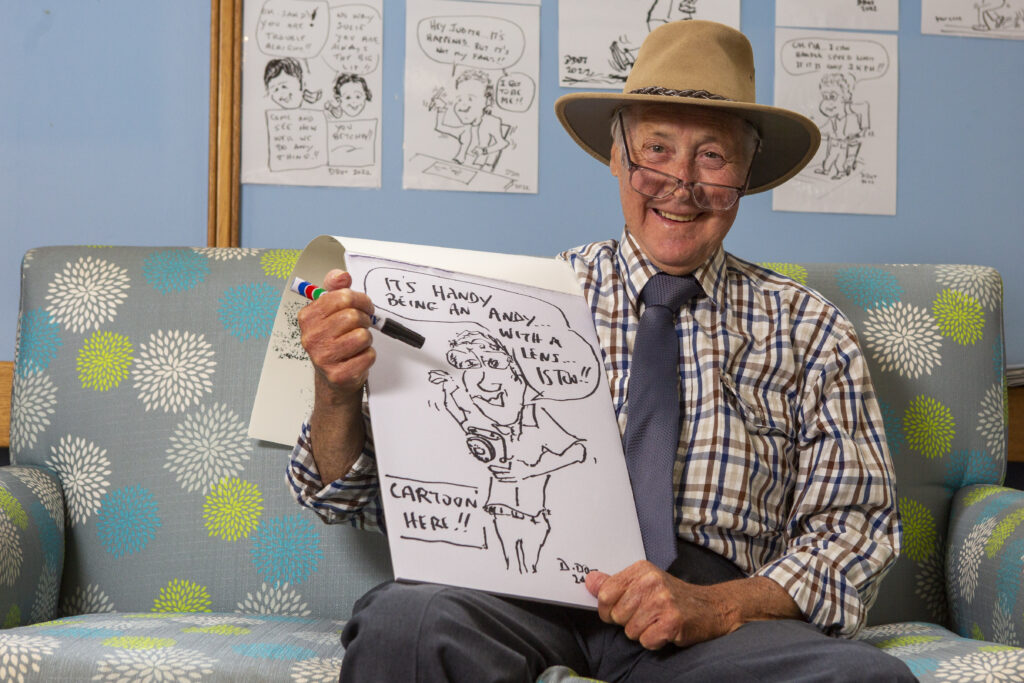 There's a new artist in residence at IRT Sarah Claydon Aged Care Centre. Brian Todd, 76, moved in recently and has impressed the staff and his new neighbours with his talent for sketching cartoons, drawing more than a hundred cartoons of his neighbours, their visitors and staff.
"I mainly draw people, situations, anything anybody asks for. I try to draw in a positive way so it's uplifting for the person who's getting the cartoon," Brian says. "It takes about three minutes for me to finish a cartoon."
Brian says he learnt to sketch when he was a kid.
"We never had TV when I was a kid. There was a lot of wet weather in Kogarah in Sydney, so we had a lot of days drawing at home and I'd have competitions with my brothers and sister. I was always the worst, I failed miserably!"
Brian explains that when he was older and working as a locomotive driver he was crushed in an industrial accident and unable to drive the trains anymore.
"The government was trying to find a new career for me. They had done a series of tests on me at Wollongong University and they said I should be a cartoonist."
Brian soon found himself employed at Ettamogah Pub near Albury as the resident cartoonist; all without a single lesson.
"When I arrived the boss said, "What? Where's all your paper and pens and things? You need paper and pens to draw a cartoon don't you?" he thought I was a cartoonist already.
"I didn't know what I needed because I'd never drawn cartoons before! You should have seen my boss, he went right off the bean pole.
"After that he got me textas and A3 paper and sat me down outside the door of the cafeteria where they sell the souvenirs and told me to get to work.
After a slow start, and dropping his fee from $7 to $3, Brian had a queue of people wanting their picture drawn.
"The next day was better and I got $5 a drawing and the next day I was back up to $7!"
Brian eventually left the Ettamogah Pub to move further north. He contacted newspapers throughout Queensland looking for work as a cartoonist, and secured an interview at a paper in Townsville. Unfortunately, the editor wanted Brian to be a salesman rather than a cartoonist, so he set himself up at a wharf in Townsville drawing cartoons for $7.
"I became quite famous up there. I soon went into the middle of the city in the shopping centre, set up the little desk I had and spread into doing instant oil paintings for $20."
Before Brian moved to IRT Sarah Claydon Aged Care Centre he had been in and out of Moruya Hospital, where he drew a series of cartoons for the nurses who treated him.
They say it was drawing the cartoons that helped his recovery. He drew about 300 cartoons and Moruya Hospital is now publishing them in a book to be sold to raise funds for the hospital.
Brian says he never wanted anything out of it, he just did it because it was good for his health.
"If I can do something good for somebody else, it makes me feel twice as good."
Media enquiries: Hannah Ellson 0429 361 627 | engage@irt.org.au
General enquiries: 134 478
About IRT Group:
IRT Group is one of Australia's largest community-owned, not-for-profit providers of retirement living, residential aged care and home care. With more than 50 years' experience and locations throughout NSW, the ACT and South East Queensland, we employ almost 2800 people and play a significant role in promoting seniors as dynamic, influential and valuable members of society.