IRT reflects on the ups and downs of another tough year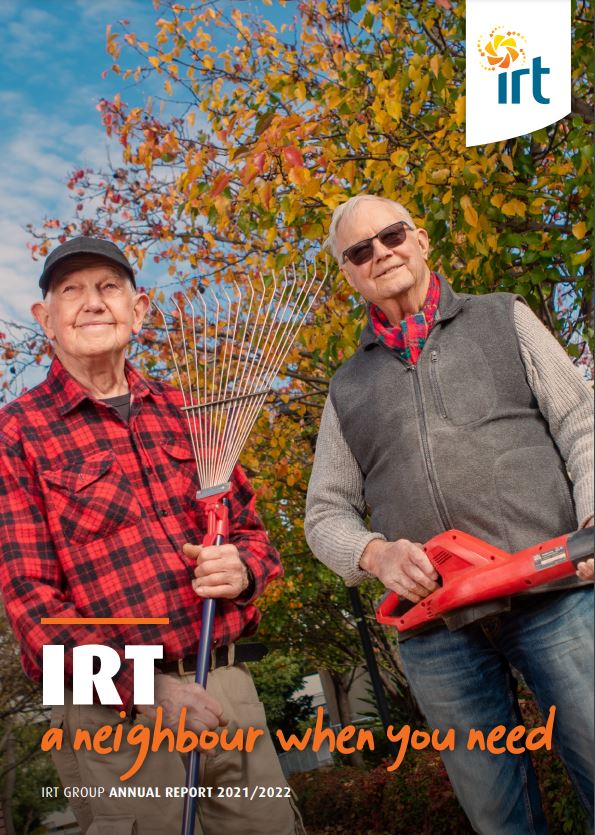 IRT held its Annual General Meeting on Thursday, marking the end another tough year.
IRT CEO Patrick Reid said the ongoing pressures of managing the risk of COVID-19 for the third year running, while dealing with sector-wide staff shortages placed enormous strain on the organisation.
During 2021/2022 IRT provided care and/or accommodation to almost 8,000 residents and customers across 29 retirement villages, 19 aged care centres and six home care regions. More than 2,200 employees and 143 volunteers actively supported residents and customers in NSW, South East Queensland and the ACT.
"The COVID-19 pandemic continued to present us with challenges on many fronts – from keeping our aged care centres and services operating and resourced to keeping our residents, customers and employees safe," Mr Reid said.
"It was certainly a tough year and I have a great deal of admiration and respect for our employees and the important work they do."
Throughout the year, many of IRT's aged care centres endured outbreaks and exposures, some unfortunately with sad outcomes. Sector-wide staff shortages, exacerbated by COVID-19 isolation requirements, and the easing of restrictions at times placed crushing pressure on resources.
"Despite everything that came their way this year, our employees kept a clear focus on what matters most – keeping our residents and customers safe and well, while having each other's backs," Mr Reid said.
IRT drew on a wide range of resources to support its frontline workforce – from healthcare staff from state and federal government departments to its own office-based employees. Board members and executives also pitched in at some aged care centres by filling meal service and laundry shifts.
Mr Reid said that not surprisingly, the difficult operating environment impacted IRT's financial performance.
"There's no doubt that operationally it's been another tough year and these challenges again impacted us financially. The good news is we remain a sustainable organisation with a strong balance sheet; focused on delivering quality care to our residents and customers," Mr Reid said.
While managing the business of present day, IRT also looked to its future business model and shaping it to meet the changing expectations of older Australians.
"We know older Australians want to live independently in their own homes as they age, and we want to create communities where they can do just that," Mr Reid said.
IRT is working towards developing land it purchased in 2021 in Milton, on the NSW South Coast. The vision is to develop a large hub that will not only accommodate residents in independent living units, but also provide holistic services that could include allied health services, a childcare centre, cafe and pharmacy to the benefit of residents, customers and the wider community.
Mr Reid said the organisation has also taken stock of its current operations and considered them through the lens of changing customer preference. The sale of IRT Links Seaside was one result of this review, freeing up capital to be invested in current and new IRT communities.
During the year, IRT also:
Celebrated the 25th anniversary of its Registered Training Organisation, IRT Academy
Opened the award-winning community, Jasmine Grove at IRT Kanahooka
Welcomed the first residents to Stages 3 and 4 of its newest retirement village, Henry Brooks Estate at IRT Kanahooka
More information is provided in the IRT Annual Report 2021/2022 available online at irt.org.au/about/get-to-know-us/annual-reports/
Media enquiries: Hannah Ellson 0429 361 627 | engage@irt.org.au
General enquiries: 134 478
About IRT Group:
IRT Group is one of Australia's largest community-owned, not-for-profit providers of retirement living, residential aged care and home care. With more than 50 years' experience and locations throughout NSW, the ACT and South East Queensland, we employ more than 2220 people and play a significant role in promoting seniors as dynamic, influential and valuable members of society.