New Custom Designed Buses for Retirement Village Residents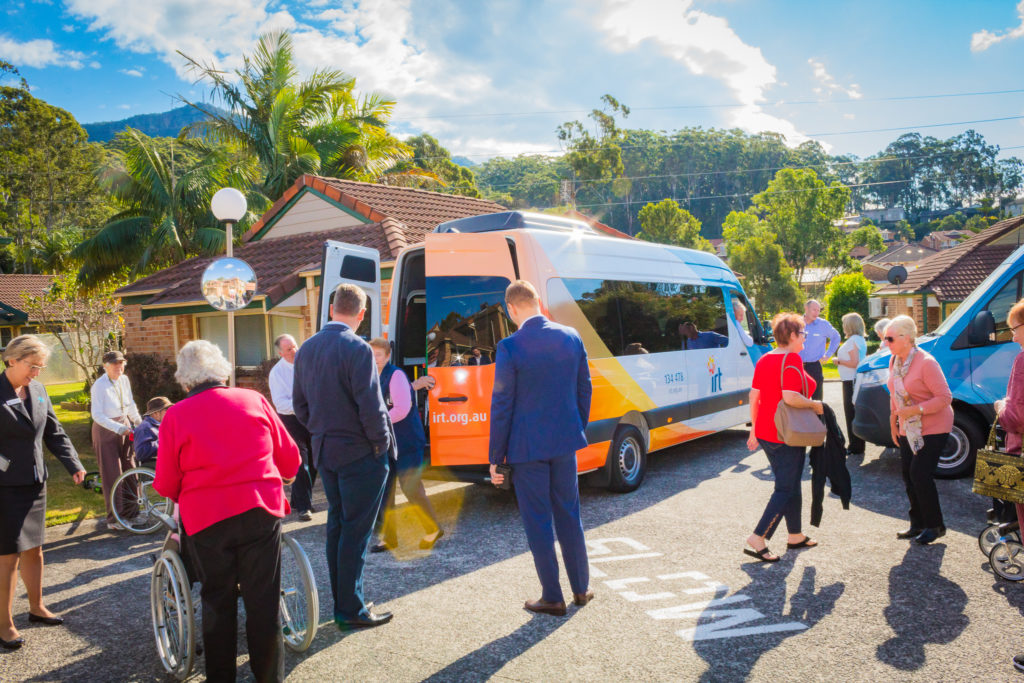 Residents at Illawarra IRT retirement villages are about to travel in style and comfort with the arrival of two new, custom designed Mercedes Sprinter buses this week.
This is the first time IRT has completely customised the interior features of its transport vehicles. The bespoke twelve seater buses are the result of an extensive analysis by IRT of the vehicles used for both retirement villages and aged care centres with input sought from residents, care workers, seniors living and aged care providers, drivers and manufacturers.
IRT Executive General Manager – Retirement Villages Stig Andersen said it had become clear that standard market model buses were no longer meeting resident needs.
"Over the years as our residents' needs and expectations have changed we've found that factory ready buses aren't the best fit anymore. Typically they have high seat backs, making it hard for people to see out and chat with one another, the aisles are too narrow and the steps are difficult to manage with no hand rails," said Mr Andersen.
"We held a bus review day last May where we had models from eight different manufacturers for our customers, care workers and bus drivers to climb in and out of. It helped us understand our customers' restrictions and how the design impacts care worker needs."
IRT took the insights gained from the review day combined with learnings from discussions with other aged care providers and bus manufacturers to select the Mercedes Sprinter bus and inform the customised interior design.
Bespoke features of IRT's new high top buses include:
A wider centre aisle and flat floor through to the driver and front passenger seats
Full height hand rails with arms that lift up and open out at the side door
Automatic side sliding door opening system with a slide out step
A wheelchair lift at the rear door with two secure wheelchair positions and retractable restraints for foldable walkers and wheelchairs within
Mr Andersen says the community is excited to be getting the new buses and can't wait to take them on trips around the region.
"Residents are looking forward to using the buses for more day trips. I imagine there will be many more shopping trips and exercise groups getting out and about. Maybe even some overnight trips," said Mr Andersen.
"Now that we have the new buses, our Lifestyle Managers will also look at organising more activities that bring our residents together from all our Illawarra villages. Like barbecues or seeing shows together so that everyone can have the opportunity to socialise more and make new friends."
The buses are the final two in a fleet of four that rolled out this year. One is already in use at the IRT Woonona Wellness Centre and the other at IRT Kangara Waters in Canberra.
IRT is seeking to hire two friendly and experienced drivers for the new buses in the Illawarra, interested applicants should visit the careers page at irt.org.au. As no bus license is required to drive the twelve seater buses, staff and volunteers with a standard C class license will also be able to drive them.
Media enquiries: Hannah Ellson 0429 361 627
General enquiries: 134 478