Retirement Living
Aug 03, 2022
Your guide to moving into a retirement village
When the decision to move into a retirement village has been made, the thought of packing up your old home and moving in to your new home can be overwhelming.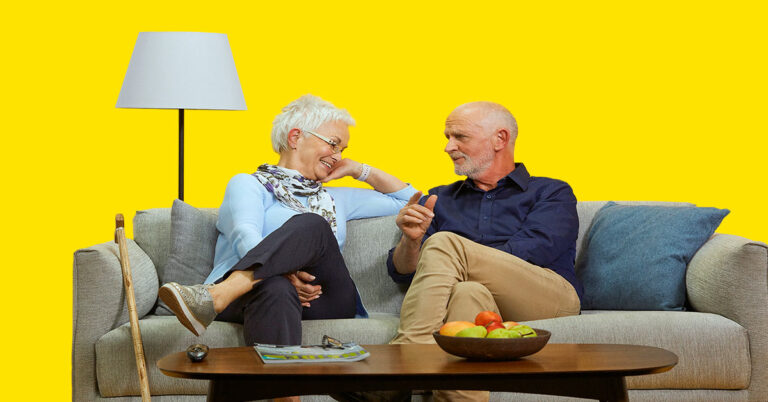 You've compared prices, location and features and have chosen a retirement village to suit your lifestyle and needs. When the decision to move into a retirement village has been made, the thought of packing up your old home and moving in to your new home can be overwhelming. There is so much to do!
To help you make the change we've developed the ultimate guide to moving into your new home, with practical tips and checklists for packing, cleaning and de-cluttering.
Plan and Declutter - four months before your move
Someone wise once said, make a list and check it twice. There are a number of things you'll need to arrange in preparation for your move. Writing your own plan of what needs to happen will help you feel in control.
Whether you need to sell your home or not, the transition to your new lifestyle will generally involve down-sizing and de-cluttering.
De-cluttering is all about prioritising what's important to you and what isn't needed anymore. We've developed a checklist to help you start the process: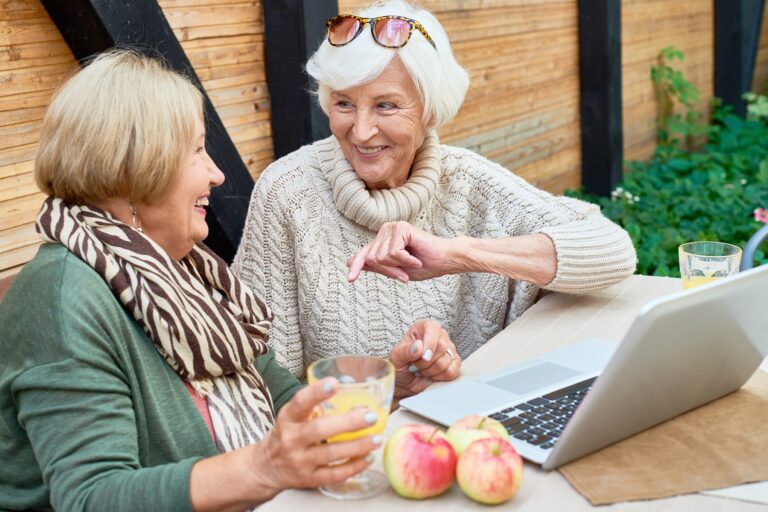 Checklist 
Get yourself some boxes, garbage bags, packing tape, labels, thick textas, post it notes, and butchers paper or newspaper.
Start sorting your belongings one room at a time. Aim for 1-2 rooms per week.
Divide items into three distinct piles: 1. Keep 2. Donate/Sell 3. Toss.
Make a list of furniture and items that you want to take with you.
Start to box items that you're going to keep, but don't need right now.
Label each box with the room and its contents (e.g. kitchen – cutlery). It's a good idea to keep a separate list of all boxes and contents.
Plan your charity donations. Some charities will collect items directly from your home (most charities will not accept mattresses or white goods).
You may be able to book a collection for items in the 'Toss' pile with your local Council. See your local Council website for more information.
Items in your 'Sell' pile can be sold through websites such as Gumtree, Facebook Marketplace and The Trading Post.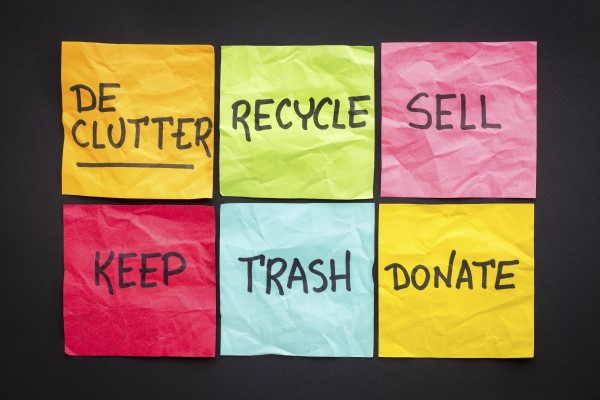 Getting sale ready and picking an agent – three months before your move
Your home needs to be well presented to ensure that it's market ready. First impressions are everything, and the better your property presents, the more likely you'll receive an offer after an open house.
Ensure you complete any odd jobs such as painting, repairs and yard maintenance, and do a thorough surface clean. Sometimes this calls for professional help. In today's competitive market your home needs to stand out and attract the right potential buyers.
Here's a list of other jobs to consider before holding your first open house:
Checklist
De-personalise your home by putting family photos and personal belongings out of sight. This makes it easier for potential buyers to imagine themselves in your home.
Style your furniture, buy some fresh flowers and use air fresheners to create a welcoming environment.
If you have pets, make sure they're out of the house and their belongings are put away.
Picking an agent
If you're selling your home you'll need to find an agent or provider that'll get the best result with the least amount of fuss. Choosing the right agent is important. You need to feel comfortable with your choice and trust the agent has your best interests at heart.
At this time you'll also need to engage a conveyancer to ensure your home sale is completed in a timely and lawful manner.
Find the right retirement village
for you
On the market – two months before your move
Now that you've secured an agent and prepared your home, the sales campaign starts. Keeping your house neat and tidy during this period is essential.
Keep it neat
People often request to view the property outside of the set open house inspection times, meaning your home needs to be presentable at all times. Some sellers choose to move out temporarily to ensure their home remains presentable, but this isn't always possible.
The details
Your real estate agent will request the name of your conveyancer at this time and will prepare a contract for sale (in law, conveyancing is typically the transfer of legal title of property from one person to another).
Sold and preparing to move – one month before your move
Congratulations! Your home is sold. Now, it's time to start preparing to move into your chosen retirement village:
Checklist
Arrange contents insurance for your home.
Book your removalist (and decide whether to get a packing service included).
If you have a dog, take them for a few walks around your new retirement village so it's familiar when you move in.
Order your window furnishings for your new home.
Transfer your services (gas, electricity and phone).
Apply for the electoral roll in your new suburb.
Redirect your mail.
Notify companies you receive communication from of your new address.
Update pet registration details.
Cancel newspaper deliveries and set up new arrangements as appropriate at your new home.
Arrange for someone to tag and test your electrical appliances before you move in. This helps to reduce the risk of electrical fires in your new home.
Notify Medicare of your new address.
Notify the Australian Tax Office of your new address.
Get your driver's license updated.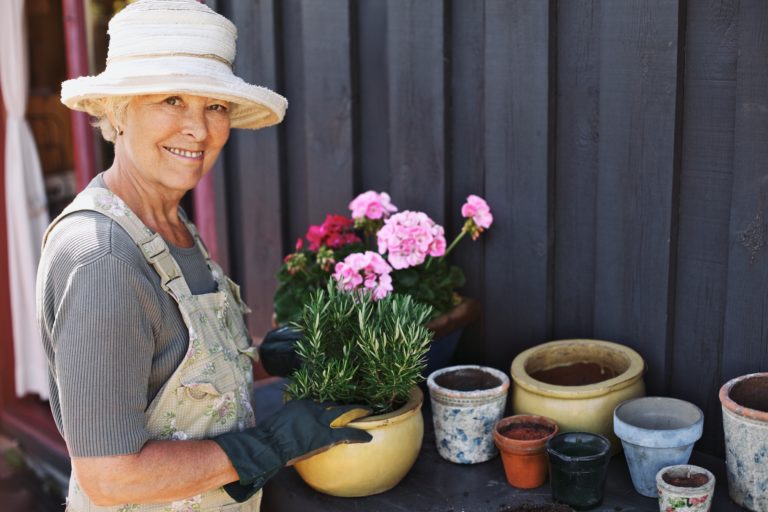 Moving day
Moving is a significant life event. Make sure you eat a good breakfast and keep hydrated throughout the day. Clear your schedule and allow time for any unexpected hiccups, like moving truck delays. Make plans for pets to stay with family or friends until you're settled in.      
Checklist
Once you've arrived at your new home, begin unpacking all of your belongings.
Unpack at your own pace. You may wish to engage a service to help you do this.
If you have a pet, they'll also need time to adjust to their new home.
Go for a walk during the day to familiarise yourself with your new surroundings.
Find the right retirement village for you
Who is suited to retirement village living?
Retirement villages are sometimes mistaken as the same as a residential aged care facility, however this is not the case. Retirement village living is best for people who are still able to live independently in their own home, but want to enjoy the benefits of living in a community with other older Australians. Retirement villages come in many shapes and sizes and can range from a small one-or-two bedroom independent living unit, to a four-bedroom villa or high-rise apartment.
Speak to a financial adviser
Making the move to a retirement village is an important financial decision and it is encouraged that you seek help from a financial advisor to understand the costs involved. A financial planner will consider your personal situation and look at things like capital gain tax, your assets and current home value within the context of the current property market. Most village operators offer a range of payment options that can include ongoing fees that contribute to the cost of maintaining the community, similar to a strata levy. The village operator may also charge deferred management fees.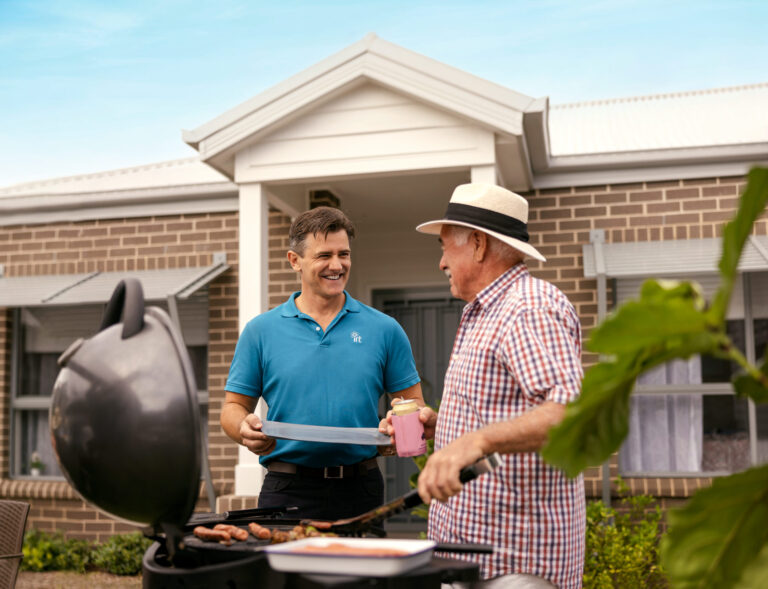 Retirement living at IRT
If you're interested in downsizing your house and upsizing your life, IRT has more than 30 retirement villages across NSW, Qld and ACT. Find out more about the possibilities of village life and how one of our independent living communities can suit you and your unique needs.
Find out more
Find the right retirement village
for you