8 aged care employees reveal why they work in age care
Every day thousands of aged care workers across Australia pour their hearts and souls into caring for older people either in their homes, in residential aged care or in respite facilities.
It takes a special person to work in aged care. While every aged care employee has highly valued practical skills, it's the way aged care employees interact with the elderly loved ones in their care that makes them extraordinary.
The patience, empathy and love that aged care employees put into their work is something to be celebrated. While this is worthy of celebration every day of the year, a special annual day has been established – Aged Care Employee Day 7 August. The day provides everyone in the community with the opportunity to celebrate each and every employee involved in providing care to older people.
In celebration of Aged Care Employee Day 2021 we're sharing the stories of some of our incredible employees and why they chose to work in aged care.
1. Michelle's story:
"I chose to work in aged care because I liked the thought of being able to help people and I was ready to step back into the workforce after being an at home mum for 20 years. This role came at a great time for me and the work feels really valuable. We can bond with the people we care for and build trust with them. Relationships matter and we need to build them to gain people's acceptance of allowing us to come into their home and do services that they may initially feel uncomfortable about such as personal care. Working in Home Care has been a real eye opener for me, seeing some of the struggles older people go through. It has made me reflect on the things we take for granted. Being able to bring joy into people's lives by just turning up is incredible. This job definitely gives back to me." – Michelle, IRT Home Care South East Sydney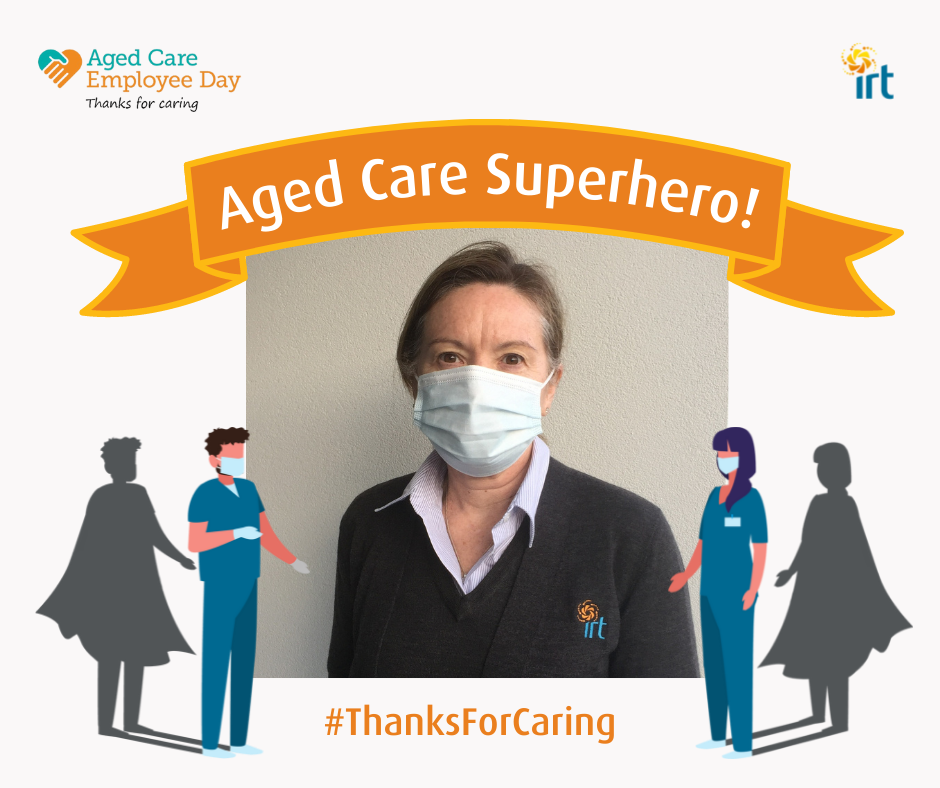 2. Ian's story:
"I come from a family with a history of Alzheimer's disease, Parkinson's disease and other chronic health conditions that require care from a range of health services. Seeing how quality, person-centred care can improve the lives of not only the individual but also those closest to them inspired me to work in the aged care sector and apply these principles to my own practice. As carers we play a vital role in working collaboratively with and supporting each resident to maintain their quality of life and independence. What I love most is when we get comments from our residents and those involved in their care about how they are involved in activities and supported to still participate in things that bring value to their lives. This has been even more important now that we are limited in our interactions due to the pandemic." – Ian, IRT William Beach Gardens Aged Care Centre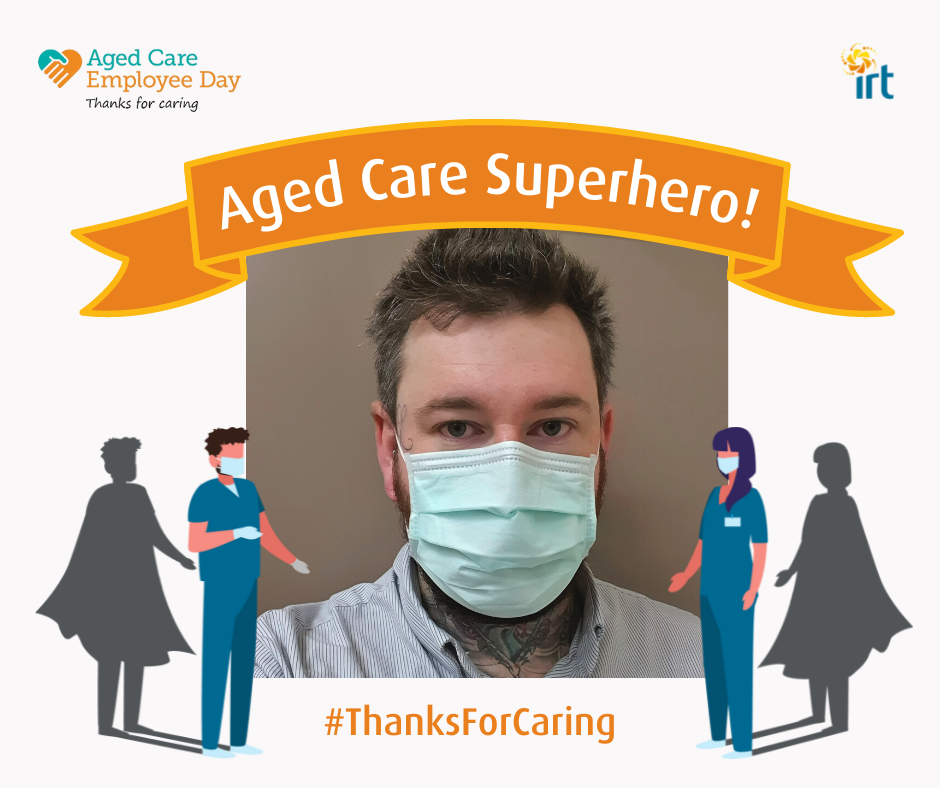 3. Pam's story:
"After not working for some years since having my two children I decided to return to the workforce and an ad for In Home Aged Care caught my eye. This was something completely different to my previous job which had been with the Navy. I have now been with IRT for 12 years. I believe my job is important especially In Home Care because it allows people to stay in their homes and live as independently as possible. It allows families to stay together. What I love about my job is the same reason my job is important and also the gratitude I get from people, both customers and families for the things that I do for them, whether it be their personal care or something as simple as making a cup of tea. If they are happy I am happy." – Pam, IRT Home Care ACT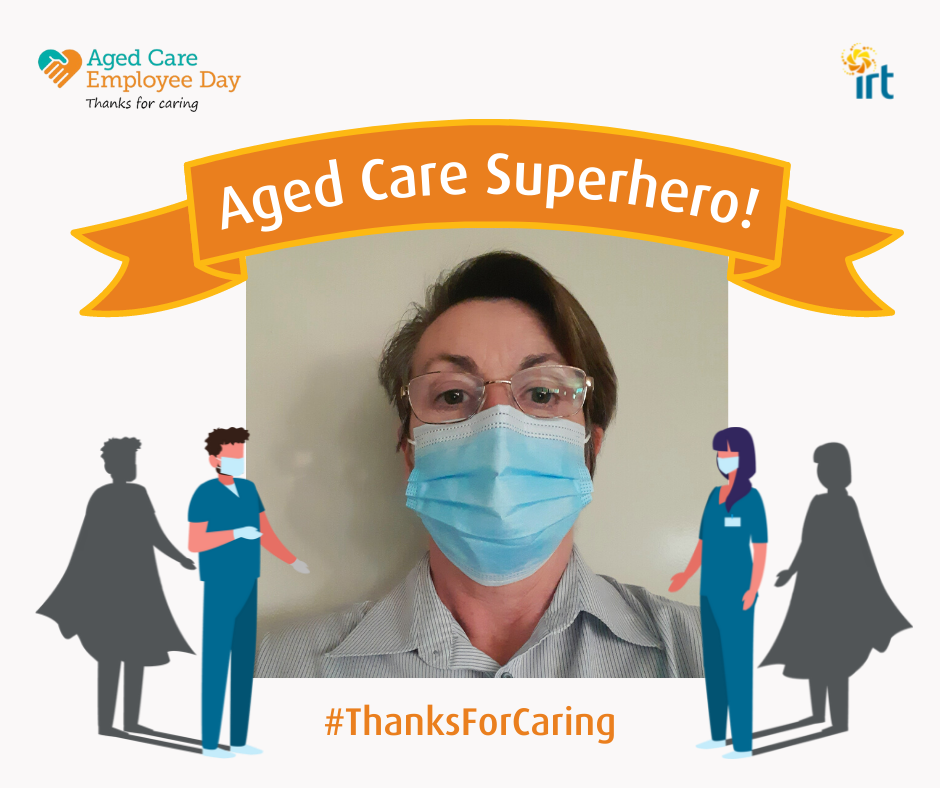 4. Nikki's story:
"Aged care found me. I was given an opportunity to complete a grad program with IRT and it has been a complete blessing. I've developed a great passion for working in the aged care sector. You hear so much negativity about aged care but I wanted to be part of a movement that creates change. Everyone has a story and I feel a lot of elderly people are at times not given the care they deserve. They are the people who paved the way for our current generations and I believe it is so important to pay respect to them. If I can do that by putting a smile on their face each day than I feel as though I am succeeding. The thing I love most about working in aged care is the person-centred care you get to provide. You care by coming into residents' homes, not to work. Sitting with residents, spending time with them, helping the most vulnerable of our population is something that I really love being a part of." – Nikki, IRT Berala on the Park Aged Care Centre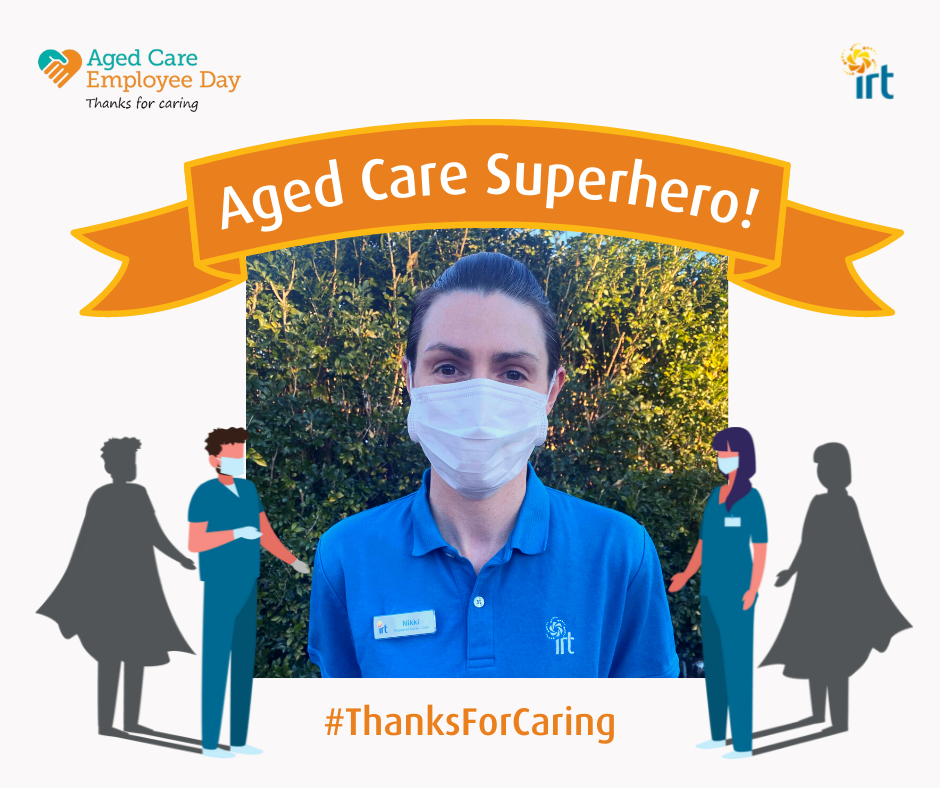 5. Aggie's story:
"I have been with IRT since 2004, nearly 18 years. Which I guess would indicate that I am happy with my employment. I was a stay at home mum and decided it was time to get back in the workforce. IRT helped me with that step as I had not been employed for quite some time. It was a daunting experience going for the interview. I chose to work in aged care because I had lost both my parents and felt a hole in my life. Being with and helping our residents is the most rewarding thing I can do with myself. The residents here are not just residents or just people you know. They become your family. They are the extended family that we love and help. They are not just residents in an aged care facility. It's a rewarding job that requires a lot of us giving the residents a little something that helps them come to grips with residential care and at times we fill the void of family that may not live locally. I love it as these guys are my family. My extended family and I want to make sure their life is lived to the fullest and I believe this is possible and achieved with dedicated staff like myself." – Aggie, IRT Greenwell Gardens Aged Care Centre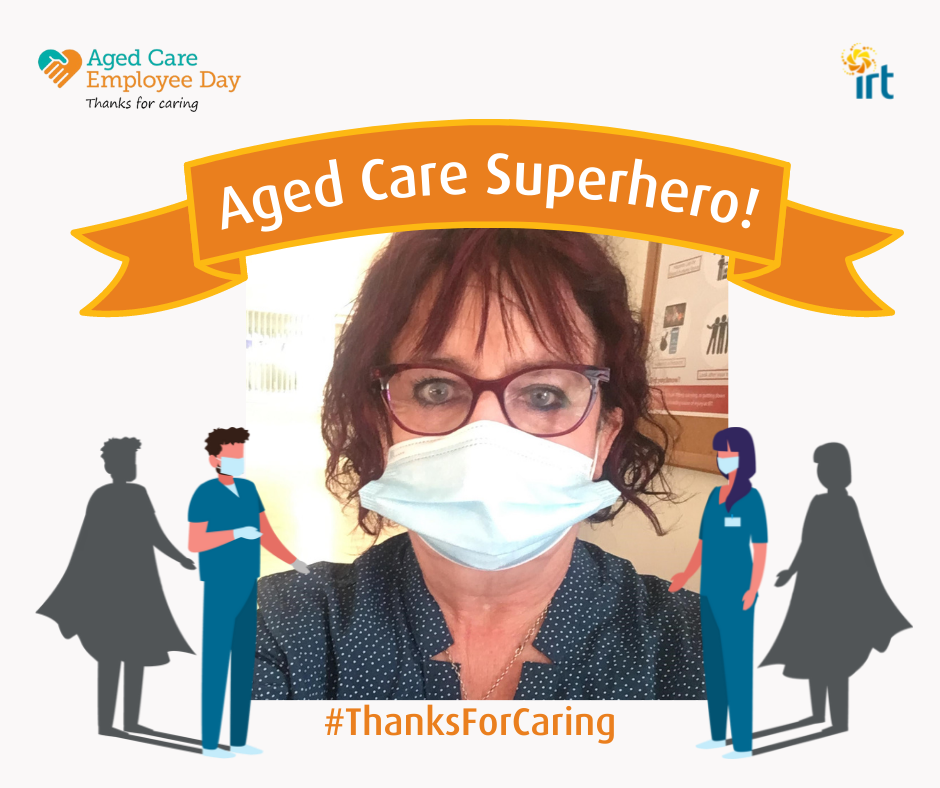 6. Alison's story:
"In 2012, I was working in retail in a job that I didn't like. It didn't make me feel challenged or satisfied. At the time, my best friend was working for IRT with the Home Care team and the way she talked about her career made me think "I want that! I want to do something that makes me happy and lets me make a difference in people's lives." I've been working in home care for 11 years now and I love it. I really enjoy the fact that every day is different and we, as aged care workers have the opportunity to make a positive impact in people's lives. I believe that every aspect of our job is important, but what I enjoy the most are the social interactions I have with the people I visit. I love hearing the story of people's lives and getting to know them so I can make every visit an enjoyable experience. I feel very fortunate to have a career that allows me to help people and I'm so happy to have made the decision to work in aged care." – Alison, IRT Home Care Illawarra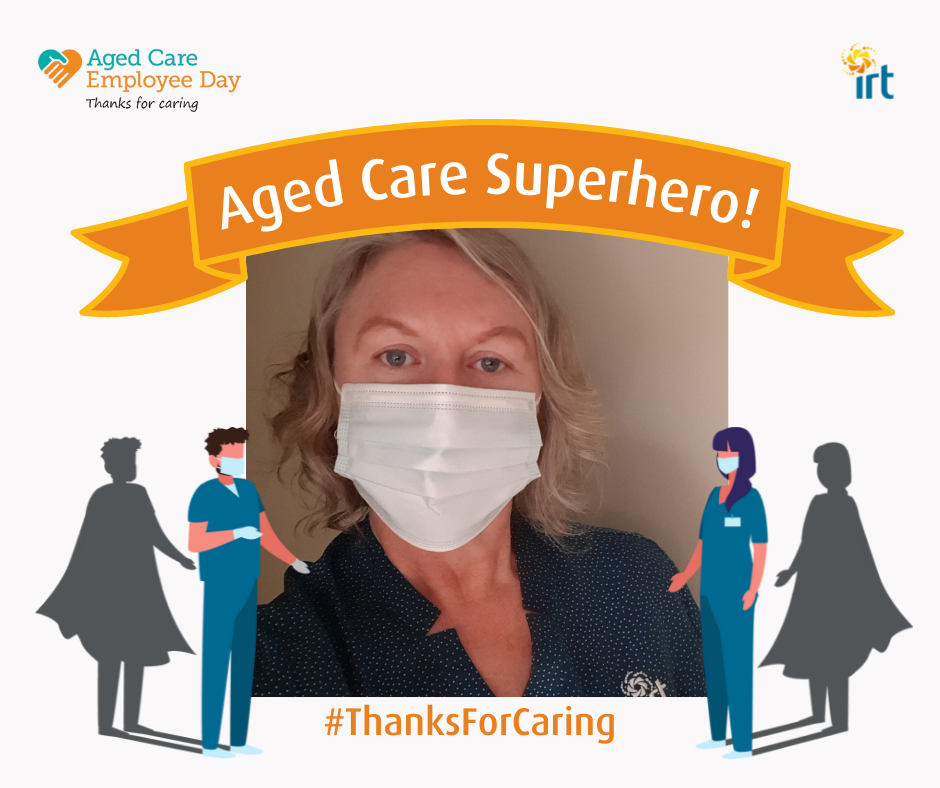 7. Bronwyn's story:
"I chose to become an aged care worker 27 years ago simply because I care. I was a single mum of two kids and moved from Caringbah to Kirrawee to work in aged care to support my family. I never gave a second thought to any other job because aged care became my second love and purpose in life. I believe I can make positive change in the lives of our residents. I'm motivated by the one on one conversations we have and getting to learn about their life journeys." – Bronwyn, IRT Thomas Holt Kirrawee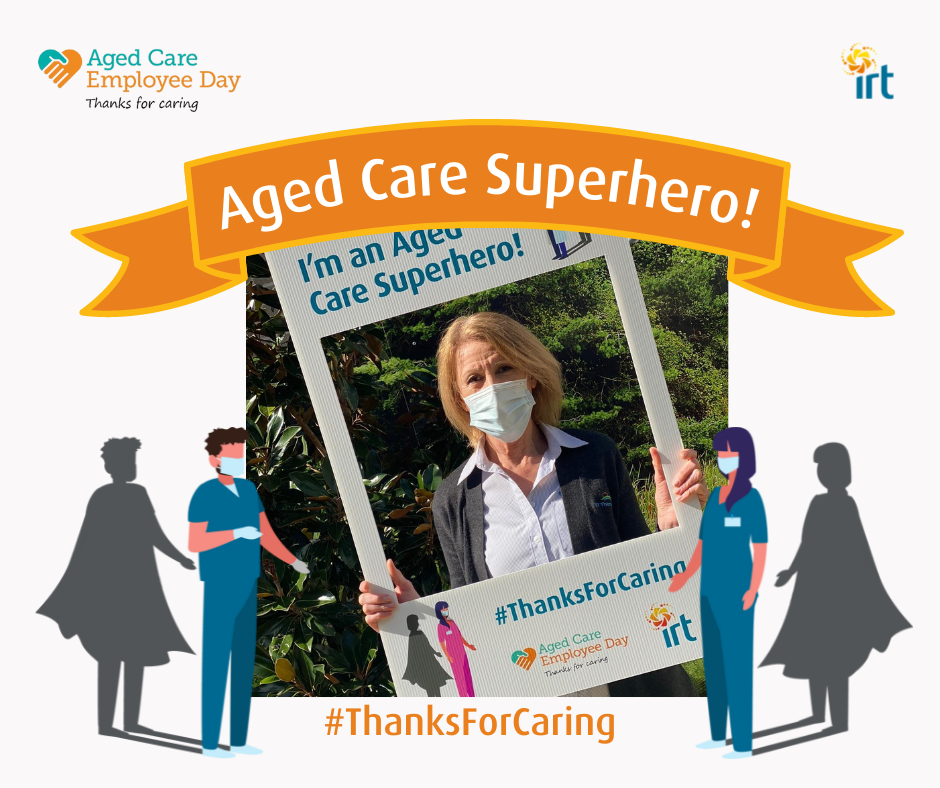 8. Janelle's story:
"I feel very blessed to go to work in a job I love. I get to work with lots of different people and I find it very rewarding. I chose to work in aged care because I always loved helping people and making their lives easier. I have been in this job for 20 years and I have loved every minute." – Janelle, IRT Home Care Far South Coast