The top ten benefits of respite care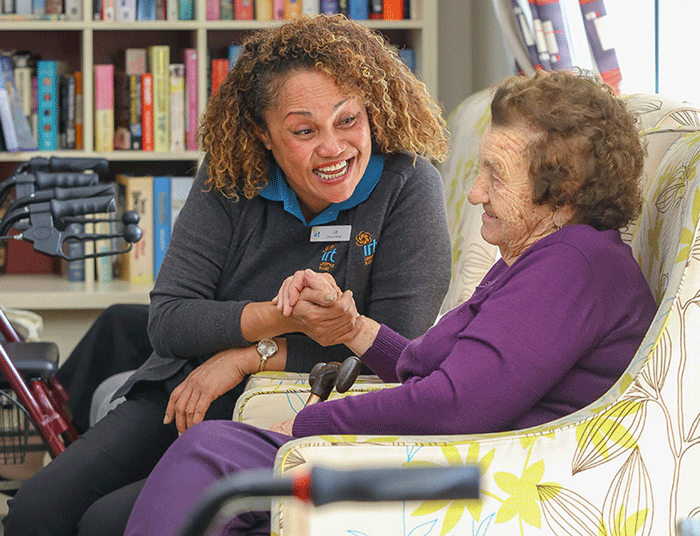 Caring for a loved one is such an important and rewarding job but everyone can benefit from a break every now and then. That's where respite care can step in – it's a type of support which can give you and the person you are caring for a break; and can have some other benefits as well. It's good to know there are different options to suit everyone's needs when it comes to respite care services.
So let's take a look at the top ten benefits of respite care services:
Caring for someone can be rewarding but it's also important to take some time for yourself to recharge the batteries. The physical and emotional demands of caring calls for a good balance between your caring role and your own needs, and respite care is a practical and helpful solution. One of the benefits of respite care is that it can give you time to look after your own health, refresh and recharge, and enjoy a well-deserved break. It can allow time for a simple pleasure like catching up with a friend for coffee or even getting away on a holiday, while your loved one continues to receive the support they need.
2. Care to suit all needs
Everyone's situation is different, so there are different types of respite services to suit people's needs. Respite care can be provided for a few hours, days, weeks or months depending on you and your loved one's needs, eligibility and the type of care required. Here are some examples of different types of respite care:
Residential respite care
This is where respite residents live alongside current aged care centre residents. Residential respite care is usually planned in advance, for instance if you are planning a trip away or have commitments scheduled and you need your loved one taken care of.
Emergency respite care
Sometimes you might need to access emergency respite care if, for example, you get sick, injured or need to go to hospital or have other family members who need you. In these situations, emergency respite care will provide short-term care for your loved one. Emergency respite care admission is subject to availability and suitability.
Home respite care
This is good for carers who need a short break – where a professional carer will come and visit for a few hours or take your loved one on a social outing to places they enjoy, like the local café, shops or a nearby park. This gives you the chance to do something for yourself, pop to the shops or get to a scheduled appointment.
Centre-based day respite care
Centre-based day respite is available during the day and your loved one has the opportunity to participate in group activities, while allowing you to have a well-deserved break. Transport to and from the centre may be available.
As a carer you also need to have your own health needs met and emergencies can happen, so emergency respite can give peace of mind knowing if you are very unwell or need to go to hospital, your loved one can be cared for (subject to availability and suitability). Respite care with an approved aged care provider like IRT is also a form of support and it's reassuring to know you have help at hand when needed.
As the saying goes, a change is as good as a holiday, and this is what centre-based day respite care can offer. Centre-based respite means your loved one can enjoy a change of scene outside of the home. At centre-based respite care seniors have the opportunity to meet new people, there are usually activities to take part in, and can sometimes offer a person something they can't do a home – like group activities such as bingo and craft. Sometimes bus transport to and from the centre hosting day respite is available for participants but you will need to check with your provider.
5. Experience residential aged care
Residential respite care gives a person a taste of life in an aged care centre, as they live alongside current aged care residents. This is beneficial should they need permanent care in the future. The experience of a short stay in an aged care centre can help ease any fears or concerns they may have about living there on a more permanent basis in the future. As a carer you can also see what life is like for your loved one in an aged care centre.
One of the wonderful things about respite care services is that your loved one will get 24/7 care. This can be particularly beneficial if your sleep is being affected by caring for someone at night, or you have a busy lifestyle and simply can't be available as much as you need to be. Respite care offers around-the-clock care so you can have peace of mind knowing your loved one will have ongoing support if you need to tend to errands, family commitments or work. At an aged care centre, your loved one will also have a daily care routine, which can be reassuring for all involved, especially if they're managing an illness.
Residential aged care is a great option, however, not everybody wants to commit to moving permanently to at an aged care centre. Respite care gives you the ability to enjoy all the benefits of being a resident, without the commitment. You have the flexibility to stay for as little or as much as you like, whether it's a few days, a few weeks or several months. It's also good to know you can access respite services as often as you like depending on your budget.
8. You can seek government support
The Australian government offers funding to older Australians and their families who need extra care and support. Residential respite care is subsidised by the government for a maximum of 63 days in any financial year. Just keep in mind that residential respite care admission is subject to availability and suitability.
9. Reduce social isolation
If you access respite care at an aged care centre (also known as a residential aged care facility), your loved one will also be staying in a highly nurturing environment where they will meet more people. Not only will they have personal support they'll have more social interaction. As we get older, increasing levels of loneliness can have a negative impact on mental health. While your loved one may initially feel a bit nervous about going to an aged care centre, once they are involved in the everyday activities there such as gentle group exercise, morning teas or themed days, they themselves might be surprised at the positive experience they have. Respite care is a fantastic way to connect with other older people and make new friends while you enjoy a personal break from caring – it's a win win!
Most aged care centres offer regular lifestyle activities for residents to enjoy, which are also available for older people accessing respite care. These activities range from centre to centre, however, they are specifically designed for seniors and are tailored to individual needs as much as possible. Activities may include bingo, card games, movies, massage, pet therapy, music, arts and craft or bus outings, just to name a few! And if your loved one is more introverted, there are also individual activities available that offer more privacy and independence, such as reading, 1:1 room visits or sunshine therapy.