Residential Aged Care
Jun 03, 2020
Pet therapy in aged care: what you need to know
You've most likely heard the saying "dogs are a man's best friend," but dogs and other pets alike can often do much more for a person's health than just being a great companion.
You've most likely heard the saying "dogs are a man's best friend," but dogs and other pets alike can often do much more for a person's health than just being a great companion. Aged care centres, retirement villages and hospitals can benefit from regular visits from animals trained to offer support and companionship to people in an unfamiliar or stressful environment through pet therapy.
1.What is pet therapy?
Pet therapy, also known as Animal Assisted Therapy (AAT), is a treatment aimed at improving an individual's overall health and wellbeing through consistent interaction with an animal.  Pet therapy benefits both children and adults and has been proven to elevate mood and decrease loneliness.
The first formal research into pet therapy began in the 1960s and it has become an increasingly popular form of treatment for people with disabilities, mental illness, chronic diseases, dementia and people living in aged care centres or in hospital.
Pet therapy is an umbrella term that encompasses a range of activities and programs. These could include anything from informal play dates with minimal supervision to psychological treatments suggested by and supervised by a professional.
Depending on the needs of the individual, pet therapy may involve adopting an animal, taking part in a community therapy animal program, or participating in sessions at an aged care centre. Animal interaction can promote a sense of belonging, love and appreciation and can be a great source of companionship for individuals feeling isolated.
2.What are the benefits of pet therapy?
Pet therapy provides a wide range of benefits to patients both physically and mentally. According to a study published in the Japanese Psychogeriatric Journal, pet therapy improved depressive symptoms in residents in a long-term facility by 50%. Participants also experienced an overall improved self-perceived quality of life.
Another study concluded that all participants with dementia experienced a significant increase in pro-social behaviour and a decrease in behavioural disturbances during the interaction with the dog.
Pets also play an important role in helping individuals recover from loss. Elderly people who have recently lost a spouse or family member can greatly benefit from the companionship of an animal, as it can provide comfort during times of grief.
According to different studies, pet therapy can help people physically, mentally and emotionally. These are important for people living with dementia and aged care centre residents. Some of these benefits include: 
decreasing the risk of cardiovascular disease by increasing exercise
improving fine motor skills
improving strength and balance
improving independent movement
reducing the risk of heart attack or stroke
increasing willingness to join activities and exercise.
reduced symptoms of depression, post-traumatic stress disorder and anxiety
increased self-esteem and self-worth
reduced feeling of loneliness and isolation
improved interpersonal and communication skills
elevated sense of purpose
improved interactions with others.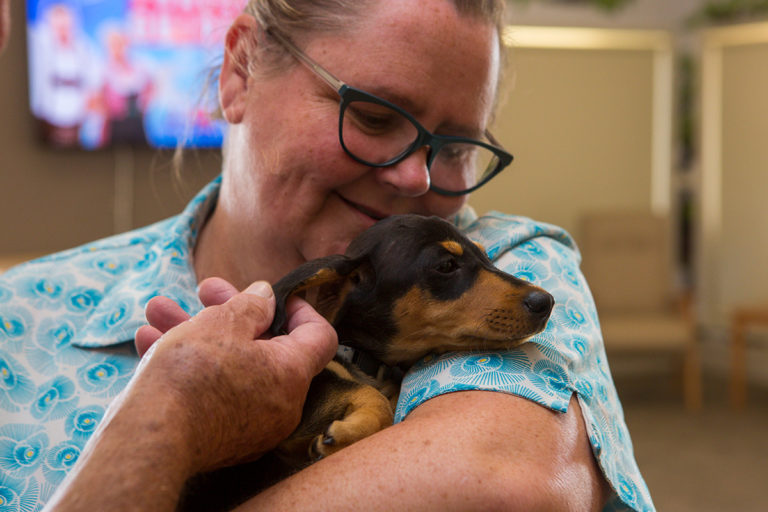 3.Pet therapy for people with dementia
For people living with dementia, pet therapy can reduce common feelings of loneliness, depression, anxiety and confusion. Regular visits from animals can assist in alleviating some of the anger, frustration and helplessness experienced by people with dementia. 
In addition to a surge in positive emotions, one of the biggest benefits is mental stimulation, which some studies have shown can have a positive impact on memory recall. Some individuals have been shown to recount chronological events with increased ease and become more relaxed as oxytocin, prolactin and serotonin are released. 
A study conducted in Germany involving therapy dogs found that residents living with dementia had improved verbal communication function and greater attentiveness after completing the program. The group who had spent time with the animals reported feeling "interested," "enthusiastic" and "inspired" significantly more than those who did not spend time with the pets. 
4. Pet therapy in aged care
A number of IRT's aged care centres across NSW, South East Queensland and the ACT receive regular visits from animals to help improve mood and decrease stress.
For example, the Shoalhaven Zoo makes frequent visits to some of the surrounding IRT aged care centres to show off the local animals to residents.
Visits can consist of a one-hour mixed animal show or a two-hour farmyard display. Residents are introduced to a mix of animals including, crocodiles, lizards, goats, rabbits and chickens.
The trained dogs and volunteers at Paws Pet Therapy also make regular visits to a number of IRT aged care centres, with some residents receiving visits up to three times a month.
Shoalhaven-based Lifestyle Team Leader Sharon Matthews says residents really enjoy the visits from the animals. "The residents absolutely love it, some residents will cry with joy when the animals come in. Depending on their needs, residents can receive more frequent visits."
5.What types of animals are used?
With pet therapy becoming more popular, the types of animals included in the programs have become more diverse. Some of the most popular animals used for pet therapy include:
Does your loved one need support?
IRT has been supporting older Australians and their families with compassionate care for more than 50 years with aged care centres in NSW, Qld and the ACT. If your loved one needs warm and personalised care you can trust, we'd be more than happy to help.