Residential Aged Care
Jul 20, 2022
Benefits of volunteering in aged care
Volunteering is a way to make a difference and there are so many different ways to get involved.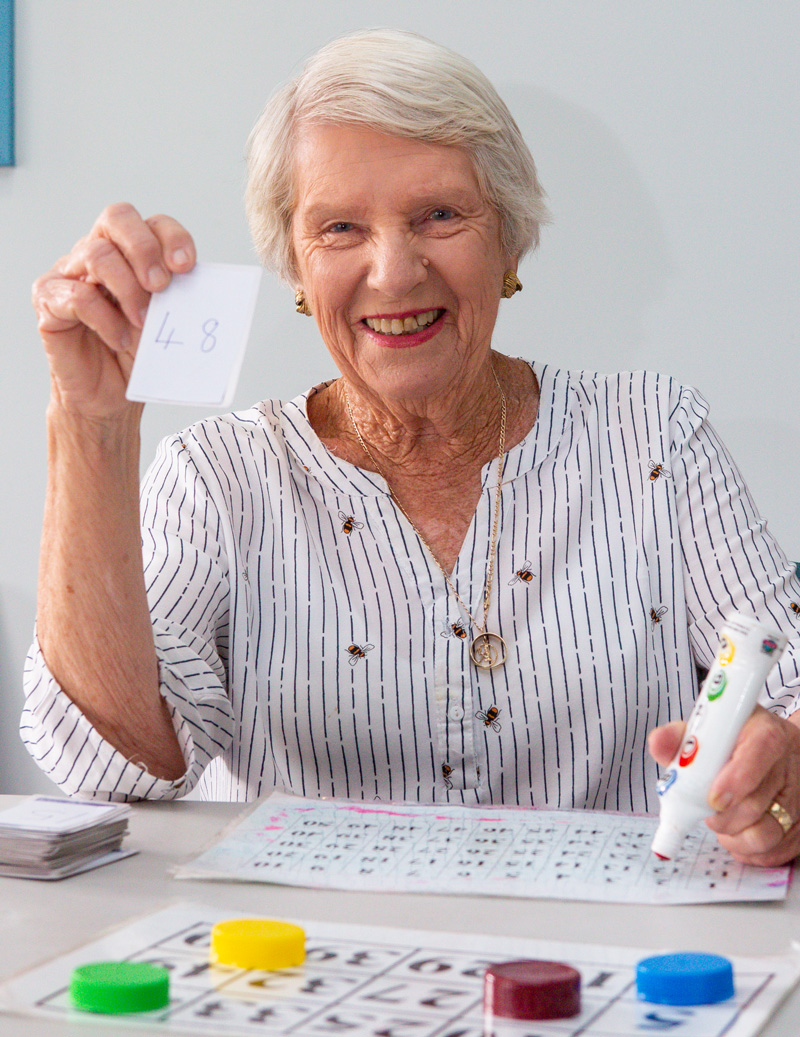 'Rewarding', 'satisfying' and 'making a difference' are just some the reasons people give when asked why they volunteer. So what is volunteering? According to the Australian Bureau of Statistics (ABS) it's the provision of unpaid help willingly undertaken in the form of time, service or skills, to an organisation or group, excluding work done overseas.
Schools, charities, aged care centres and hospitals are just some organisations that benefit from the hard work and dedication of volunteers.
The ABS says almost one third (29.5%) of Australians aged 15 years and over participated in unpaid voluntary work through an organisation in 2019.
So what are some of the benefits of volunteering?
1. You get to meet new people
You meet not only the people you are volunteering with but for those who volunteer in aged care, for example, you also come into contact with residents, their families and aged care centre staff and forge positive connections.
2. Learn a new skill
To become a volunteer some training is needed so you might learn something new, like how to use a smart device for example.
3. Use the skills you have
Are you a good listener, have a driver's licence, enjoy running activities or are well organised? Well volunteering could be for you and these are just some of the skills organisations are looking for when it comes to recruiting volunteers.
4. Improve your wellbeing
The Australian Government's Australian Institute of Health and Welfare website says that volunteering benefits the economy and the health and wellbeing of volunteers by providing a personal sense of satisfaction and making volunteers happier.
5. Make a difference
People get a lot of satisfaction out of knowing they are making a difference.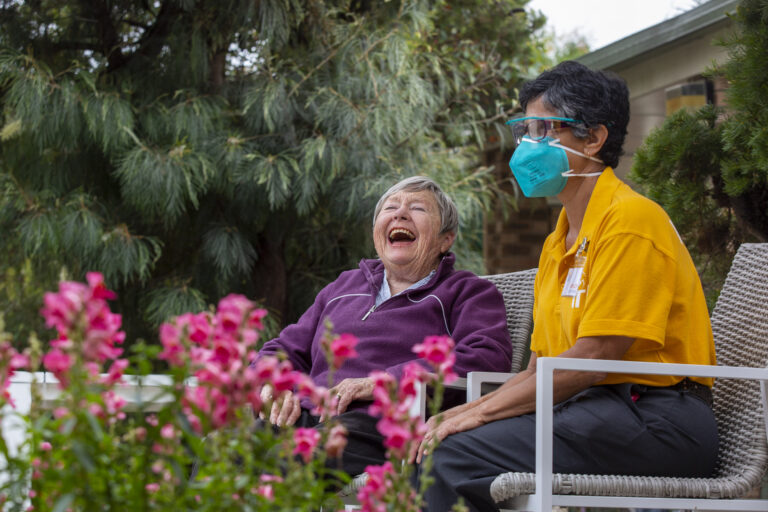 6. Give back to the community
What better way to make sure you are leaving a positive mark in the world than to volunteer and receive the volunteer role support you need to make sure those in need get the best from your help.
7. Great for mental health
Along with wellbeing, the effects of regularly helpling someone who is in need of the simple act of talking to a friendly face and that regular social interaction can not only give you great mental stability but also to those who you are caring for and volunteering with.
8. Support those in need
When volunteering you are showing that you support those in your community that you are a supporter of those that need help in their life but can not afford or otherwise have the means to pay for it.
9. Make your resume stand out
When looking at the hiring process, workplaces look for whether you have any volunteer experience or not. To them, this shows things such as, being a team player, have good skills such as high communication, task management and problem-solving skills.
Volunteering is also a great way to get yourself back into the workforce if you've been out of it for a period of time, and helps you bridge the gap between unemployment and a job.
10. Volunteering areas
Roles at IRT include community access, leisure and lifestyle, spiritual support, health and wellbeing, cycling without aged care, administration, maintenance, Golden Angels and hospitality.
11. Amazing way to hear life stories
When you are volunteering in your community, what better way than to hear someone else's history and grow your mind to what you otherwise have not experienced.
According to the Australian Institute of Health and Welfare, in Australia, volunteers provide substantial benefit to their communities. Organisations report that they bring new insights, enhance the image of the organisation, increase efficiencies and volume of operations, and improve effectiveness. Volunteering also broadens the networks and professional skills of the volunteers.
Volunteer with IRT
IRT has a large volunteer network and volunteering is a great way to meet new people, learn new skills and make new friends while making a difference. The IRT Volunteer program aims to enrich the lives of older Australians through meaningful connections. Our volunteers play a valuable role in supporting our mission and values.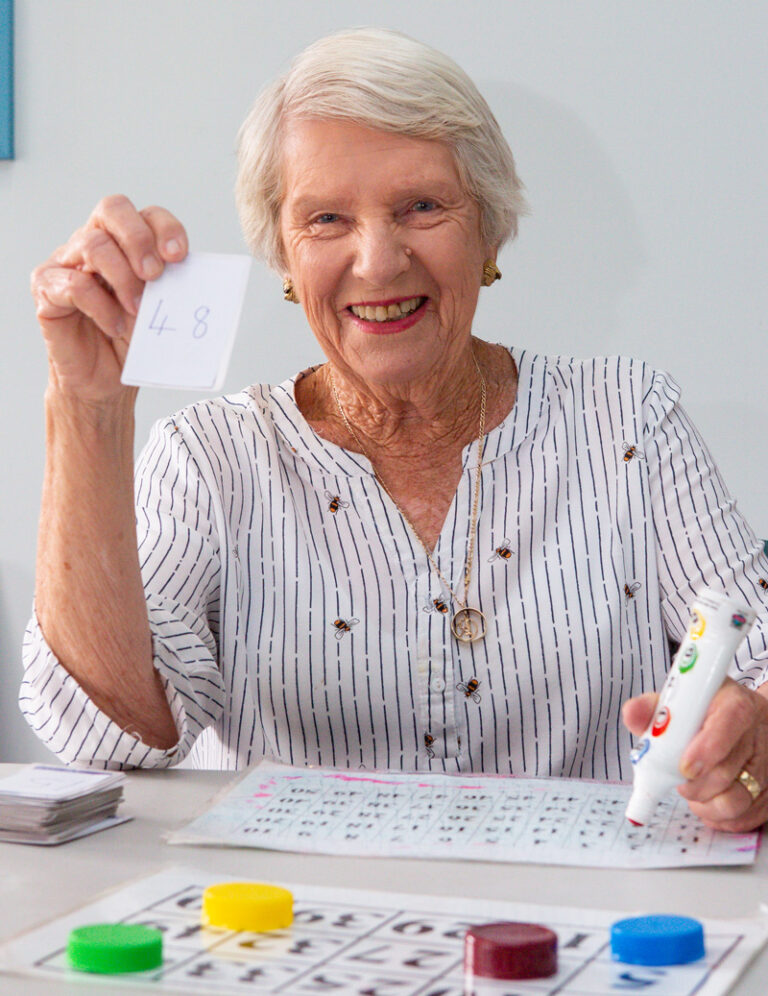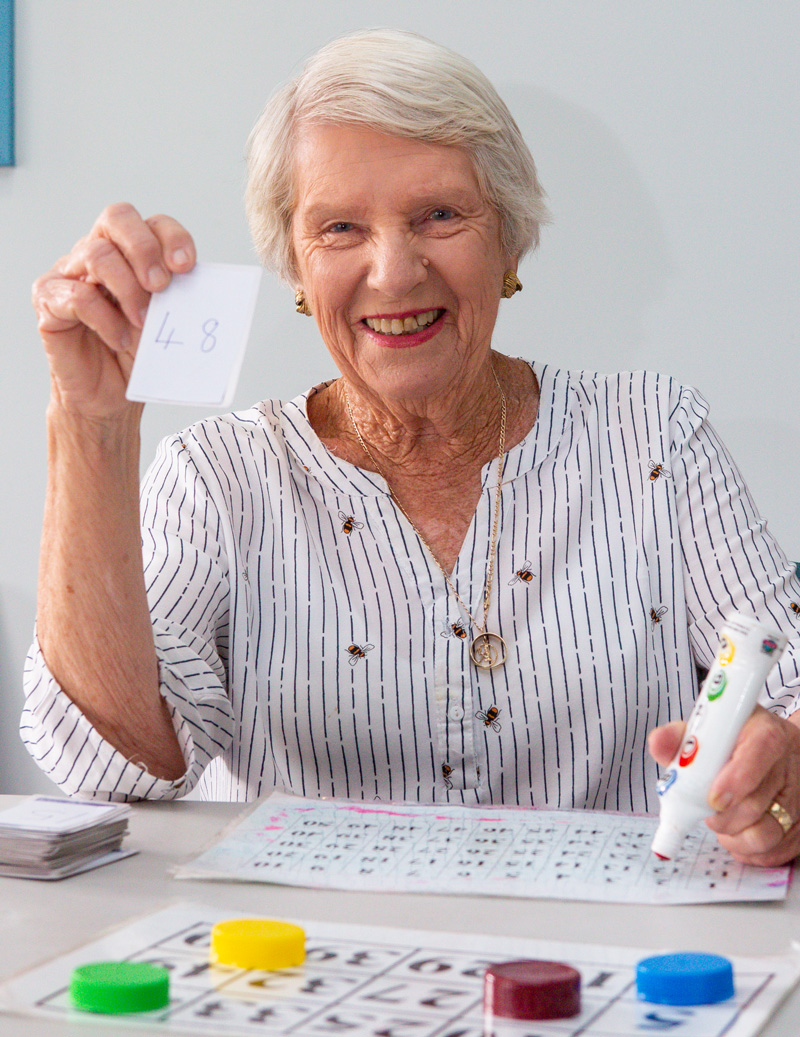 Here we meet IRT St Georges Basin volunteer June Grippeling
June Grippeling knows how to start her weekend right – with a game of bingo at IRT St Georges Basin Aged Care Centre.
For more than 18 years June has been volunteering at IRT St Georges Basin in the Shoalhaven.
She first came into contact with the IRT community when her mum Irene 'Scotty' Scott moved into care in 2001 after breaking her hip.
"Then I started helping out with bingo at the aged care centre on Saturday mornings," June explains.
By 2007 June was running Saturday morning bingo for residents in the aged care centre and hostel section at IRT St Georges Basin.
Sadly, Irene passed away in 2007 but June has continued to volunteer at the community and organise Saturday morning bingo. "We get between 12 and 15 participants and we play a fast-paced game," June says.
Residents play two games on each bingo card, including race around the outside and full house.
"I just love doing this ministry and I have lovely memories of how my mum loved being at IRT St Georges Basin," she says.
June has been missing the residents and her volunteer work because of COVID-19 restrictions but looks forward to returning to Saturday bingo sometime soon.
June's message for someone thinking of volunteering: "You get a lot of enjoyment out of it. I just love it."
Interested in volunteering?
Volunteers play a key role in optimising the health, independence, wellbeing and quality of life of our residents by taking on roles which improve their access to companionship, social activities, transport and so much more. Our residents enjoy having someone to talk to, and our volunteers enjoy talking to them too.