Residential Aged Care
Mar 17, 2023
Benefits of volunteering in aged care
Volunteering is a way to make a difference and there are so many different ways to get involved.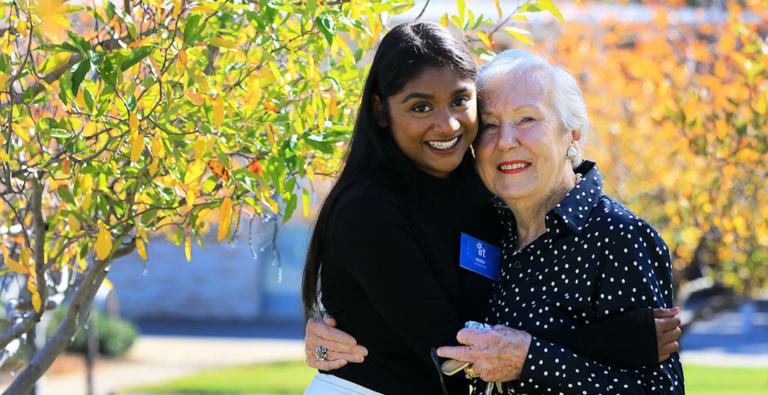 'Rewarding', 'satisfying' and 'making a difference' are just some the reasons people give when asked why they volunteer. The Australian Bureau of Statistics says almost one third (29.5%) of Australians aged 15 years and over participated in unpaid voluntary work through an organisation in 2019.
Aged care volunteers in particular play a valuable role in making a positive difference in the lives of older Australians. From assisting with leisure and other activities to helping to access community services and administration, there are plenty of aged care volunteer opportunities for people to get involved in and help residents stay socially connected.
So what are some of the benefits of volunteering?
1. You get to meet new people
If you become an aged care volunteer, there's no doubt about it - you're going to meet new people and make new friends.
You'll have the opportunity to interact with a range of faces, from other volunteers to care centre staff members and allied health professionals. And of course you'll not only meet but forge positive connections with residents and their families.
2. Share your skills and knowledge
We all have skills, wisdom and stories that we have accumulated over time, no matter how young or old we are. As a volunteer in aged care you'll have plenty of opportunities to share your unique wealth of knowledge.
Are you a good listener, do you have a driver's licence, do you enjoy running activities, or are you well organised? Volunteering in aged care could be for you, and these are just some of the skills aged care organisations are looking for when it comes to recruiting volunteers.
Working in an office may have given you the skills required to help provide administration support in a residential aged care centre; a life of travel would give you plenty of stories to share as you provide companionship to residents; and raising a bunch of teenagers has probably made you pretty tech savvy and you can assist residents to stay socially connected with their family, friends and community via their smart devices.
3. Learn new things
Just as you have a unique set of skills, when you volunteer in aged care you will have the opportunity to meet a group of people with different background, interests and opinions.
If you choose to become an aged care volunteer be ready to interact and learn from some pretty interesting individuals who are keen to chat to you about their day, their interests and what's happening in the world around them.
What better way to hear someone else's history and life stories and expand your mind to learn about things you have not experienced than through volunteering in your community.
Beyond this, to become a volunteer some training is needed so you will have the chance to expand your professional skill set as well.
4. Improve your wellbeing
A study by Volunteering Australia shows that volunteering is associated with better perceived mental wellbeing and happiness, as donating a person's time can provide them with a sense of personal satisfaction, greater social interaction and connectedness, and a more positive emotional state.
The research also found that volunteering gives a person a sense of purpose and a defined and meaningful role in society, especially for older people or people experiencing unemployment.
5. Give back to the community
Aged care volunteering is a great way to give back to your local community.
Volunteers hold a special place in any aged care centre team, especially in a not for profit organisation, as they are able to assist in delivering activities to personalise the care needs for every resident. As a volunteer you might also help with specialist programs for residents which offer varied experiences, both group and individual, including those residents with dementia or special needs.
According to the Australian Institute of Health and Welfare in Australia volunteers provide substantial benefits to their communities. Organisations report that they bring new insights, enhance the image of the organisation, increase efficiencies and volume of operations, and improve effectiveness.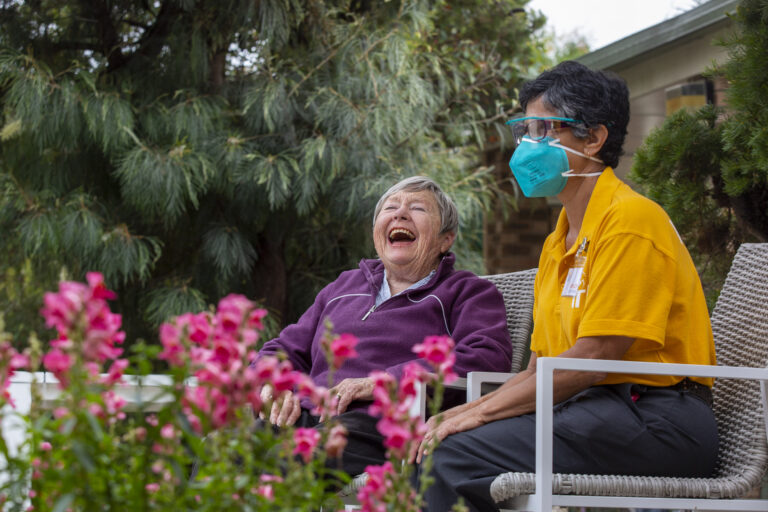 6. Support those in need
Residents living in aged care can sometimes be more socially isolated, and volunteers play a vital role in keeping these residents connected with their communities through programs such as a community visitors scheme.
It's often the small things that make the biggest difference - when you visit residents living in aged care you can ensure they are able to live connected lives through a friendly chat, playing a game, listening to music, watching a television show, reading, reminiscing or going for a walk together.
And volunteers get plenty of satisfaction knowing they are making a difference - what better way to leave a positive mark in the world than supporting some of more vulnerable members of society?
7. Make your resumè stand out
If you're thinking of applying for a job, having volunteer experience on your resumè can give you an advantage as it's one of the things an organisation considers when looking at potential candidates for a role. To an organisation, volunteering shows you have desired skills such as being a team player, strong communication, task management and problem solving.
Volunteering is also a great way to get yourself back into the workforce if you've been out of work for a period of time, as it helps you bridge the gap between unemployment and a job.
What it takes to become an aged care volunteer
Becoming an aged care volunteer is easier than you think.
1. Look for positions online
If you're interested in becoming a volunteer, residential aged care providers often advertise roles on their website - and aged care providers are always seeking volunteers! You can see the current volunteer opportunities available at IRT on our website.
2. Apply for a role
From here, you can view and apply for a specific volunteer role and if the team thinks you may be the right fit, you'll have an interview to determine your suitability.
3. Wait for approval to volunteer
If you're successful, you'll then be required to undergo reference checks, and other pre-employment checks. These may include a National Police History Check and providing evidence of your flu and COVID-19 vaccination history. All these pre-employment checks are at no cost to you.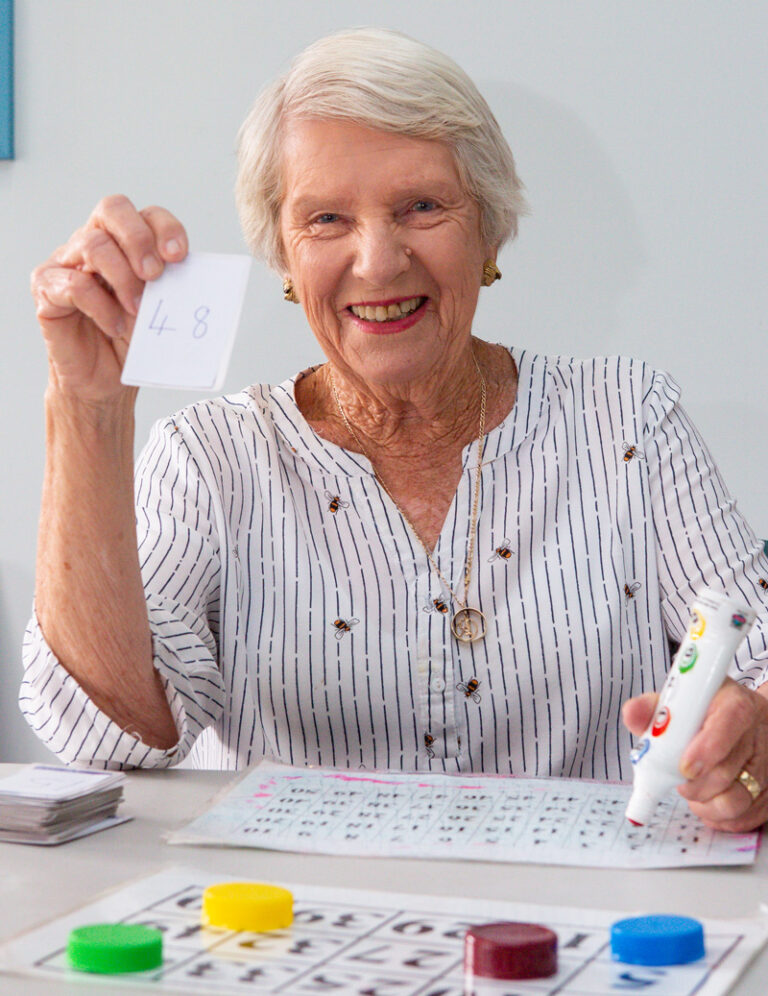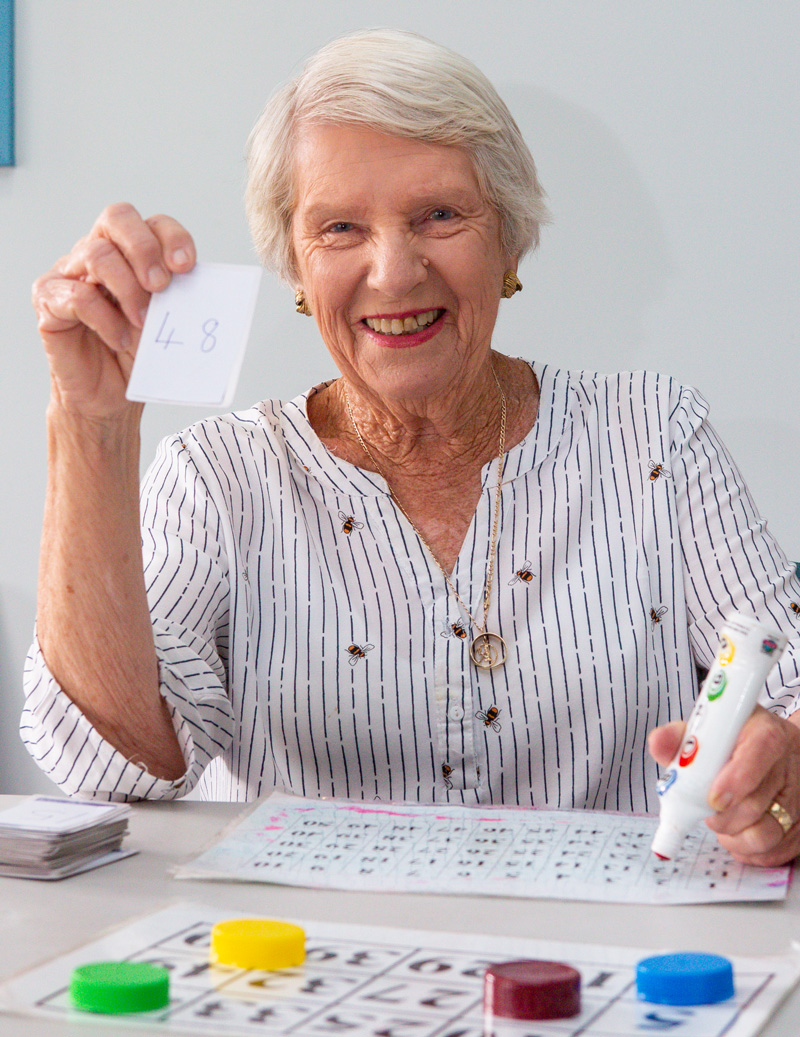 Here we meet IRT St Georges Basin volunteer June Grippeling
June Grippeling knows how to start her weekend right – with a game of bingo at IRT St Georges Basin Aged Care Centre.
For more than 18 years June has been volunteering at IRT St Georges Basin in the Shoalhaven.
She first came into contact with the IRT community when her mum Irene 'Scotty' Scott moved into care in 2001 after breaking her hip.
"Then I started helping out with bingo at the aged care centre on Saturday mornings," June explains.
By 2007 June was running Saturday morning bingo for residents in the aged care centre and hostel section at IRT St Georges Basin.
Sadly, Irene passed away in 2007 but June has continued to volunteer at the community and organise Saturday morning bingo. "We get between 12 and 15 participants and we play a fast-paced game," June says.
Residents play two games on each bingo card, including race around the outside and full house.
"I just love doing this ministry and I have lovely memories of how my mum loved being at IRT St Georges Basin," she says.
June has been missing the residents and her volunteer work because of COVID-19 restrictions but looks forward to returning to Saturday bingo sometime soon.
June's message for someone thinking of volunteering: "You get a lot of enjoyment out of it. I just love it."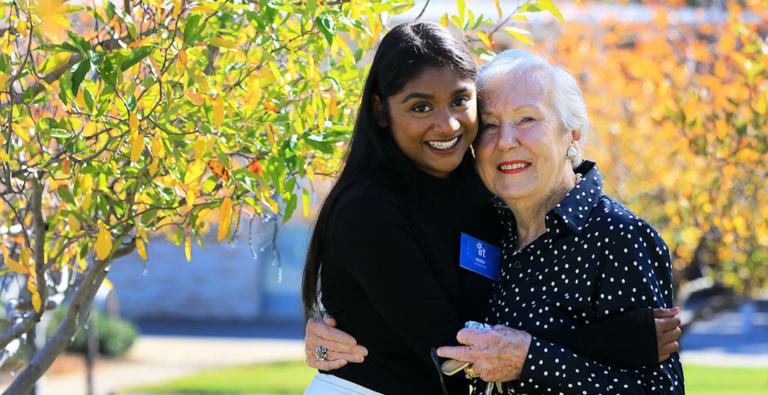 Volunteer with IRT
We've got lots of fulfilling aged care volunteering opportunities across our care centres in NSW, Queensland and the ACT. Our dedicated team of volunteers play vital roles across our organisation assisting with lifestyle activities, community access, companionship and so much more. We're on the lookout for individuals interested in volunteering their time to assist with community transport, leisure activities, spiritual support, health and wellbeing, administration, maintenance and hospitality.
Find out more