Good Samaritan crafts comfort for aged care residents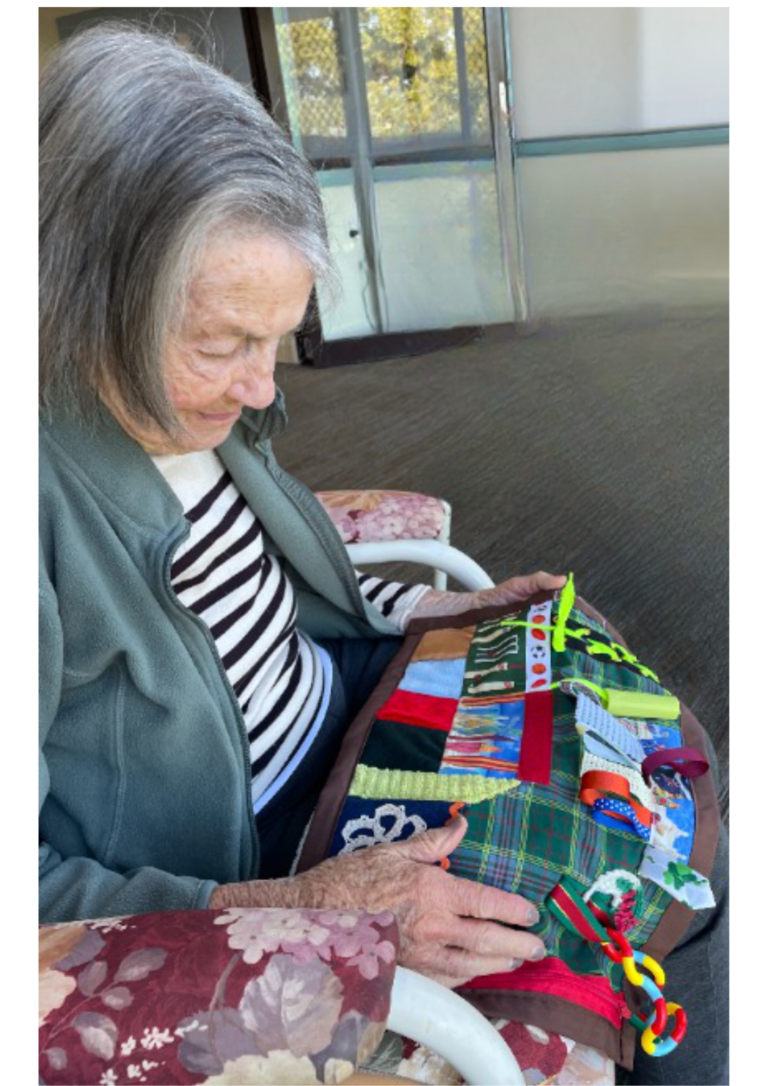 Aged care residents at IRT Sarah Claydon Milton recently received a surprise delivery of 18 handmade fiddle mats generously donated by Brenda Evans, a keen crafter from Wollongong.
Fiddle mats, also known as fidget mats or sensory blankets provide gentle sensory stimulation. They are made with different fabrics, textures, colours and objects attached and are a great calming tool for anyone with restless hands, including people living with dementia.
Brenda Evans, aged 80 of Cordeaux Heights south west of Wollongong, has enjoyed sewing and crafting for many years. She first heard of fiddle mats about 10 years ago when a friend's spouse received a dementia diagnosis.
"When I first heard of fiddle mats I remember thinking that they sounded interesting and that they would be fun to make," Brenda said.
"Like most of my friends, I've already got a stash of fabrics and threads at home to use. So I looked on the internet to get more ideas of what to include in a fiddle mat and away I went!"
As for how the mats came to be delivered to Sarah Claydon that is in partial thanks to Brenda's friend Helen from Batemans Bay. Helen was carrying some of Brenda's fiddle mats with her on her trip home one day to Batemans Bay and thought to stop in and see if anyone at Sarah Claydon were interested.
"When I first saw those beautiful mats, I thought oh yes I'll have some please! They're fantastic," Yvette Tetley IRT Sarah Claydon employee said.
"We've given the mats to our residents who are living with dementia and have also sent some up to our other aged care centres in the Shoalhaven including IRT St Georges Basin, IRT Culburra Beach and IRT Greenwell Gardens Nowra."
Word soon spread among IRT employees and Brenda is now busy sewing fiddle mats for some IRT Home Care Customers in south east Sydney and some residents of IRT Woodlands Aged Care Centre Queensland.
Brenda has loads of ribbon, lace, pieces of old embroidery that she made as a child, different patterned and textured fabrics, cotton reels, skipping rope pieces, gardening gloves and hose connectors that she picks from to make her one of a kind fiddle mats.
"I like to incorporate memories into the mats, to remind people of their past. I've got fabrics with all kinds of things on them to prompt people's memories of their hobbies, interests or life experiences. I've got fabric with golfers, cats, caravans and even ads for vegemite, Arnott's biscuits and aeroplane jelly."
Brenda's enthusiasm for finding special things to include in her fiddle mats is contagious and her friends offer to get involved by inviting her to pick from their own supplies. By now Brenda has piles of pieces to choose from, however she is always on the lookout for affordable zippers.
Brenda's fiddle mats are about 12 by 18 inches and she has made over 100. If she sits at it, Brenda can make one fiddle mat in a day. However she prefers to take her time with it, working on the mats when she feels the drive and inspiration to do so.
"At the moment I'm having a good time sorting out the fiddle mats for IRT," Brenda said.
Media enquiries: Hannah Ellson 0429 361 627 | engage@irt.org.au
General enquiries: 134 478 
About IRT Group:
IRT Group is one of Australia's largest community-owned, not-for-profit providers of retirement living, residential aged care and home care. With more than 50 years' experience and locations throughout NSW, the ACT and South East Queensland, we employ more than 2000 people and play a significant role in promoting seniors as dynamic, influential and valuable members of society.