IRT Group submits DA for Towradgi retirement village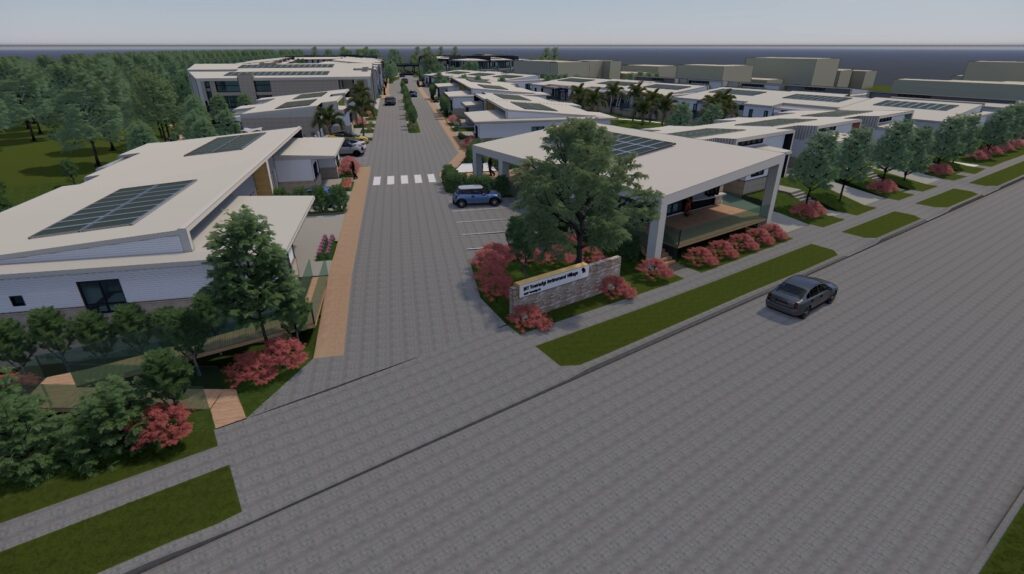 IRT Group has submitted a Development Application for the redevelopment of its Towradgi retirement village and has revealed a new name for the village – Elements at IRT Towradgi Beach.
The Murranar Rd property was developed by IRT in the early 1970s and previously also featured a residential aged care centre which was vacated in 2015 when its residents moved to the new IRT Tarrawanna Aged Care Centre.
The DA for Elements at IRT Towradgi Beach proposes the construction of 81 homes, including 25 villas, 24 villa-style apartments and 32 apartments with a mix of two to three bedrooms.
IRT CEO Patrick Reid said the plans deliver industry-leading ageing-in-place housing.
"We realise what people want as they enter their later years is changing and we are committed to ensuring our retirement villages are designed for older Australians to age in place and maintain their independence for longer," Mr Reid said.
"Elements at IRT Towradgi Beach will be a tailor-made community that meets the changing needs of older Australians so that their new home with us will be their home for life.
"Each villa and apartment has been designed to support ageing in place. For example, bathrooms and kitchens have been fitted out with modern and safe fixtures and fittings, appliances will be installed at easy-to-reach heights and trip hazards have been minimised throughout. Some homes will also have live-in care adaptability with an attached garage that has been specifically designed to be easily converted to carer's accommodation should the need arise."
The DA also proposes a street front café and general store which will be open to the public, greenspace throughout the village is envisioned to encourage monthly markets and space for veggie gardens has been included. The resident clubhouse will have a multipurpose second story for community, medical and allied health services.
As with IRT's newest retirement village, Henry Brooks Estate at IRT Kanahooka, Elements at IRT Towradgi Beach will be built according to dementia-friendly design which further supports people to age in place.
IRT indicated in 2019 its intention to redevelop the Towradgi property with a new retirement village and began a comprehensive collaboration process with existing residents, neighbours and other interested community members.
Mr Reid said the in-depth collaborative design process with residents and other interested parties has been integral to the development of the master plan.
"The feedback and input we've received from our residents and surrounding community on our plans for the village has been invaluable," Mr Reid said.
The collaborative design process has involved a series of information sessions and workshops held throughout 2019 to obtain community input and give a voice to ideas long before a plan rose off the drawing board.
While the redevelopment project was temporarily put on hold last year as IRT adapted to the impacts of COVID-19, work on the master plan recommenced late last year and was presented to residents, neighbours and interested community members in March and April of this year.
"We're very grateful to all our residents, neighbours and wider community for working with us and contributing their feedback and ideas to this exciting new future for the village," Mr Reid said.
"We've addressed the latest feedback obtained earlier this year into our development application which we've now submitted to Wollongong City Council. Pending the assessment outcome, we look forward to providing an update on the date of commencement of work on site."
The development application is now subject to assessment by the Southern Regional Planning Panel. Wollongong City Council is expected to soon place the DA on exhibition for public viewing.
To lodge an expression of interest please visit irt.org.au/location/elements-at-irt-towradgi-beach/
Media enquiries: Hannah Ellson 0429 361 627 | engage@irt.org.au
General enquiries: 134 478
About IRT Group:
IRT Group is one of Australia's largest community-owned, not-for-profit providers of retirement living, residential aged care and home care. With 50 years' experience and locations throughout NSW, the ACT and South East Queensland, we employ almost 2800 people and play a significant role in promoting seniors as dynamic, influential and valuable members of society.