Resilience sees IRT through another challenging year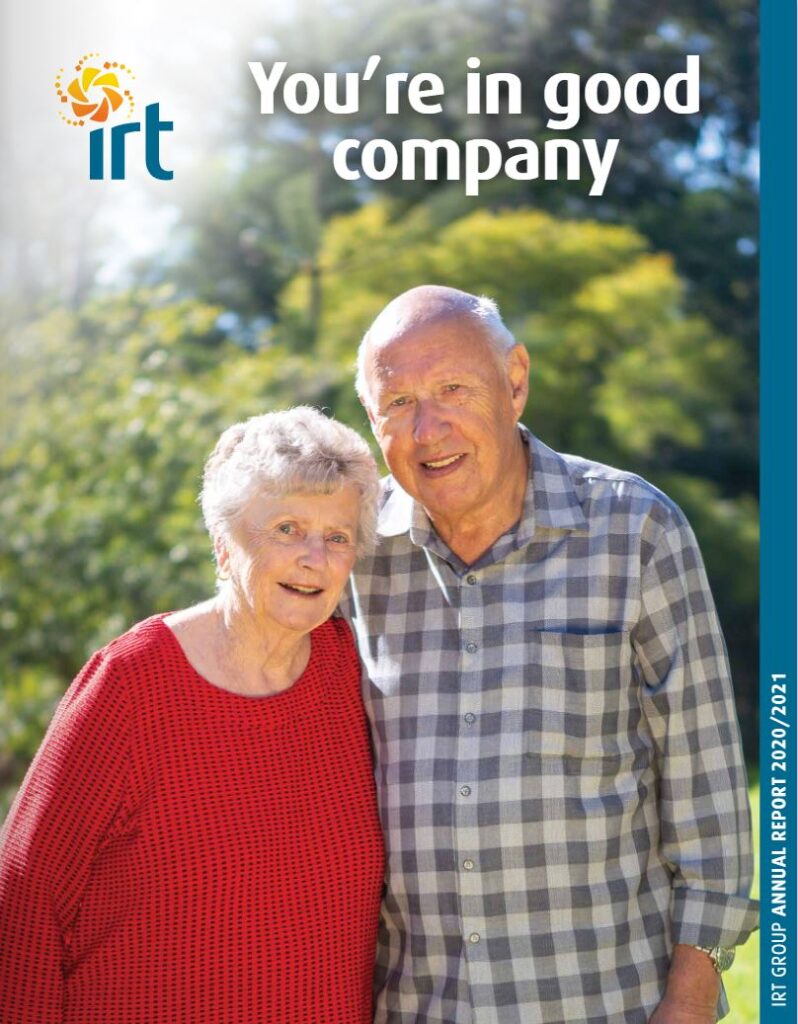 IRT Group held its Annual General Meeting on Thursday, marking the end of another challenging year.
The not-for-profit retirement living and aged care provider continued to endure a constantly changing landscape in the face of the COVID-19 pandemic. Recurring restrictions on visiting aged care centres and additional responsibilities and challenges made for testing operating conditions.
However, IRT CEO Patrick Reid said that despite all of the difficulties what shone through was the unerring dedication of employees and inspiring resilience of residents and customers.
IRT operates 30 retirement villages, 20 aged care centres and four home care regions in NSW, South East Queensland and the ACT. During 2020/2021 it provided accommodation and/or care to almost 9,000 residents and customers, supported by more than 2,600 employees and 460 volunteers.
"IRT employees really stood up during difficult times and simply got on with the job of providing high quality care to our residents and customers. I have so much admiration for our employees, particularly those on the frontlines and I'm proud to be their CEO," Mr Reid said.
"I've also been inspired by the resilience and pragmatism of our residents and customers and the support of their families and friends as we've all banded together to do our best to keep everyone well and safe."
Mr Reid said that while there were no COVID-19 cases in IRT aged care centres during the reporting year, there were isolated employee cases in subsequent months at IRT Thomas Holt Kirrawee, IRT Berala on the Park, IRT Macarthur, and IRT Links Seaside. However, in October the organisation managed a significant COVID-19 outbreak when 26 residents and 6 employees of IRT Tarrawanna Aged Care Centre tested positive. This outbreak sadly resulted in the deaths of five of the residents diagnosed with COVID-19.
"It's been a very challenging time for everyone involved; our residents, their families and friends, and our staff. We're all deeply saddened by the loss of our residents to the virus," Mr Reid said.
"Thankfully it seems we are now past the very worst of it. As we had all hoped vaccination has been an effective defence for many of our residents and staff. I'm grateful that we have such strong vaccination rates and hope our surrounding community's vaccination rate continues to climb."
The difficult operating environment which carried over from 2019/2020 and into 2020/2021 led to IRT recording a second consecutive operating loss. While IRT saw continued revenue growth and improvements in its underlying financial performance in 2020/2021, IRT ended the year with a $10.6 million underlying operating loss and a net profit result of $11.7 million. This is a significant improvement on last year, which saw an underlying loss of $20 million.
"Despite the many challenges and uncertainties of the year, our drive to provide the best care possible and help older Australians live their optimum quality of life continues. I am confident that our plans, programs and unwavering focus on creating seniors' communities of the future that help older Australians to age in place will contribute to our future success."
During the year IRT also:
Worked with the Australian Government to roll out the COVID-19 vaccine to all consenting aged care residents and engaged employees on the benefits of vaccination, working towards ensuring all relevant staff were compliant with federal, state and territory government mandates.
Completed stage 2 of the new Henry Brooks Estate at IRT Kanahooka retirement village in September 2021, which included Jasmine Grove – a new model for collaborative housing designed for women in retirement.
For the first time in its history had more women than men appointed to the Board, following the appointment of new Director Jennifer Stuart Smith in April 2021.
Completed the master plan for redeveloping IRT Towradgi Park, following an extensive co-design process.
More information is provided in the IRT Annual Report 2020/2021 available online at irt.org.au/about/get-to-know-us/annual-reports/
Media enquiries: Hannah Ellson 0429 361 627 | engage@irt.org.au
General enquiries: 134 478
About IRT Group:
IRT Group is one of Australia's largest community-owned, not-for-profit providers of retirement living, residential aged care and home care. With more than 50 years' experience and locations throughout NSW, the ACT and South East Queensland, we employ almost 2800 people and play a significant role in promoting seniors as dynamic, influential and valuable members of society.