The world's a canvas for IRT aged care resident Ana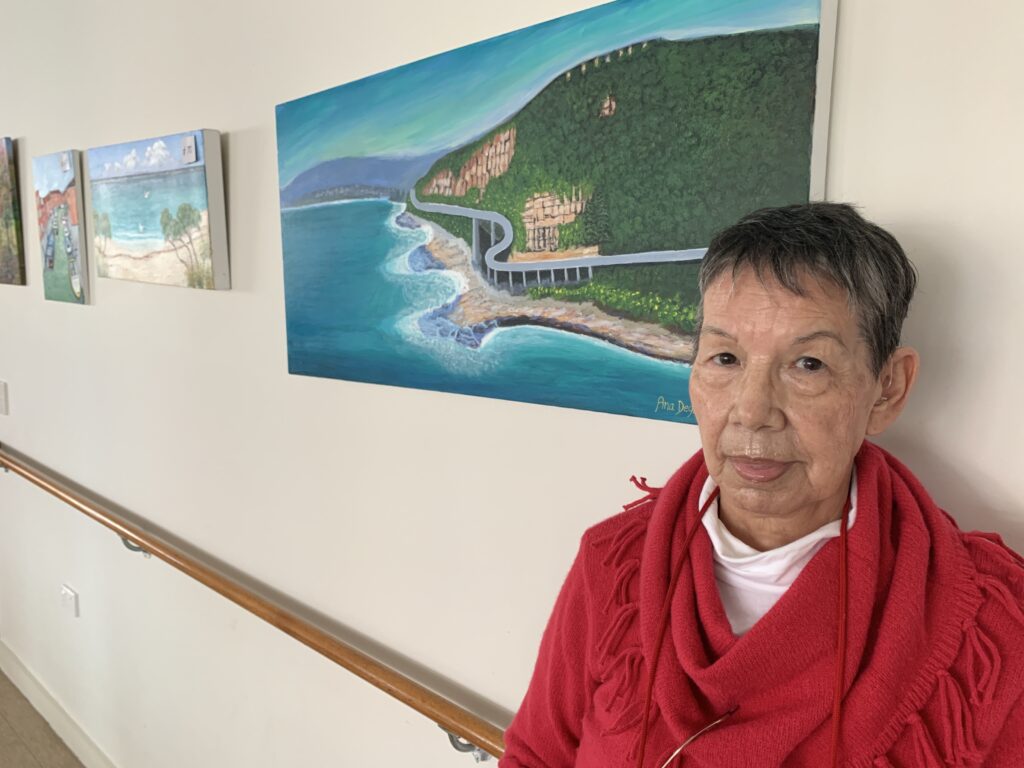 IRT Woonona resident (and artist-in-residence), Ana Degiorgio didn't learn to paint until she retired, aged 64. Now Ana paints from an area inside IRT Woonona Aged Care Centre that is flooded with natural light and gives views to the south, east and west.
"I've always loved painting but it's only as a mature person that I've been able to pursue my hobby. You've got plenty of time to learn!" says Ana.
And what better attitude to have leading into the largest celebration for seniors in the southern hemisphere – the NSW Seniors Festival which begins 1 February.
Ana began her artistic studies in 2008, when she started art classes at Wollongong Baptist Church. She went on to complete a one-year drawing and painting certificate with TAFE NSW, and has also received private tutoring in painting with oils, acrylics and watercolours.
Ana is torn between which are her favourite mediums to work with.
"I like both oil and acrylic paints, but oil takes too long to dry so I tend to use acrylics," Ana says.
Some of Ana's artworks are displayed in the IRT Woonona cafeteria, where it's obvious what Ana likes to paint the most.
"My favourite things to paint are landscapes and seascapes," Ana says.
Recognisable scenes painted by Ana from Australia and across the world line one of the walls, including a canal in Venice, the turning Autumn leaves in Moss Vale, a snow-covered walkway next to the River Thames in wintery London, a south coast beach, and Ana's favourite – the Sea Cliff Bridge at Coalcliff.
Ana has participated in a number of exhibitions including at the Shellharbour Village Arts Centre, the Old Kiama Fire Station, and the Old Wollongong Court House, where she has sold a range of her artworks. A number of Ana's artworks displayed in the IRT Woonona cafeteria are also for sale.
In 2018 Ana discovered she had a tumour in her head which caused her great pain, and needed to pause her painting while she received medical treatment. When she returned to her hobby, Ana found that some of her ability to paint had been affected but this didn't stop her from pursuing her passion.
"Step by step, little by little, I got back to doing what I love, what gives me satisfaction and self-fulfilment," says Ana.
"I don't think my skills are the same though – I remember what I was capable of.
Ana's family all appreciate her artistic talents and many have been the recipients of her pieces.
"My sister has lots of my paintings at her house!" she says.
If you'd like to try something new, meet new people and have a great time at hundreds of free and discounted events visit the website for NSW Seniors Festival to see what's on near you nsw.gov.au/seniors-festival.
Media enquiries: Hannah Ellson 0429 361 627 | engage@irt.org.au
General enquiries: 134 478
About IRT Group:
IRT Group is one of Australia's largest community-owned, not-for-profit providers of retirement living, residential aged care and home care. With more than 50 years' experience and locations throughout NSW, the ACT and South East Queensland, we employ almost 2800 people and play a significant role in promoting seniors as dynamic, influential and valuable members of society.