Home Care
Aug 12, 2022
Art therapy inspires home care customers
Art therapy at IRT Peakhurst has helped a group of home care customers discover hidden talents and form new friendships.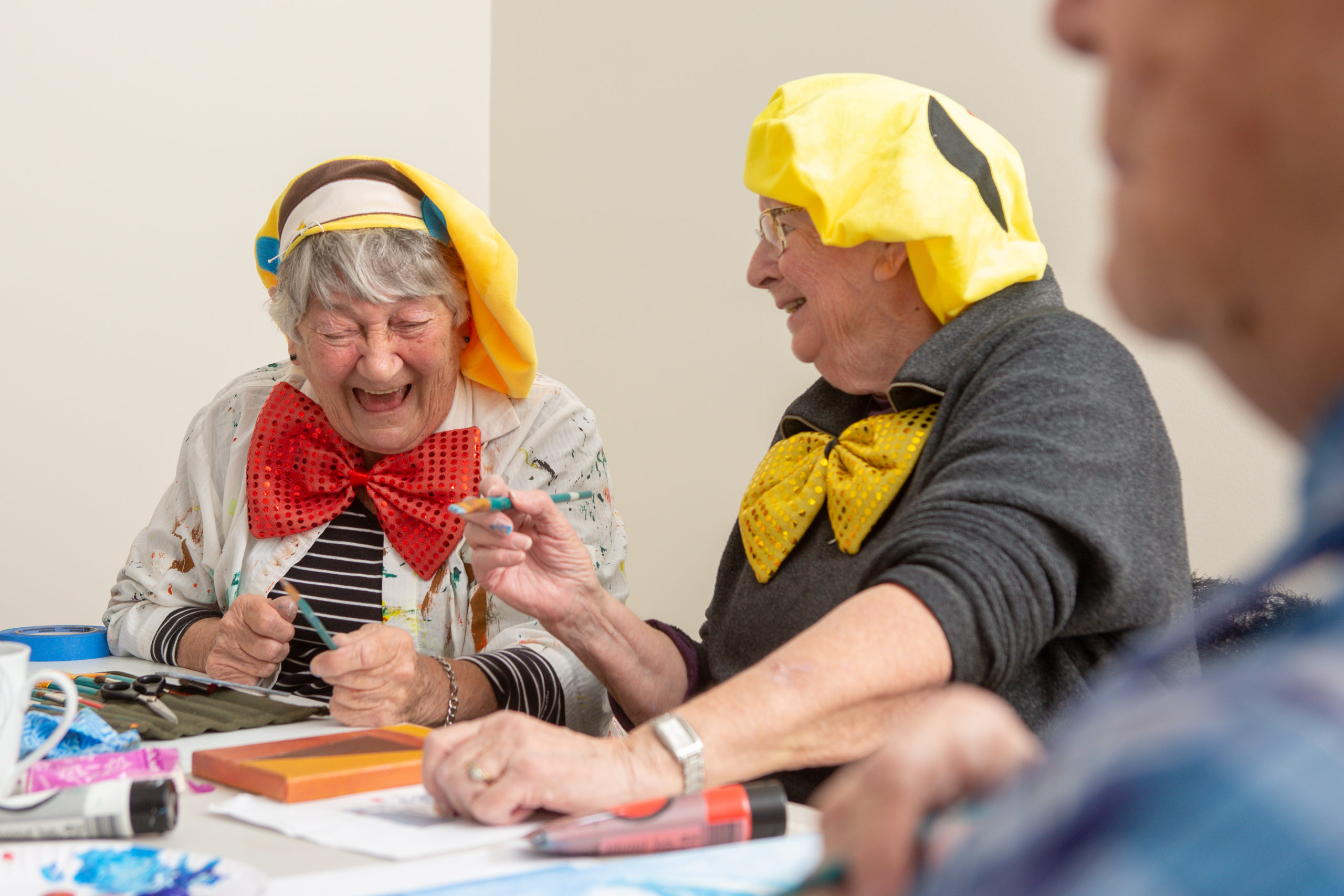 "We can come here down in the dumps and we will go home laughing. We laugh all the time. It's not put on – it's like this all the time. And that's what it's all about." - Maureen Falconer, IRT Peakhurst art class student
"It's definitely a therapy," declares Maureen Falconer as she picks up a paintbrush and starts touching up her latest artwork.
"You'd agree, Pat?" she asks, as she turns to one of her fellow students.
Pat Lusty agrees wholeheartedly, having joined the art class at IRT Peakhurst a year ago after her husband Max passed away.
"I was feeling very lonely and Donna (an IRT employee) suggested I join. It has made such a difference to me, a tremendous difference," she explains.
"Max was so ill that we only went to a few things when we moved in to Peakhurst and after a while I wasn't doing anything, except looking after him. We were married for 60-odd years so after he died it was really hard.
"I've developed tremendous friendships here."
It's not hard to see why Pat and Maureen love the classes.
One this day there are six women in the class, all home care customers, being taught by care worker and art therapist Cindi Abou Haidar.
Only one, Pat, has had any previous art experience.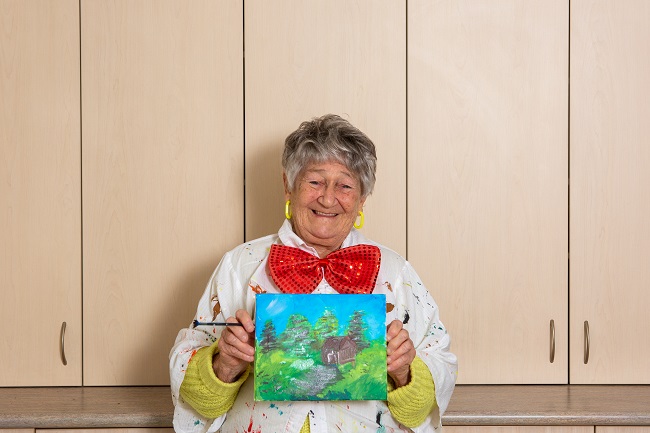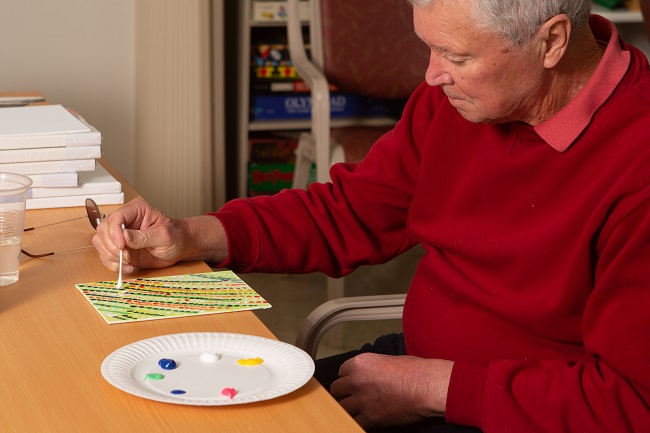 The women are wearing sequinned oversized bowties and Leonardo da Vinci-style berets to get into the right mood and create a sense of fun.
"We used to wear paper hats but then we went to a bargain bin shop and picked up round cushions, cut a hole in them and took the stuffing out. They became instant Leonardo da Vinci berets," Maureen explains.
"We can come here down in the dumps and we will go home laughing. We laugh all the time. It's not put on – it's like this all the time. And that's what it's all about.
"I love it and I never knew I had the talent. Molly [Eltoft] and I went along to the first meeting just because we were nosy and wanted to see what was going on. We amazed ourselves didn't we, Molly?"
Molly points to one of her first paintings.
"Here's one of my first paintings. I tell you what, I thought I was wonderful. And it is like a child's colouring-in," she reflects.
The chatter around the table is endless – and so is the laughter.
"It's getting cacophonous in here," Cindi says with a smile.
"Scuse me, I told you it's not Monday so we don't use big words," Maureen replies, tongue in cheek.
"It means laughing really loudly, from cacophony," Cindi explains.
"My goodness you don't expect us to learn that do you? As well as art!" Pat chimes in.
Learning new vocabulary might be off the agenda but art certainly isn't it and the women have discovered hidden talents under Cindi's careful tutelage.
In July the women staged an exhibition at IRT Peakhurst, with all proceeds donated to cancer research.
"When you look at the ones we did a year ago compared to the ones now you can see the difference. We've got a good teacher," Maureen says.
"Oh yes, she's wonderful. She's really encouraged us," Pat adds.
"I couldn't live without these classes. They are the highlight of my week."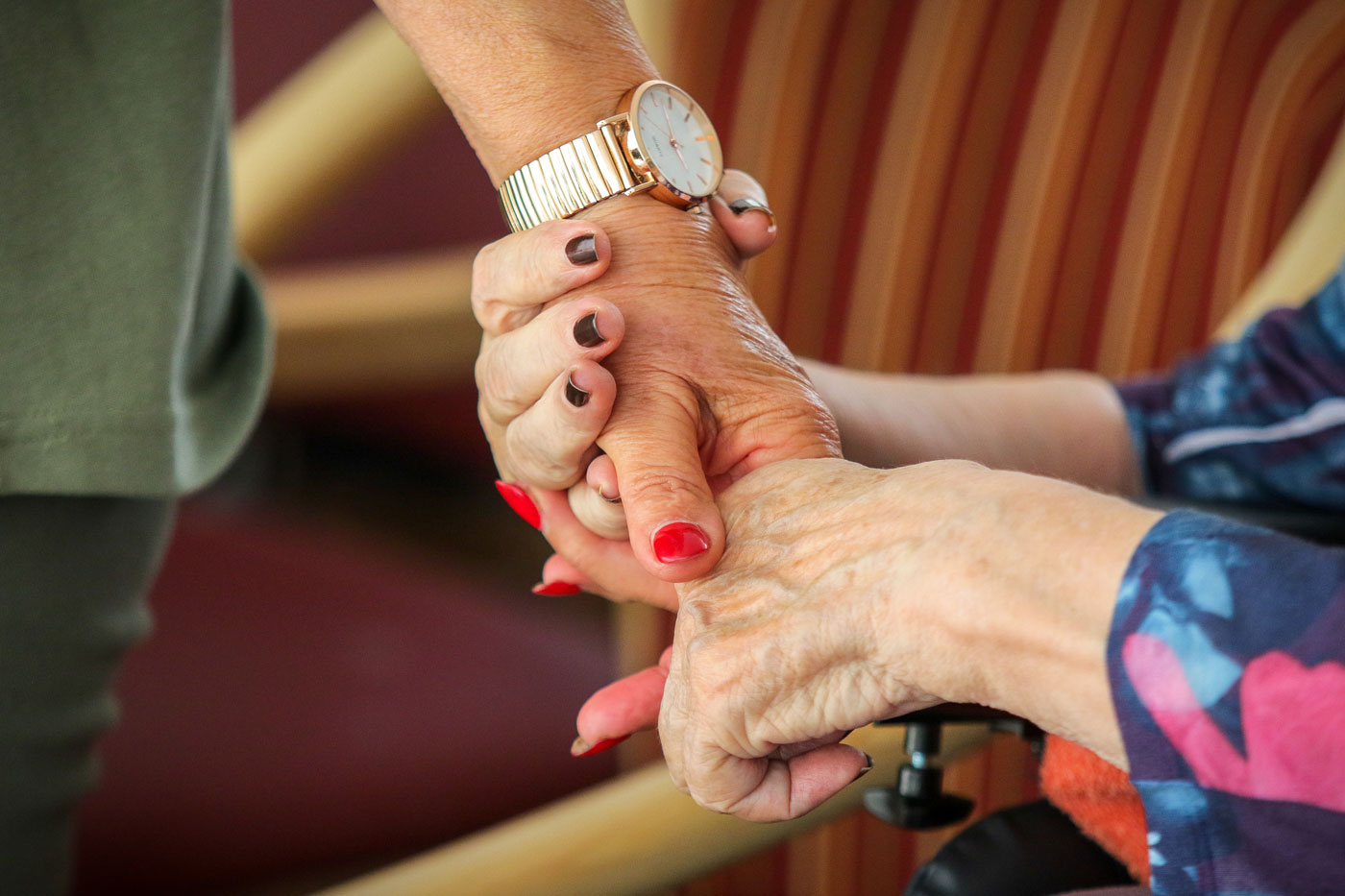 IRT Home Care
Find out more about IRT Home Care and how we can assist you or your loved one to keep living independently at home. IRT has been providing home care services for more than 30 years, offering support to older Australians in NSW, Qld and the ACT.
Find out more