IRT Foundation relaunched as Age Matters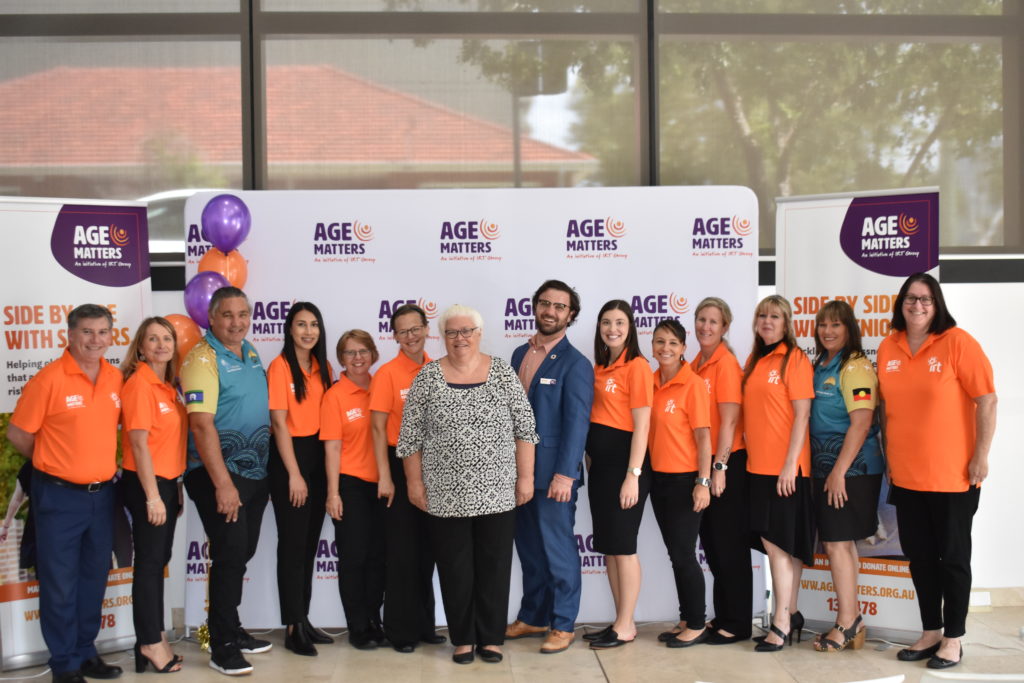 IRT Foundation today celebrated the beginning of a new era as it announced a rebrand and name change to Age Matters.
Age Matters is the only initiative in the Illawarra dedicated to tackling the three central tenants of social disadvantage among older Australians – homelessness, loneliness and joblessness. Established in 2009 as IRT Research Foundation, the initiative has helped improve the lives of hundreds of disadvantaged older people in the Illawarra, Shoalhaven and NSW South Coast. Age Matters remains a key social impact initiative of IRT Group.
IRT Group Executive General Manager – Strategy, Sam McFarlane launched the rebrand to a gathering of supporters including Wollongong City Deputy Lord Mayor, Councillor Tania Brown, volunteers and employees at its Wollongong headquarters on Thursday morning.
Mr McFarlane says the rebrand better reflects the work the Foundation does today and its ambitions for the future.
"I'm incredibly proud of everything IRT Foundation has achieved over the past decade and of the support IRT Group has been able to give along the way," Mr McFarlane said.
The rebrand recognises how much IRT Foundation's core focus has evolved since it began ten years ago. Established to support cutting-edge research into ageing, IRT Foundation expanded in 2014 to include education, advocacy and community grants, and today it directly helps older Australians facing, or at risk of homelessness, joblessness and loneliness.
IRT Foundation has driven significant initiatives to help empower disadvantaged older Australians, including:
the Age-Friendly Illawarra Alliance
Career Check Up Expos for Mature Workers in partnership with the Australian Human Rights Commission
Booraja – a home care pilot program providing culturally appropriate home care services to older Indigenous people.
Age Matters Head of Social Impact, Toby Dawson says the team remains committed to providing disadvantaged older Australians with access to supported housing and services and opportunities for social and civic participation.
"Today marks the start of bigger and better things to come for Age Matters and we're excited for what the future holds," Mr Dawson said. "But we can't fight homelessness, loneliness and joblessness among older people alone.
"We need the community's support to drive serious change and I encourage everyone to get involved with the awareness and fundraising initiatives we have planned for 2020."
Age Matters will hold the second Illawarra Homeless Street Count on Thursday 2 April in collaboration with the Department of Communities and Justice, Wollongong Homeless Hub and Wollongong City Council. And the Race Against Homelessness charity race day will be held for the second year running on Saturday 13 June.
Age Matters is also encouraging people to consider donating regularly or to establish a workplace regular giving program. A significant difference can be made to the lives of vulnerable older Australians for just the cost of a coffee per week.
For more information about how you can help visit: agematters.org.au
Media enquiries: Hannah Ellson 0429 361 627
General enquiries: 134 478
About IRT Group:
IRT Group is one of Australia's largest community-owned, not-for-profit providers of retirement living, residential aged care and home care. With 50 years' experience and locations throughout NSW, the ACT and South East Queensland, we employ almost 2800 people and play a significant role in promoting seniors as dynamic, influential and valuable members of society.