Resident Stories
Jul 21, 2022
Ageing in place at Henry Brooks Estate Retirement Village
Rick and Lorraine moved into Henry Brooks Estate at IRT Kanahooka. Here they talk about their new community and the place they call home.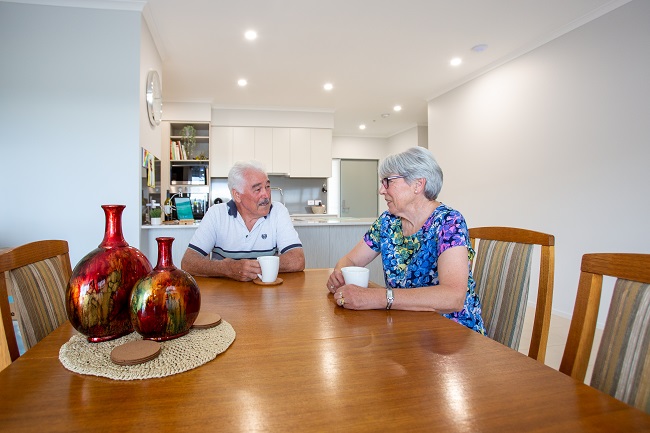 Rick and Lorraine Baerwinkel happily describe themselves as grey nomads.
"Well we're certainly nomadic – and we're certainly grey!" Rick says with a laugh.
Keen caravanners, they've been to every state and territory with their van except Tasmania – and that's on their bucket list.
"It's a great lifestyle – I can highly recommend it," Rick says.
Rick and Lorraine have recently moved in to Henry Brooks Estate at IRT Kanahooka and the ease of taking off in their van was one of the reasons they decided to move into the retirement village.
"That was one of the big pluses. When we went away last week it was so easy – we just locked the place up and disappeared. We didn't need to worry about lawns and other bits and pieces around the place. It was great," Rick explains.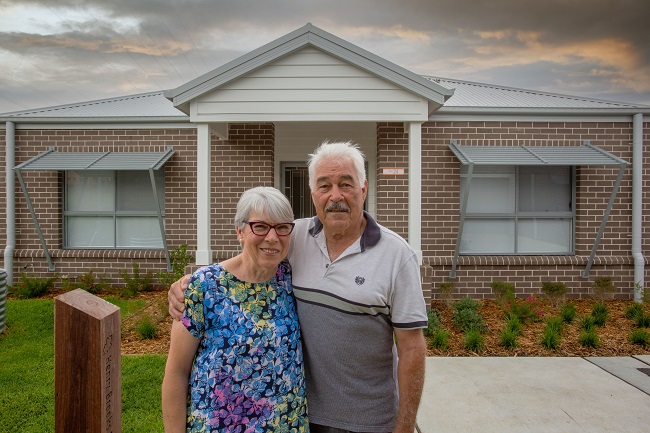 "We think we're in the right time to enjoy the freedom of not having to look after things."
Downsizing from their home of 47 years but being able to stay in the area was another motivating factor in making the move.
"We like the area, we are very familiar with it. We will be able to walk down to the lake, there are lovely walking tracks, which we've done before – we always have," Lorraine says.
Rick is a retired national operations manager for Lysaght and Lorraine worked for IRT as an allocations officer.
Rick says Lorraine's experience at IRT helped them realise a retirement village would suit their needs.
The Baerwinkels are the youngest residents to move into Stage 1 of the estate, but are convinced the time was right for them to relocate.
"We think we're in the right time to enjoy the freedom of not having to look after things," Rick says.
"And the place is designed for us to stay here for many, many years – they advertise it as ageing in place and that's exactly what we're going to do."
"We think we're in the right time to enjoy the freedom of not having to look after things."
Once completed in 2024, Henry Brooks Estate will comprise about 90 two- and three-bedroom villas, and eight one-bedroom villas for older single women partially funded by an Australian Government Building Better Regions Fund grant of $634,500.
The community features dementia-friendly design, open spaces and landscaped pocket gardens, and a community centre is being built as part of Stage 2, now underway.
Rick says the community spirit is already building.
"The neighbours have been fantastic and every now and then we sit out the front in the afternoon and have a chat," he says. "Some of the other residents and I have already started growing some veggies in the pocket gardens so it's working out well.
"The place has got a really good vibe. I love it, absolutely love it."
Discover more about just how easy independent living at Henry Brooks Estate Retirement Village can be.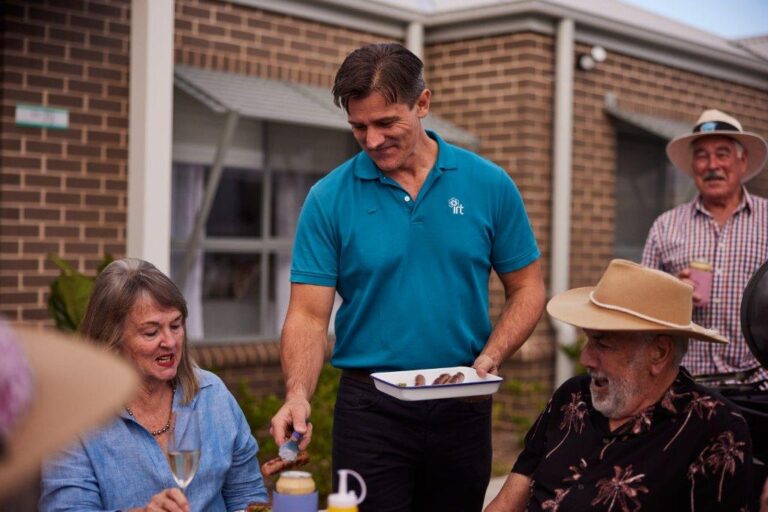 Retirement living at IRT
If you're interested in downsizing your house and upsizing your life, IRT has more than 30 retirement villages across NSW, Qld and ACT. Find out more about the possibilities of village life and how one of our independent living communities can suit you and your unique needs.
Find out more