Resident Stories
Nov 08, 2023
Every day's a holiday for IRT aged care resident Rhonda
We caught up with IRT aged care centre resident Rhonda to hear about her wonderful experience living at IRT Berala on the Park Aged Care Centre and why she loves her IRT neighbourhood.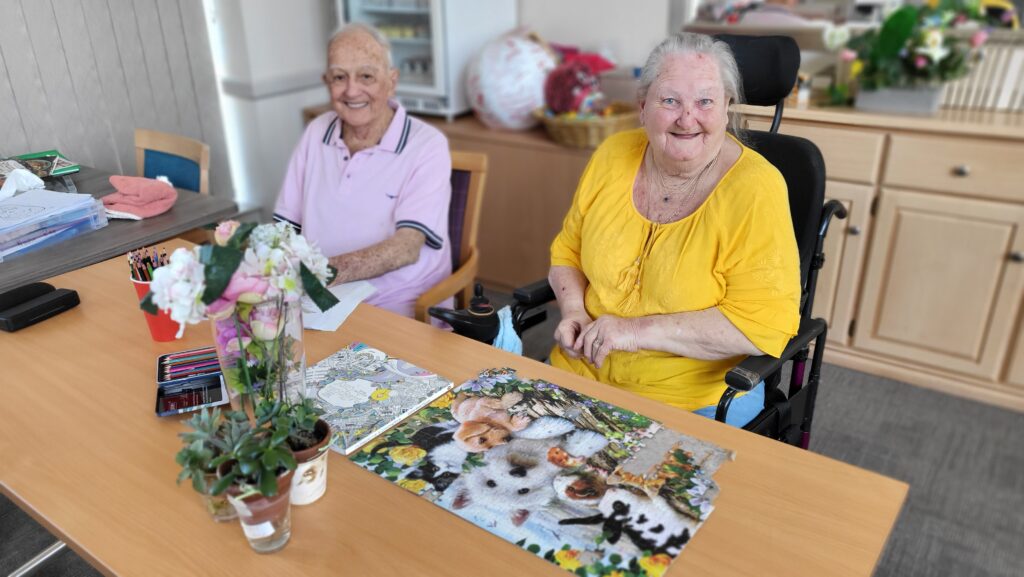 Rhonda Clancy is a resident at IRT Berala on the Park Aged Care Centre who moved into an IRT aged care centre in 2023 and is proud to call IRT home.
What prompted Rhonda's move into an aged care centre?
Rhonda said after a few falls, including a particularly bad one, her doctor said she could no longer live at home and needed 24/7 care. Her sister Beverley (pictured below left with Rhonda) lovingly helped her with the process of moving into residential aged care.
"When she started having more falls, I spoke with her about going into assisted living, and she wasn't too sure at first and then she thought she had nothing to lose and she was getting a bit worried about being on her own, so I made some enquiries," Beverley said.
"I've been there 3 or 4 times and she just loves it. Just loves it, and the staff are so beautiful to her."
"It has taken a load off my mind to know that I can be here in Central NSW and know that if she has a fall, she's safe. I have been so relieved since she's been put into care."
Rhonda is really grateful for the help from her sister and looks forward to her visits.
"My sister has been absolutely fantastic, and now I am here she comes down once a month and comes all the way from Orange, in the country. She comes and sees me and we go out for the day, it's beautiful."
What's it been like at IRT?
Rhonda wasn't sure what to expect living in aged care, but she said the staff are lovely and she really enjoys being a resident at the aged care centre.
"I never thought I'd end up here, I never thought that in the whole world, but since I've been here, it's changed my life. It's really good. I'm treated with respect, everyone is absolutely fantastic. I love it here."
Rhonda said the aged care staff have been truly wonderful and she's really well taken care of at IRT Berala on the Park.
 "Since I've been at Berala, it's been fantastic. My whole life's been turned around. They're fantastic, you can't fault anyone from here, they're all amazing. I have my medication, my meals are beautiful, they clean the room every day and change the sheets. It's absolutely fantastic, I can't fault them. I can't say a bad word against the staff in any way. Fantastic people."
 "Not one staff member refuses to do anything. If I press the buzzer in my room, they come."
Her sister Beverley couldn't agree more and spoke about a recent experience where they accidentally made a mess with a bunch of Coke cans in the room.
"The staff never lost their cool, they were just so beautiful. I was so embarrassed and apologetic but they said it was fine and cleaned it all up."
"They go over and above in everything in they do. I cannot speak more highly of them. If I was going into a nursing home, that's where I'd like to go. That's how much I like it."
"I'd never been to a nursing home before except to visit my husband's aunty, but this is totally different. This is a relative, and it's been absolutely beautiful, right from day one."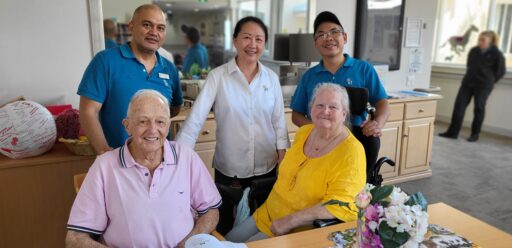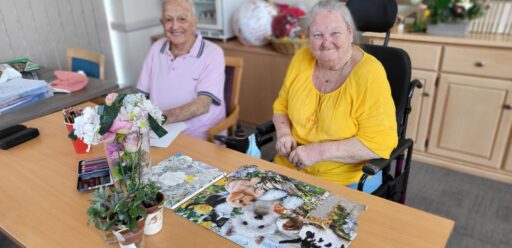 How does Rhonda enjoy her free time at the community?
The lifestyle activities have been hugely positive for Rhonda and she said there's always something to do or something on.
"I go down to the lounge room and they put songs on TV and I like to sing along. They have bingo and activity games. It's absolutely fantastic, the way they've got everything worked out is absolutely beautiful. And the two ladies who do the bingo are lovely. When she calls the number, she also calls it in the Chinese language because we have Chinese people. It's beautiful."
"They've got ball games, happy hour which is something different. There's activities on all the time. We have a bloke with an accordion. We have games and puzzles, ice cream on the trolley. It's fantastic, you couldn't fault it."
Her sister Beverley is really happy to see how engaged Rhonda is now she lives at IRT and she's even added to the activities with her colouring in hobby.
"She's doing more now that she ever did before," Beverley said.
"She was stuck in four walls for three or four years in Nowra and now she's got a new lease on life. She's got things she can go to, she doesn't sit in the one room like she did before. She goes to the dining room for her meals, she's got the room set up beautifully, what more could she ask for?"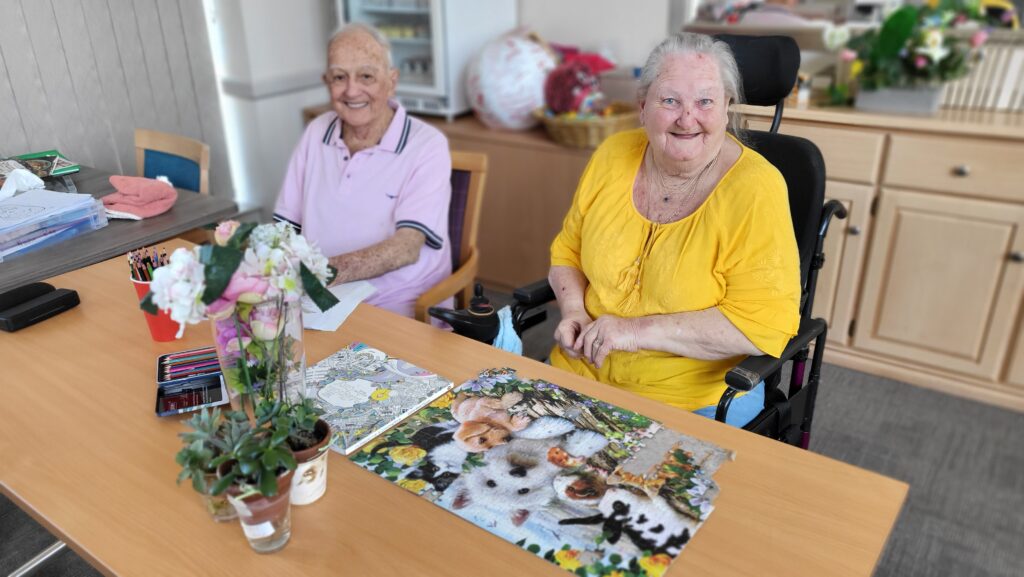 Why Rhonda loves her IRT neighbourhood
Another positive aspect of being an IRT aged care resident is being part of a close-knit community, and this is certainly the case for Rhonda who has formed connections with many residents.
"It's absolutely beautiful. I've met people here who I really and truly enjoy talking to. There's not one that I haven't spoken to."
"I say good morning to people who are Chinese or with a different language and they take their little hat off."
"In the morning I get dressed and go out and they do my hair and all that. Then I go down to the lounge and we have singalongs. It's fantastic, I couldn't fault the place."
She's also enjoyed having access to handy services on her doorstep, such as a hair salon where she can go and get an affordable haircut.
"There's a hairdresser here so I went and got my hair washed and got a trim because I have long hair. They trimmed my hair and the price was very reasonable and she was very nice. Very nice."
"I've got a nice view from my window looking outside to the park and trees and all that, it's beautiful. The flowers on the trees, they're absolutely beautiful. On the weekend when there's people with kids playing soccer, it's fantastic. I couldn't have asked for anything better in my life.
Would Rhonda and Beverley recommend IRT Aged Care Centres?
Rhonda said she wouldn't hesitate to recommend moving into an IRT aged care centre.
"If you can't manage, tell your doctor and come in here, it's fantastic. I recommend it to anyone who really needs it, I really do."
"It's a place where you can relax, it's like a holiday, it is. You can relax and stay in bed all day if you want to. You get three meals a day, you get morning and afternoon tea, coffee and tea. You just can't fault it. I'd recommend it to anyone in my situation; this is where you should be. I really appreciate what my sister did to get me here."
Beverley said she would also recommend residential aged care at IRT for anyone else with a loved one in need of care.
"Absolutely, 100%."
"Because of the treatment Rhonda has received so far, because of the cleanliness of the complex and the security. The security is most important."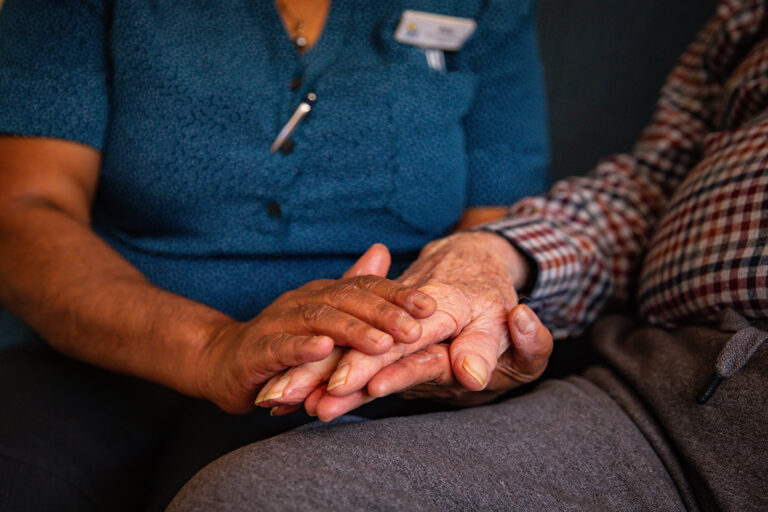 Do you or your loved one need support?
IRT has been supporting older Australians and their families with compassionate care for more than 50 years with aged care centres in NSW, Qld and the ACT. If your loved one needs warm and personalised care you can trust, we'd be more than happy to help.
Find out more