Giving Back
Jun 07, 2023
What is ageism and how can we stop it?
Let's look at ageism, what is is, how it shows up and what we can all do to combat it.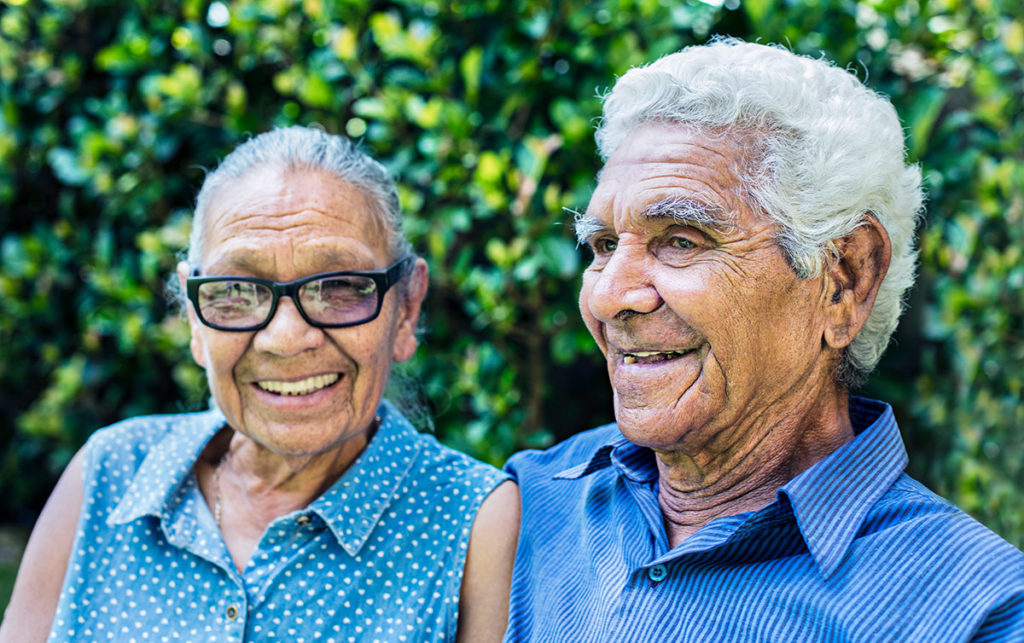 Ageism exists in Australia and even though we may not always be aware of it, most Australians know it happens. In fact, a report by the Australian Human Rights Commission (AHRC) found that 90 per cent of Australians agree it exists. And while it is a very real and debilitating form of discrimination that affects all age groups, ageism is the least understood and least spoken about.
So, what's ageism?
Ageism refers to the discrimination an individual or group experiences based on their age. A report released by the AHRC in September 2021 found that 63 per cent of people surveyed (aged 18 to 62+) have experienced ageism in the last five years and disappointingly it is the most accepted form of prejudice in Australia.
No matter your age, you may have experienced ageist attitudes in the past or are experiencing it now. If you're a young person, you might find people speak to you condescendingly or your opinions are ignored, particularly at work. If you're an older person you're more likely to be 'helped' whether you want or need it.
Ageism and older people
While ageism can affect both older and younger people, it is most often experienced by those who physically appear to be older.
The impact of ageism is especially significant on older adults. Our ageist stereotypes of older people as frail, with ill health, outdated skills and a lack of competence with technology can lead them to being viewed as onlookers to life rather than active participants playing a meaningful role in society. Beyond this, it can negatively influence our own experience of ageing.
There is no definitive age when a person can be perceived as 'old' so ageism can occur at any point. When physical impairments and visible signs of ageing become more apparent, a person may start to notice they experience more negative attitudes.
Is ageism really a problem?
Simply speaking, ageism can affect how a person values themselves, and in turn can impact their health and wellbeing.
According to EveryAGE Counts, the negative impact that age discrimination can have on an older person's confidence, health, and quality of life can be profound. Ageism can also affect how we view and think about ourselves and ageing in general.
If, over time, you're passed over for a job, not listened to, discriminated against in the workplace or healthcare system, ignored in shops, have lost control over life decisions, or dismissed by financial institutions, you're likely to feel a little less confident about your place in the world. In fact, the World Health Organization reported in 2021 that people who have a negative view of ageing are more likely to suffer from poorer physical and mental health, and slower recovery in their older age, they can be more susceptible to risky behaviours, and a reduction in life span by 7.5 years.
Distorted attitudes towards ageing don't just affect individuals, they can also deny communities the benefits that older adults can provide, both economically and socially.
What are the negative stereotypes surrounding ageing?
Ageism is not always obvious, sometimes it is subtle and often appears in the way we use language. While it may seem harmless to make a joke at older people's expense, the reality is these jokes contribute to negative stereotypes and can distort our attitudes to older people and ageing.
Some of the most common negative stereotypes surrounding ageing are that old people:
Are more likely to have health issues
Have difficulty completing complex tasks
Don't care about their appearance
Are more likely to be forgetful
Can't hear that well
Have difficulty learning new things
Are bad drivers
Don't like change
Complain a lot
Have a short temper
Research by the AHRC shows that older Australians feel the media plays a significant role in the portrayal of older people, where they are typically shown as weak, victims, or in poor health. Social media also tends to show older people in a more negative light. With younger people more likely to engage with social media, this distortion can affect their view of older generations.
Ageism in the workplace
Older people bring a wealth of experience, critical thinking and knowledge to any situation and a lifetime of accumulated wisdom to share, and this is no truer than in the workplace.
While research shows that the number of older employees in our organisations is increasing, the workplace remains one of the most common settings where ageism occurs.
So what does ageism look like in the workplace? It could be subtle discrimination in the wording of job ads using phrases such as 'fresh', 'active' and 'energetic' or unfair questions around age being asked in the interview process; it could be ignoring older workers for promotions, excluding them from company activities, or giving responsibilities to a younger employee; or discriminatory comments about age even if the remarks were supposed to be amusing.
When ageism occurs in the workplace there can be significant implications on the participation of older people in the workforce as it can severely limit their progression, their motivation, their development and their desire to continue working.
Likewise, workplaces risk excluding a talented, motivated, committed section of our communities who bring a load of wisdom, hands-on knowledge and experience and connections to boost our workforces and improve the way we do things. In fact, the World Health Organization reported that estimates in Australia show that if more older people were employed, our economy would receive an annual boost of A$48 billion.
The contribution older Australians make to the workforce is not going unnoticed, with organisations like Age Matters working with the AHRC and EveryAGE Counts to increase mature workforce participation.
Ageism in health care
Older people tend to be the largest users of health care services, and unfortunately many have reported experiences of ageism when receiving medical care.
The EveryAGE Counts report into the drivers of ageism revealed that 47 percent of participants reported they had faced ageism when receiving health care.
The most common scenarios of ageism in health care are around older Australians being negatively stereotyped as too old and a waste of resources. These negative attitudes can then impact how health professionals diagnose older people and their recommendations for treatment.
Research released by the Older Women's Network NSW and Health Consumers NSW in 2021 found that older people reported being treated differently due to their age across a range of health care providers, including GPs, specialists and public hospitals.
Some of the most common experiences for older people experiencing ageism in healthcare include:
Medical professionals not listening to their concerns
Health concerns not being taken seriously
Condescending language
Lack of appropriate care
How can I combat ageism?
The simplest way to combat ageism is to recognise older people for who they really are - humans making an enormous contribution to our society every day. We should celebrate the wealth of experience and skills that older adults bring to our communities and economy, whether it's continued engagement in the workforce, volunteering, community work, participation in the arts or sport, or caring for family.
We need to recognise the contributions that older people make to society, instead of perpetuating the negative stereotypes that are often reinforced by the media. This can be achieved not just through sharing stories of the impact older adults had in their youth, but more specifically how they are contributing to society now.
We are living longer thanks to better health systems, nutrition and medical science, meaning we are accomplishing key achievements at later points in life than traditionally expected, whether that be completing courses in higher education, training for a marathon, or pursuing our dream job.
There are many ways to stop ageism, and here are a few that can be used at any time:
Start to recognise instances of ageism, especially those that are not obvious
Explain why age based discrimination is unacceptable when you encounter it
Reframe your own perception of ageing and the way you think about it
Don't let other people's ageism influence decisions you make about your life
Encourage intergenerational relationships to break down stereotypes
Think about the language and images you use when describing older people. Do those words perpetuate stereotypes about older adults, or challenge them? Try using phrases such as 'older person' rather than 'old person' or 'person living with dementia' rather than 'dementia sufferer'.
Overcoming ageism and ageing positively
There are plenty of benefits that come with getting older, and people should not be discriminated against because of their age.
Ageism won't go away by itself, but older adults can help to shift and break down negative stereotypes and change people's perceptions towards ageing.
What is positive ageing?
The Australian Psychological Society defines positive ageing as "the process of maintaining a positive attitude, feeling good about yourself, keeping fit and healthy, and engaging fully in life as you age". Ageing can bring many rewarding experiences, but it's also associated with significant life changes.
Positive ageing is about making the most of the benefits of ageing like more free time if desired and engaging in activities you enjoy, while keeping a positive attitude through times of change or loss. This concept focusses on maintaining a growth mindset as you age to help make life experiences easier.
Studies have shown that a positive attitude towards life improves physical and mental health and enables older people to retain their control and quality of life for longer.
Tips for ageing positively
As you age, you may face challenges with some of the changes you'll experience. Adjusting to retirement, bereavements, new living arrangements, and health and ability changes can cause any number of issues. 
Embracing the changes and adapting to your situation with positivity will help you recognise your strengths instead of focussing on the negatives. Some good attitudes to adopt to help keep a positive mindset while ageing include:
Keep learning
Having a sense of humour
Maintaining healthy social relationships
Being adaptable
Finding ways to relieve stress
Having a clear sense of purpose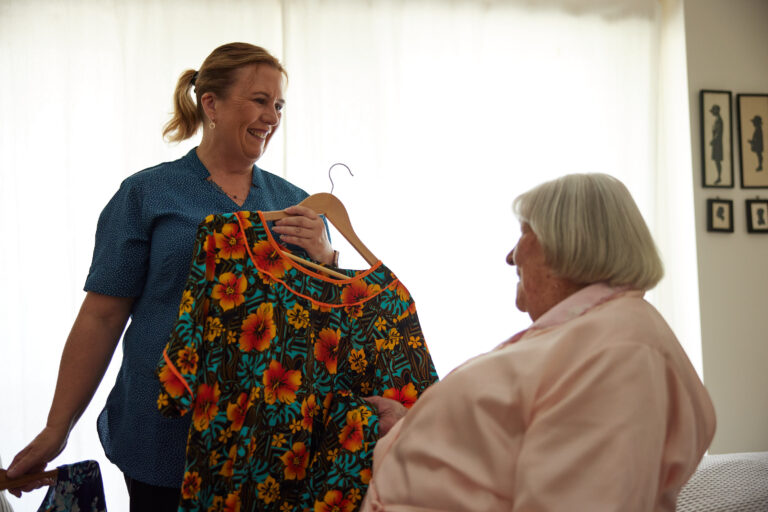 Need some assistance in your home?
We've been supporting older Australians for more than 30 years with home care services offered throughout NSW, Qld and ACT. Find out how you can keep living independently at home with a little help from IRT.
Find out more