Life in Lesotho
At IRT we are celebrating our 50th anniversary and are sharing our residents' and customers' stories from 5o years ago.
A life-changing experience is how Margaret Landbeck describes her family's time living in Southern Africa.
"It was quite harrowing how the black Africans were discriminated against and how privileged the white people were. It influenced us politically for the rest of our lives."
The Southern African Kingdom of Lesotho was home to Margaret and Roger Landbeck and their young family in 1969.
Margaret, her late husband Roger and their first-born son Adrian left England for Africa four years earlier in 1965. "We left England two years after we were married," Margaret says. "I had never left England before."
Roger had secured a job with the University of Bechuanaland, Basutoland and Swaziland lecturing in physics. "He saw the job and it looked really interesting and different and off we went, with a one-year-old."
Landlocked Lesotho is a kingdom, surrounded by South Africa. The kingdom was a former British Crown colony known as Basutoland and gained its independence in 1966. It then became known as Lesotho.
"Most of the students at the university were from Lesotho, Botswana and Swaziland. A young Desmond Tutu [the anti-apartheid and human rights activist] was an English lecturer at the university too," Margaret says.
"It was a fairly poor country and we had to travel to South Africa, about 100km, to buy household items like vacuum cleaners, and other large household items."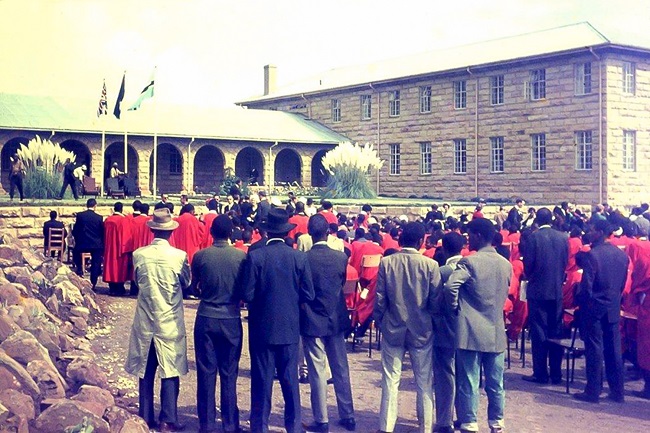 She said visiting South Africa gave the family a first-hand experience of apartheid.
"It was quite harrowing how the black Africans were discriminated against and how privileged the white people were. It influenced us politically for the rest of our lives. We became much more social-justice orientated, because of that life-changing experience."
Living in a new country meant the family had to adapt to a new culture and way of life – where most people lived in little villages, grew crops and made a subsistence living. "But many of the men went to South Africa to work in the mines to make a living."
Margaret's family lived on the university campus and had electricity and running water. "Droughts were common so we had to be careful with water. I had two babies in cloth nappies at one point when water restrictions were really severe and the gardens grew really well those years because the dirty nappy water ended up on the garden."
Margaret was a trained nurse and sometimes helped the local doctors but her growing family was keeping her busy. Margaret and Roger's next three children, Nicholas, Antony and Graham, were born at the local mission hospital.
When it came to world events, like the 1969 moon landing, they heard about it on the BBC World Service on shortwave radio. "It was probably a news item, not at the actual time of the landing," Margaret says. "There was no TV in Lesotho and the majority of our news was via the BBC World Service."
She says the moon landing would have been a topic of discussion for those at the university but not for the general population.
After six years the family moved back to England. "My husband needed to progress in academia and we were a bit homesick. However those few years were life changing and formative."
But it wasn't long before the family was off on their next adventure – this time to Australia. Roger took up a lectureship at Griffith University in Brisbane. "And we just forgot to go home. That's where the job was and that becomes your life."
Margaret hasn't yet made it back to Lesotho but Roger did. "It's changed enormously. It's been spoilt by tourism but it's also helped the country to grow."
Of that time living in Southern Africa, Margaret says they got to know people from all over the world, some of whom she is still in touch with.
Roger passed away in 2014 and today Margaret lives at IRT Parklands.