IRT pushes through the challenges of recent years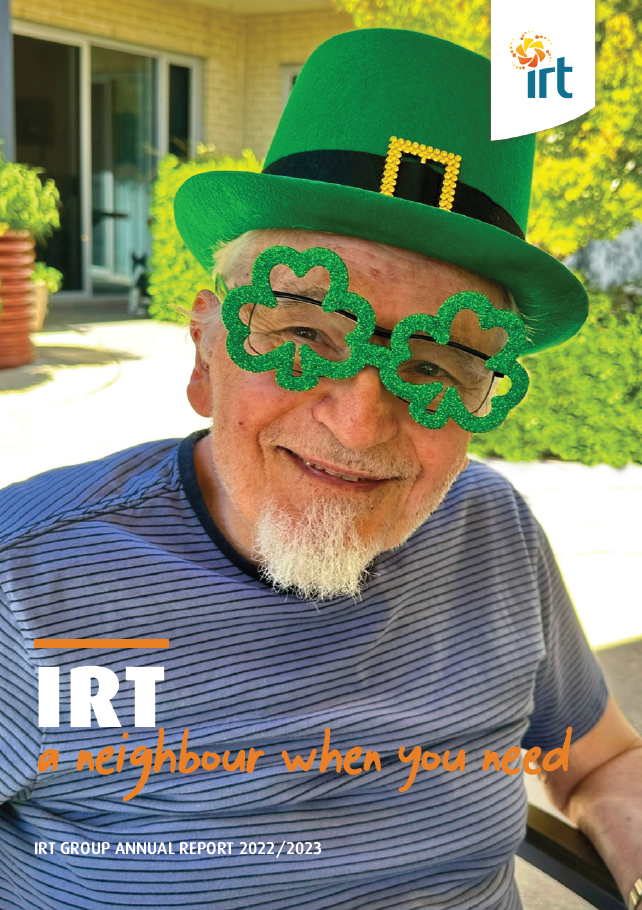 IRT held its Annual General Meeting on Thursday, marking the end of a difficult yet productive year.
The not-for-profit, community-owned organisation grappled with the same difficulties and complexities inherent in the aged care sector of past years – from workforce shortages to the ongoing and far-reaching impacts of COVID-19.
IRT CEO Patrick Reid said that 2022/2023 was a year of taking further steps to address some of the difficulties faced as an aged care provider.
"This has been a year of progressing long-ranging solutions that will, in turn, help strengthen IRT for the future," Mr Reid said.
"Maintaining and growing a viable workforce, particularly in our regional and rural locations, has been one of our greatest challenges. We reached a significant milestone during the year when we welcomed our first group of overseas workers."
IRT's overseas worker initiative aims to train, employ, accommodate and support people from overseas to become aged care employees with IRT.
Mr Reid says IRT has a goal of bringing over at least 200 employees from countries including the Philippines and Fiji.
"This will make a significant impact on reducing our workforce shortages and reliance on agency staff and relieve workforce pressures. Importantly, it will also provide continuity of care for our residents and customers," Mr Reid said.
A key to the project's success was the training provided by the Registered Training Organisation IRT Academy, which engaged 178 students in the Philippines. By 30 June 2023, 24 had arrived in Wollongong to complete their training and start their journey as qualified aged care employees with IRT. IRT expects to welcome many more overseas employees this financial year.
Mr Reid says COVID-19 continued to be another challenge, with 60 outbreaks in its aged care centres during the year.
"Of course, our priority remains the safety and wellbeing of our residents, customers and staff. Managing these outbreaks is now part of our daily work practices, and while COVID-19 still requires special oversight and public health reporting, our approach has adapted and changed as it has in the wider community," Mr Reid said.
During the year, IRT undertook significant work to roll out well-deserved pay rises for Enterprise Agreement employees, where applicable, following the Fair Work Commission's two decisions – one, to increase the wage rates of certain aged care award classifications and two, to raise all award rates.
IRT continues to advocate for a pay increase for those staff not covered in the first decision – including administrative, hospitality, maintenance, and support staff at aged care centres.
Mr Reid says IRT has continued reviewing its operating model and financial performance to ensure the organisation's long-term sustainability. Out of this process, a 10-year strategic plan was endorsed by the Board, which features a new service delivery model to meet customers' and residents' expectations and enhance their customer journey with IRT.
"The plan requires significant investment, but it will reap rewards. To achieve this, we are focused on streamlining what we do, building capacity where we need it and reducing costs where we can," Mr Reid said.
IRT reported an annual operational revenue of $253.1 million, an increase of 10.2%. Adjusting for the sale of IRT Links Seaside Aged Care Centre and Retirement Village in 2022, operational revenue grew by 16.4%. Driving revenue growth were improvements in the Aged Care Centres business unit, particularly the IRT Thomas Holt aged care centre sites, and improvements across IRT's Home Care regions.
During the year, IRT also:
Welcomed Marco Polo Aged Care Services to IRT, including Marco Polo's residential aged care centres in Woonona and Unanderra and its home care service.
Celebrated 30 years of providing home care.
Progressed plans for the redevelopment of IRT Towradgi Park (Elements at IRT Towradgi Beach), with a decision on the DA expected soon.
Progressed the construction of 23 villas, which are part of Stage 5 at Henry Brooks Estate at IRT Kanahooka and sold out all villas in Stages 3 and 4, which are now fully occupied.
Adapted and prepared for changes to the residential care funding model and anticipated reforms to the home care sector.
"Above all, we remain steadfast in our pursuit of excellence, adapting to change, and embracing our role as a leader in delivering quality care in an ever-changing landscape," Mr Reid said.
More information is provided in the IRT Annual Report 2022/2023, available online at irt.org.au/about/get-to-know-us/annual-reports/
Media enquiries: Hannah Ellson 0429 361 627 | engage@irt.org.au
General enquiries: 134 478
About IRT Group:
IRT Group is one of Australia's largest community-owned, not-for-profit providers of retirement living, residential aged care and home care. With over 50 years of experience and locations throughout NSW, the ACT and South East Queensland, we employ more than 2000 people and play a significant role in promoting seniors as dynamic, influential and valuable members of society.