Palliative
Aug 18, 2023
Let's talk about death and dying
In Australia death is something we rarely talk about, but the fact is that dying is an integral part of life.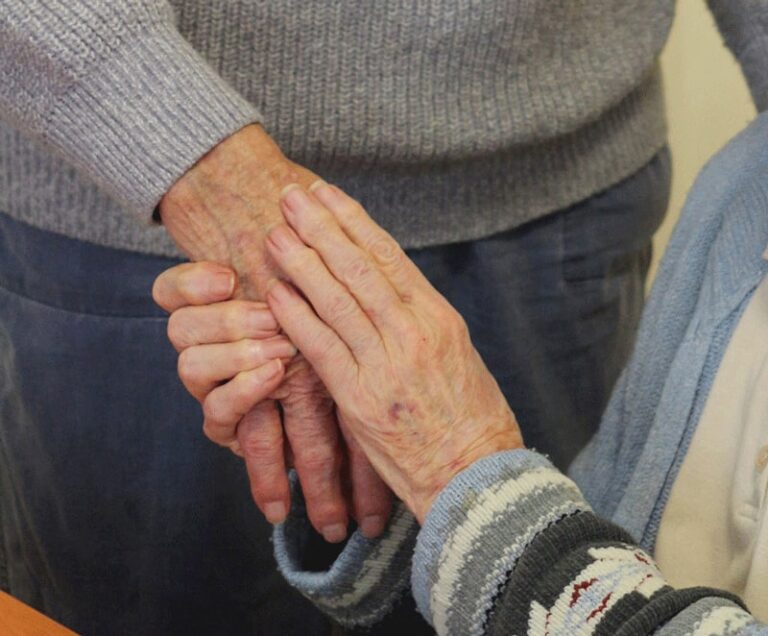 In Australia death is something we rarely talk about, but the fact is that dying is an integral part of life. Although end of life is universal, different cultures approach it differently.
In modern Western society, perhaps the only scenes that publicly remind us of the loss of loved ones are the Anzac Day or Remembrance Day parades, or the huge public displays of grief that occasionally happen after or when a celebrity like Princess Diana dies.
But the West hasn't always dealt with death privately.
Three hundred years ago funerals were always held in the home, but over time the handling of dead bodies and funerals became outsourced to doctors and funeral directors.
In modern Western society, the tendency is to deal with death privately. Perhaps the only scenes that publicly remind us of the loss of loved ones are Anzac Day or Remembrance Day marches and services, or huge public displays of grief that occasionally happen after or when a celebrity like Princess Diana, or cricketer Shane Warne, dies.
But it hasn't always been this way in the west.
Three hundred years ago funerals were always held in the home, but over time the handling of dead bodies and funerals became outsourced to doctors and funeral directors.
Few people these days under the age of 40 have seen someone die, and lack of familiarity means people are unsure how to grieve and mourn, or even how to talk about death.
Some cultures express more openly
Fewer people attend churches on a regular basis now and mass religious rituals have become less common. Some cultures still embrace public expressions of grief and are open about death.
Aboriginal and Torres Strait Islander people deal with 'sorry business' using death rituals, dances and wailing songs as part of ceremonies held on traditional country. These rituals continue over months or even years, until that person's passage into their next life is complete and those left on earth have finished grieving.
In Mexico family members are remembered each year on the Day of the Dead, not as a time of mourning but as a time of celebration with colourful parades. Graves are decorated and family members gather in cemeteries to dine not just among the departed, but with them, in the belief that they are returning to visit.
The popular Irish Wake is perhaps one of the best known of funeral traditions. When someone dies, the family prepares the body themselves and they are lain in an open coffin in the front room.
The community, relatives, even strangers drop in to pray, feast, talk, gossip and openly mark the death with handshakes and reassuring words. Through this ritual the living, the bereaved and the dead remain bound together.
Although death is unfamiliar to many in Western society, for people living and working in aged care death is part of life. Residents are often elderly, nearing end of life or in the final stages of palliative care.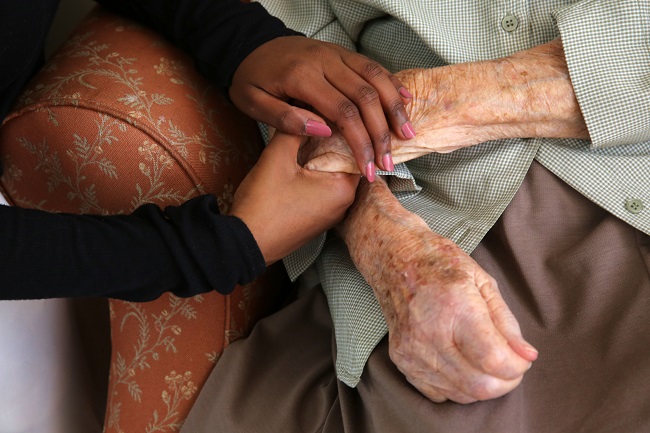 Rituals to help process and express grief
So, rather than keeping death private and hidden, public end of life rituals are used in aged care to assist residents and staff to process and express their grief, while providing community support for the bereaved.
IRT's end of life recognition program includes a Guard of Honour ceremony to commemorate the last time a recently deceased resident leaves the front door.
Fellow residents, staff and family assemble in the foyer to form a procession as the departed is carried out, draped in a lovingly-handmade quilt.
A butterfly motif is also placed on the resident's door as a mark of remembrance, and a memorial book is made available for friends, family and staff to record messages and favourite memories.
This has other benefits, as psychological studies have shown that writing about grief improves our immune system and our ability to cope.
About grief
At one time or another we all go through the grieving process. Grief is a natural emotional response to loss. It could be the loss of someone close to us, a family member, friend, colleague or pet. It can also be experienced after a serious illness diagnosis, miscarriage, divorce, job loss, separation from family and friends or many other types of loss.
Grief affects everyone differently. There are many forms and types of grief. Anticipatory grief can occur when you're expecting the imminent death of someone you love. It can be most common in cases when someone close to you is facing a terminal illness.
Complicated grief can occur when your grieving process stagnates and doesn't move through Elisabeth Kübler Ross' now famous five stages of grief: denial, anger, bargaining, depression, and acceptance. This type of grief often requires help from a mental health professional as it will not resolve on its own.
If you need help processing grief, try some of these resources: Grief Australia, Griefline, Lifeline or the Elisabeth Kübler Ross Foundation.
What happens during the dying process?
For seriously ill people and terminally ill patients, dying can be a gradual process. If the person dying is receiving good care and is supported by a palliative care team, it can also be a peaceful process. In most dying patients the body's normal systems start to slow down. A dying patient who is close to death will spend a lot of time asleep, their breathing can become very irregular, their blood pressure decreases, their skin can become mottled, blotchy and cool. In time, the heart stops beating, the person stops breathing and within a few minutes the brain stops working. This is death.
Death and dying, why is it so hard to talk about?
There are a number of reasons why we can find talking about death and dying difficult. Many people lack knowledge about death is frightening. We also fear saying the wrong thing and hurting someone's feelings, causing them or ourselves pain.
Many people often don't even begin to think about death and dying until they experience a big life change like starting a family, receiving a medical diagnosis or realising that a family member is getting older. Accepting our own mortality, the fact that we will all eventually face death, can be the hardest part when talking about death and dying.
Often, we avoid talking about death and dying because it is a frightening unknown. It's okay to be scared and it's normal that these conversations, especially when had with friends and family, can bring forth some difficult emotions that are hard to sit with.
It's common to avoid talking about death because of these fears and the worries they provoke. Our fears can be eased by working through this avoidance and actually talking about death as it can help us feel more prepared to cope with death when it happens.
Why it's important to talk about death and dying
Even though it's common for most people to avoid the topic, talking about death and dying, especially with friends and family members, can help everyone involved cope better when faced with death and the dying process. It takes effort and courage, but starting an honest conversation about your fears and hopes when it comes to death and dying can bring you closer to your loved ones.
Talking about death, also creates an opportunity to prepare advance care planning for yourself and your loved ones. Together with your family and friends you can consider the practicalities of dying, including care for your physical, psychological and spiritual wellbeing during the dying process, your Will and funeral and arrangements for housing, finances, pets and so on.
Having these details worked out in advance can be a relief for all involved; knowing that we've minimised the stresses our families will have to deal with during an already difficult time.
Having open conversations about death and dying can also give you and your loved ones the opportunity to share how you feel about each other. You might be empowered to say things that might have otherwise been difficult for you like 'I love you,' 'I'm sorry,' 'I forgive you,' or 'I'm proud of you.'
Dying to know day – not taboo to talk
In more recent years, initiatives such as Dying to Know Day from The Groundswell Project, have been launched. The day, held on 8 August each year, is a day of awareness that aims to encourage Australians to take part in conversations and community activities around this often taboo topic.
Dying to Know Day is all about reopening channels of communication about death and grieving, recognising that death is less confronting if it is planned for, and openly acknowledged.
Although an annual event, the day's message can have an impact all year round; providing the motivation for us to follow the lead of other cultures and former generations who understood the importance of sharing the experience of death and bereavement.
The Dying to Know Day website offers a wealth of resources at any time of year – chatterbox packs, discussion cards and books – or host a 'Death over Dinner' event to start a conversation and make a positive plan for end of life.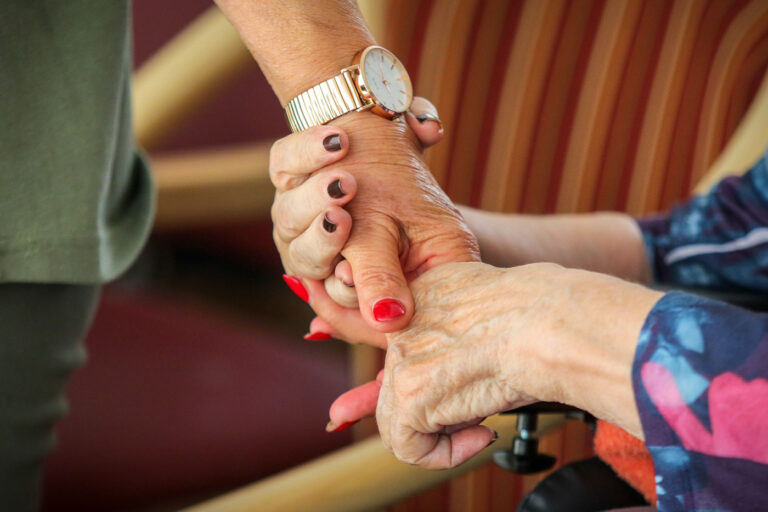 Palliative care at IRT
At IRT, many of our aged care centres offer specialised palliative care and end-of-life care in a supportive and calm environment where our palliative care team puts the individual first. Participating care centres offer 'Serenity' neighbourhoods: defined areas which offer specialised palliative care to help residents manage symptoms and access the personalised care and support they need to manage a life-limiting illness. We also have a Namaste program at participating care centres that focuses on treatments such as therapeutic touch, aromatherapy, and music therapy.
Find out more