Resident Stories
Nov 05, 2021
Colin reins in OAM
IRT Macarthur's Colin Watts' service to the harness racing industry has been recognised with an OAM.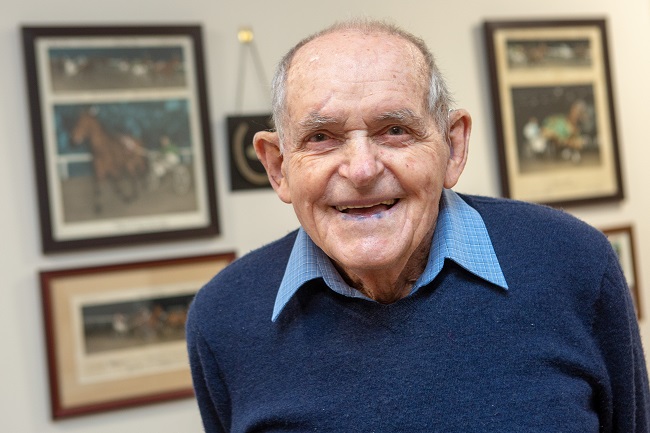 IRT Macarthur resident Colin Watts has a long and proud association with the harness racing industry. He shared his story with The Good Life.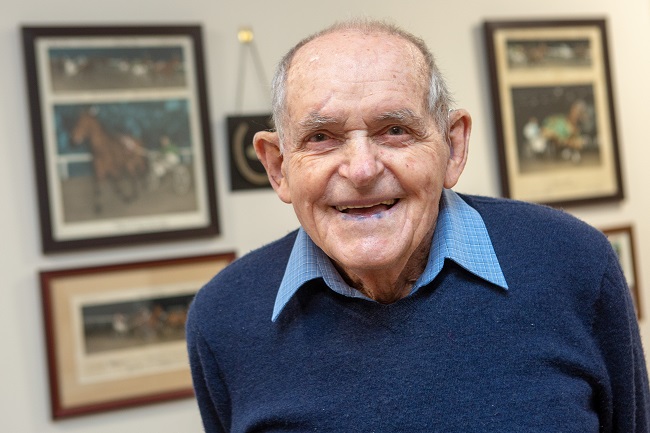 "I've done everything that's involved in the sport – I've owned horses and raced them. I was professional – seven days a week."
Harness racing is in Colin Watts' blood and his lifelong dedication to the sport was honoured last year when he received an OAM.
The 94-year-old, who lives at IRT Macarthur, was surprised when he received the letter which said he was being considered for a Medal of the Order of Australia (OAM). "Then a week later they contacted me to say I was to be presented with the OAM."
Colin was presented with his accolade at Government House by NSW Governor Margaret Beazley AC, QC in December 2020 as part of the Queen's Birthday Honours. It was for his service to the harness racing industry with which Colin has a long and proud association.
"My father was a horseman as well," he says.
Colin's father was JD 'Jack' Watts. "He was one of the greatest reinsmen [drivers] in Australia. And I finally followed in his footsteps."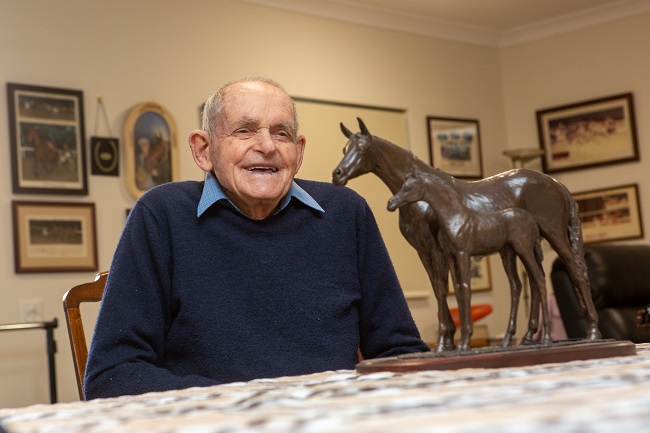 Colin first trained as an accountant. "But I left that when I was 21. I've always been associated with the horses since I was young. It's in my blood."
During his harness racing career he was a reinsman and trainer. "I've done everything that's involved in the sport – I've owned horses and raced them. I was professional – seven days a week." He was also very much involved in the administration side of the sport.
Colin was in his 70s when he retired from driving but continued on as a trainer. "I was in my 70s when I won my last race. I continued training with my son Graeme. He became a driver."
Colin kept horses up until moving into IRT Macarthur but his interest in the sport and the horses hasn't wavered.
When asked his favourite horse to drive and train he isn't sure who he can name as the best.
"Oligarch – he was one of my favourites, and there was Trunkey Wish. I won one of the biggest races in Australia with Yamamoto, which was the Inter Dominion Trotters Championship held at Harold Park in 1966."
He also puts Gloomy Lass and Te Kanarama on the list.
He raced at Harold Park Paceway in Forest Lodge and has fond memories of the track – which closed in 2010. "The best horses raced there. Nyamuri was my last winner there."
In the sport he looks up to Perc Hall – also known as PJ Hall – as well as F Kearsley, JE Binskin and LC Chant. "They were the opposition but I respected them too," says Colin.
He was associated with Fairfield Harness Racing Club for more than 60 years and was club president for 14 years. "It was the second biggest racing club in NSW. I just loved the horses so much. It gets in your blood."
He has also received a Distinguished Service Award from the Australian Harness Racing Council and a Living Legend Award from Harness Racing NSW.
Colin and his late wife Shirley had four boys – John, an accountant; Michael, an optometrist; Colin Jnr, a minister who is chaplain of the thoroughbred racing industry; and Graeme – a harness racing driver and trainer.
"Shirley was the main-stay of the family. She was the rock we all built on."
Today Colin has 12 grandchildren and six great-grandchildren.
When asked about the sport of harness racing today, Colin says the future looks bright.