Resident Stories
Mar 26, 2021
For the love of the game
Julia Coote talks to The Good Life about her lifelong love affair with cricket.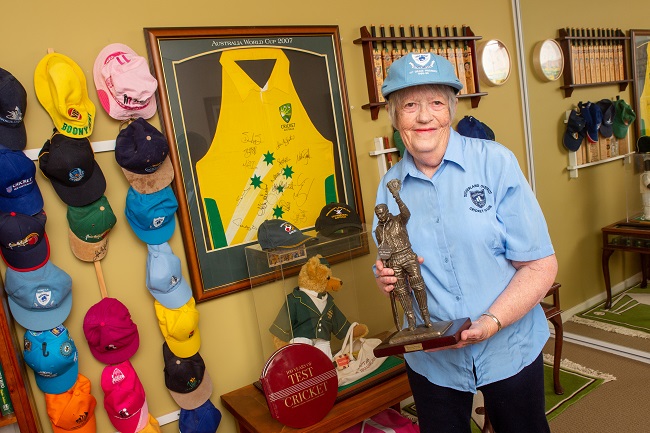 IRT Thomas Holt Kirrawee resident Julia Coote loves the game of cricket
She scored over 800 games for Sutherland Cricket Club
Her favourite Australian player is Glenn McGrath, who also lodged with her as a youngster
Julia's other passion is putting together cricket-themed jigsaws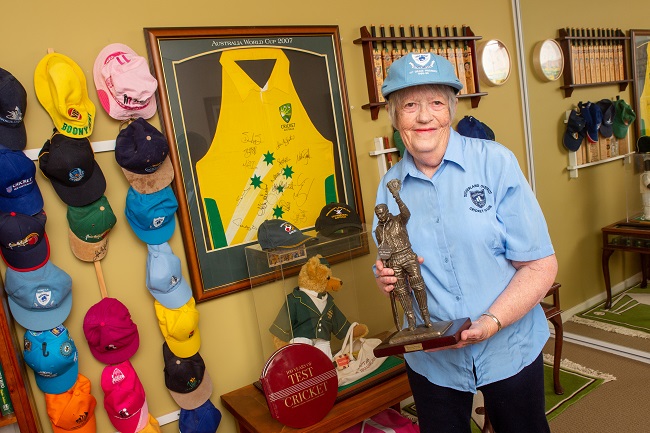 "My cricketing journey has been amazing since my father inspired my love of the game."
Julia Coote has a knickknack on her table that declares "I'm a cricket nut".
That's probably an understatement, given the amazing array of memorabilia decorating her IRT Thomas Holt Kirrawee home.
Julia's been a cricket fanatic for almost seven decades, since her father took her to the Sydney Cricket Ground to watch a Test between England and Australia when she was about eight years old.
Her Dad, who'd played for Surrey in England, was a big fan of a fellow Surrey cricketer, Peter May, a champion batsman who also captained the English team. But Julia only had eyes for Australia – and the food her Dad bought her on the day.
"The best thing I remember is the things I had to eat. He gave me a meat pie and a bottle of Coke – things I'd never had before. There was one very traditional English thing – a Mars Bar," she recalls.
And so began a lifelong love affair with cricket.
After returning from a working holiday in England, Julia was encouraged to get involved in Sutherland Cricket Club and started scoring games for the club. She ended up scoring for 35 years and along the way earned an Australian Sports Medal in 2000 for her service.
"I scored over 800 games in all grades and just over 500 in first grade," she says proudly.
She only stopped scoring after she suffered a stroke 13 years ago.
When asked about her favourite Australian player the response is instant – Glenn McGrath, the country boy who moved from Narromine to Sydney to play for Sutherland District Cricket Club and went on to become one of Australia's greatest international bowlers. McGrath lodged with Julia, who lived opposite Caringbah Oval, for a few months and she describes the lanky cricketer as a lovely country boy, very polite and no trouble at all.
"He ate whatever was put in front of him – and that was pretty basic," she recalls.
Julia also remembers early on in the piece returning from her clerical work at Royal Prince Alfred Hospital and finding her low-hanging light shade in the lounge room pegged up.
"Glenn had used my pegs to hold parts of it up so he didn't bump into it, because he was so tall!
"And then I went into the kitchen and saw all my best crockery in the drainer on the kitchen sink. You know how you store your good things up high out of the way … well he'd taken it from the top shelf. Because he was so tall it was at his eye level," she adds with a laugh.
Julia's foray into collecting cricket memorabilia started when she decided to put to good use her small earnings from supplying cricket scores and reports to the local newspaper.
Her home is now crammed with framed cricket bats, statues, photographs, commemorative plates, caps and tea towels from all around the world.
She even has a dozen brass heads of cricket greats hidden away in a cupboard because she doesn't have room to display them.
One bat she owns has the signatures from the Knights of Cricket – Sir Donald Bradman, Sir Richard Hadlee, Sir Colin Cowdrey, Sir Garfield Sobers, Sir Clyde Walcott and Sir Everton Weekes.
Another she recently bought belonged to Sutherland junior Steve Smith, who went on to become one of the best batsmen in the world.
"He was a real scallywag when he was young," she says.
But the most interesting bat is signed by former Australian captain Michael Clark.
"I bid for it at an AGM and was just about to take it home when I noticed something unusual; – the misspelling of his name – it's written as Micheal. He said to me at the time: 'Don't worry, I've only ever had two of them [with the misspelling] and I've got the other one – it is in my shed!'."
"Everyone tells me the bat's more valuable with the misspelling."
Julia's other passion is putting together cricket-themed jigsaws, which she started after her stroke, as a form of rehabilitation.
"I had the jigsaw on the kitchen bench and when the carers came they helped me do a few pieces at a time. They were so good to me."
She's now completed nine jigsaws, which she frames and mounts on her walls.
"My cricketing journey has been amazing since my father inspired my love of the game. It's unusual for a female to be so absorbed in the game, but that's just how it has been.
"When I retired from RPA they gave me a Don Bradman statue – forget about anything feminine for me!"
Julia's most memorable Tests
The first tied Test, played between the West Indies and Australia at the Brisbane Cricket Ground, "the Gabba", in 1960. A tie occurs when the side batting second is bowled out in the fourth innings, with the scores level. Only two tied Tests have occurred in the history of cricket.
The Centenary Test between England and Australia, played in March 1977 to commemorate the first Test match in 1877. Both the 1877 and 1977 matches were played at the Melbourne Cricket Ground. Remarkably, Australia won both matches by exactly the same margin, 45 runs.