Vegetable pesto pasta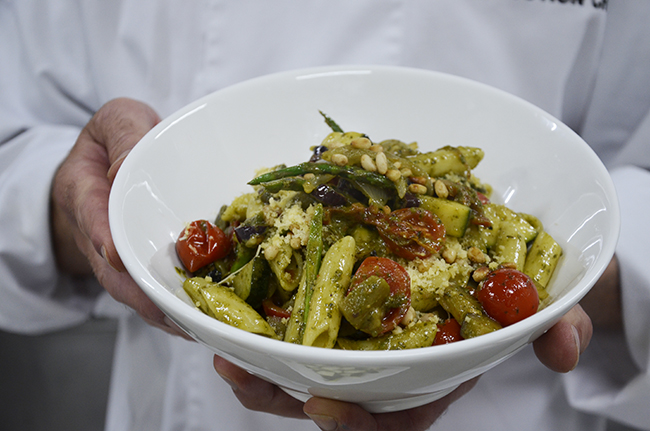 This hearty vegetable pasta is the ideal autumnal dish, perfect for the cooler evenings ahead.
1/3 cup pitted Kalamata olives
1 bunch green asparagus sliced
1/2 cup sundried tomatoes
1/2 tbs toasted pine nuts
1/3 cup grated parmesan cheese
Step 1: Bring a medium pot of salted water to the boil and cook pasta.
Step 2: Meanwhile heat a small frypan and add olive oil, sliced onion, zucchini, eggplant and cook for about 4 minutes until soft.
Step 3: Add olives, cherry tomatoes, asparagus and sundried tomatoes. Mix well on a low heat and cook for about 2 minutes.
Step 4: Drain the pasta and add to the vegetables. Keep aside a little water from the drained pasta to add to the dish to provide moisture. Add basil pesto. Stir well until all combined.
To serve, place warmed pasta in a bowl with toasted pine nuts and grated parmesan. Enjoy!