Resident Stories
Oct 09, 2023
IRT Home Care: a neighbour when Jo and Shirley need
We caught up with Jo Gibson, the daughter of IRT Home Care client Shirley Pilgrim, to learn more about her family's positive experience of getting a helping hand from IRT.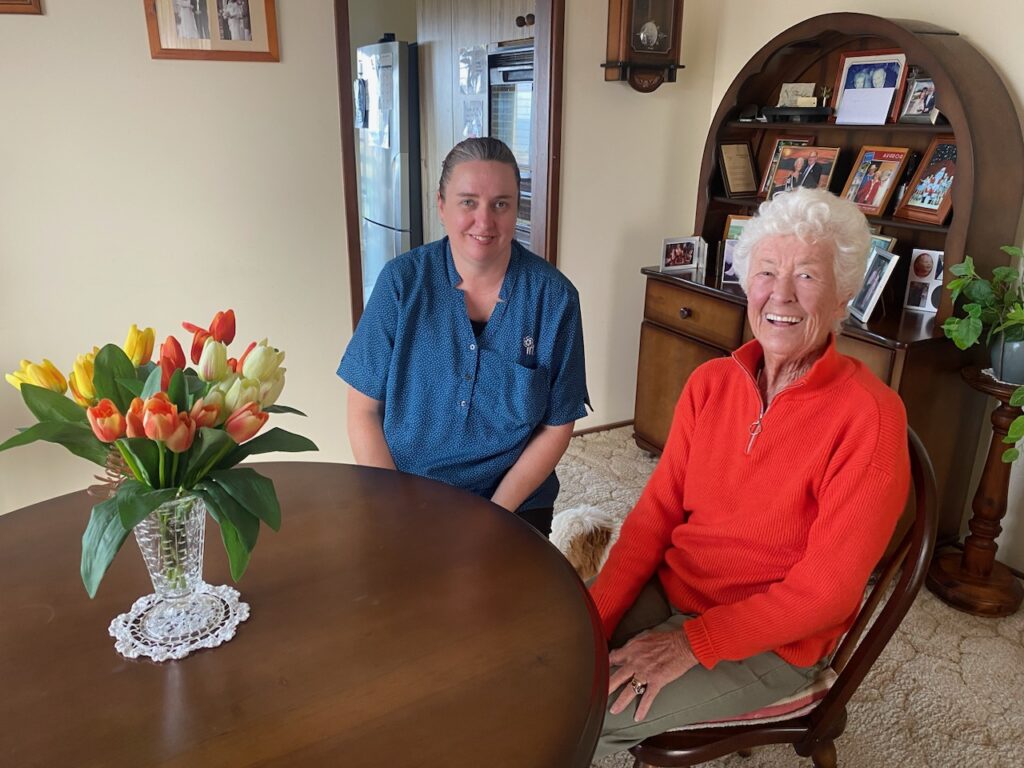 Jo Gibson and her mother Shirley have been happily part of the IRT Home Care family since 2015 and it's been a big help to their family.
"We all work together to have a really good routine. The most important thing is that Mum goes for a walk, and they're just absolutely wonderful, I can't fault them at all. I can't say enough good things about them, just wonderful," she said
Shirley (pictured above with IRT Home Care worker Belinda Ingersole) is on a Level 4 Home Care Package and receives regular domestic assistance, personal care and medication assistance.
"The medication is the biggest thing because she takes quite a few things and she'll forget," Jo said.
After helping her with showering, an IRT Home Care worker will also take her for a walk.
"She can't drive anymore so they take her out and when she comes back she looks like a different person in her face, and it's really lovely."
What prompted the need for home care?
Jo decided it was time to get some help at home after mum Shirley had a fall in 2021 and needed to go to hospital. They had a meeting with IRT Home Care Business Development Manager David O'Toole who came to their home and explained how it all works and how to choose the right provider.
"I still remember his words, he said "you can get people that are carers and you can get people who care." and he was right – all the people do actually care."
How has IRT Home Care made a difference in their lives?
Receiving support through IRT Home Care had allowed mum Shirley to maintain her independence while supporting her safety and wellbeing.
"She doesn't want to go to a respite or anything like that, so home care allows her to stay in her own house and that's the biggest thing. And we don't know for how long, but as long as we have people coming and checking on her, she's still able to stay in her own home," Jo explains.
And for Jo and her husband Peter (pictured below with Shirley and her friend Gerry at lunch), it's given them a great deal of peace of mind because they have their own health challenges and can't care for Shirley full-time anymore.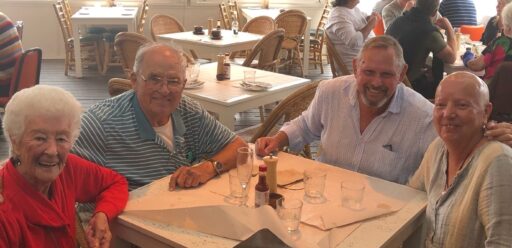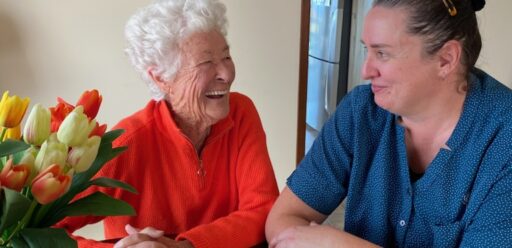 IRT: Truly a neighbour when Jo needs
After looking after Shirley full-time for 2.5 years, IRT Home Care has allowed her to go home and get medical treatment, knowing that her mum is in good hands, especially when she's had a couple of falls.
"It's such a relief for me knowing there's someone here who I can call and say "someone needs to take her to the hospital". They come in and make sure she's OK and that she's eaten something, it's been wonderful. A lot less stress for me knowing that I can contact them and ask if they can pop in and see if she's OK."
How has Jo's experience with IRT Home Care been?
For Jo, IRT Home Care is much more than just a service, it's had a remarkably positive impact on her family and their lives.
"It's not just come and mop the floor and see you later, they come and sit down and have a cuppa, and it gives mum someone else to talk to. They just do more than your average person.
"They'll check there's no rotten food in the fridge and that the budgie has got food and water, which probably isn't part of their job description. As I said, they're very, very caring."
Jo said they've had a really positive experience with the IRT team and have formed wonderful relationships with the carers and staff.
"I can't tell you how great Megan Gotsalks (IRT Customer Relationship Manager) has been. We've had occupational therapists over, we had to get a new vacuum…whatever we need, she's onto it. She's so efficient. She came over to check on Shirl and talk to her about how to use the walker. She's just the best, absolutely wonderful."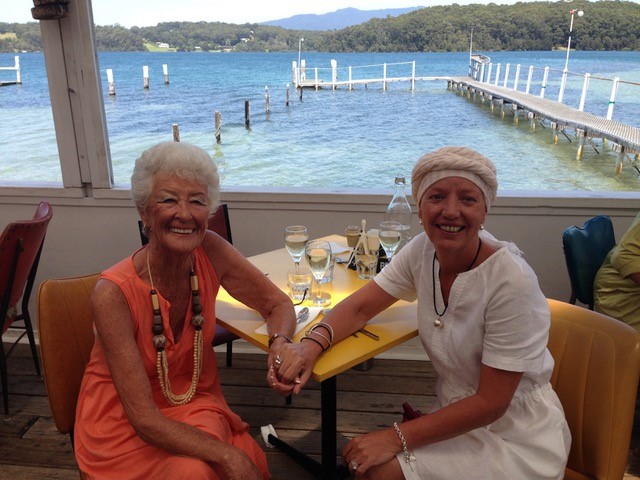 Would Jo and Shirley recommend IRT Home Care?
"We're so, so happy with the service. As I said, they go above and beyond. It's not just someone coming in and vacuuming, just doing their job, they actually care. They're here for Mum, not for me," Jo said.
What's really stood out about IRT and the care workers is that they genuinely want to make life easier and make an effort with the extra little things that make a difference.
"We had one lady who came and showered mum, made her bed and then said "do you want me to pick up the dog poo while I am here? I mean, who asks that? That's not part of her job. How lovely is that? Because she knew I was going to mow the lawns."
"They're very caring. It's a simple thing like that, but they go above and beyond."
Shirley said she couldn't agree more and that she's really happy with the service.
"I have enjoyed it. All the girls I've got are very nice," Shirley said.
"I've really got no complaints; if I did have any, I would tell them," she said with a laugh.
"Going out for a walk with the carers is very good, we have a chat and I get to know all the girls."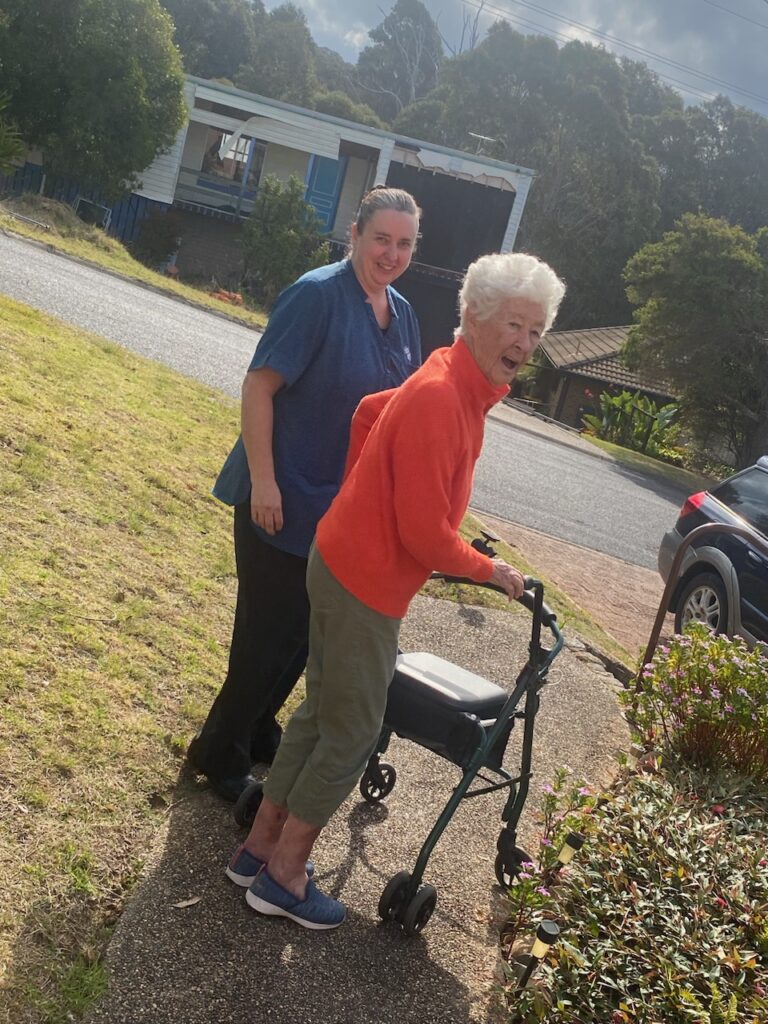 IRT Home Care
At IRT, we've been providing home care services to help older Australians live independently at home for more than 30 years. We're proud to offer professional and heart-centred care at home, whether it's lending a hand cleaning services or providing transport. Find out how IRT Home Care can support you or your loved one.
Find out more